NYC Will Continue Honoring The Paris Climate Deal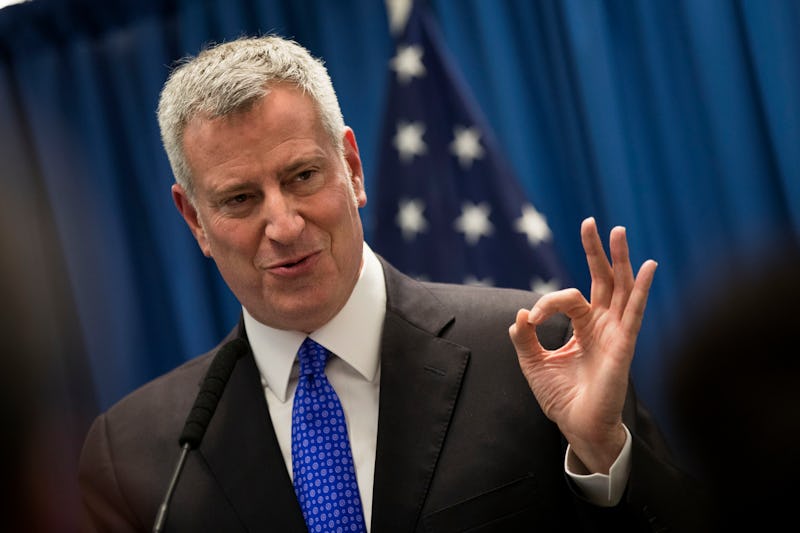 Drew Angerer/Getty Images News/Getty Images
Although President Donald Trump has decided that the United States will leave Paris climate agreement signed by leaders around the world, New York City will continue to fight against climate change. In a move directly opposing Trump's decision, NYC Mayor Bill de Blasio promised to uphold the Paris agreement in the city.
On Wednesday, de Blasio took to Twitter while rumors circulated this week that Trump was planning to withdraw from the agreement to deride the president's choice.
The president withdrawing from the Paris Agreement would be horribly destructive for the planet, the country, and this city. President Trump should know that climate change is a dagger aimed straight at the heart of New York City. The Paris Accord was the biggest step forward we've taken in many years. It's unconscionable for the president to step away from it. But we'll take matters into our own hands. I plan to sign an executive order maintaining New York City's commitment to the Paris Agreement.
While he didn't lay out specific plans to keep the Paris agreement's goals in tact in New York City, de Blasio's commitment to reducing carbon emissions and slowing global warming is heartening. And it could certainly win him some points with his Democratic base, as he is up for reelection in the fall. Hopefully he will follow through on his promise.
The Paris Climate Accord was signed by 195 nations in 2015 in dedication to reduce climate change by adopting green energy resources and cutting down on harmful emissions. The main goal is to prohibit global average temperatures from rising 2 degrees Celsius this century. There are no specific guidelines on how each country should accomplish this goal, and there's no specific punishment laid out by the agreement for countries that don't succeed. However, countries like the United States are supposed to send $100 billion per year in aid to poorer countries. But like the guidelines for reducing emissions, there's really no established enforcement mechanism on delivering the aid, leaving it up to each country to decide on their contribution.
Only two countries opted out: Nicaragua, because leaders said the agreement wasn't aggressive enough; and Syria, which has been experiencing civil war for six years. Now, the United States joins those nations as a nation that will not follow the agreement, because as Trump said in his announcement in the Rose Garden of the White House, he believes that the financial burden on the United States is too high and working to reduce emissions will cost American jobs.
The only not-horrible part of Trump's decision is that the United States will gradually withdraw from the Paris agreement, which will take about four years— enough time for another presidential election to occur and someone to reverse the decision. However, there's certainly enough time in the next four years for the environment to be harmed from the United States' decision not to take climate change seriously.