New York Will Keep Protections For Trans People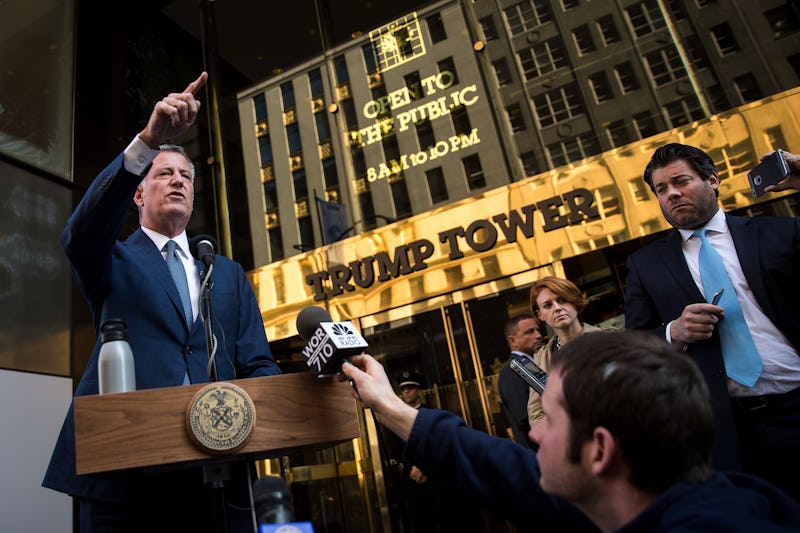 Drew Angerer/Getty Images News/Getty Images
President Donald Trump has overturned the previous administration's protections for transgender students, which include requiring schools to let transgender students use the bathrooms of their choice. Despite this, the state of New York is already fighting Trump's transphobic bathroom policy.
Officials from the Justice Department and the Education Department sent out a joint letter addressing the Obama administration's position on nondiscrimination laws, saying that the administration's directive was made "without due regard for the primary role of the states and local school districts in establishing educational policy." But the decision wasn't made unanimously; Education Secretary Betsy DeVos and Attorney General Jeff Sessions allegedly clashed, with DeVos not wanting to sign off on the letter, the New York Times reported. DeVos reportedly acquiesced after a meeting with Trump, but she called protecting students from discrimination and bully a "moral obligation," in a Feb. 22 statement, according to the Times.
Still, New York's Attorney General, Eric Schneiderman, isn't letting this decision impact how nondiscrimination laws are implemented in the state. "If President Trump withdraws Obama administration's guidance, transgender students will still be protected by Title IX and its implementing regulations, which prohibit discrimination on the basis of sex," Amy Spitalnick, a spokesperson for Schneiderman, told The Hill. "Additionally, our state law protections are independent from federal law — for example, the Dignity of All Students Act."
The Dignity Act, which was signed into law in 2010 by then-New York state Gov. David Paterson, is intended to protect students in New York from harassment and discrimination. New York's decision to uphold protections like the Dignity Act actually fits into the idea of having states make the decisions — a concept Trump's administration seems to support. But Chad Griffin, president of the Human Rights Campaign, told the New York Times that rather than being an issue of states' rights, the protection of transgender people is a civil rights issue.
Still, New York's enforcement of civil rights protections won't change, Spitalnick told The Hill, "because we know that policies that ensure equality for transgender New Yorkers promote safe and inclusive schools, workplaces, and communities — benefiting everyone." The New York Attorney General's office isn't alone in standing up for transgender people's rights; State Comptroller Scott M. Stringer joined Schneiderman in speaking out against the Trump administration's actions, and so has New York City Mayor Bill de Blasio.
We'll have to wait and see whether other states adjust their nondiscrimination laws based on Trump's decision, but it's clear that New York will continue to stand up for LGBT rights.