New York Is Staying One Step Ahead Of Trump's SCOTUS Pick By Guarding Your Repro Rights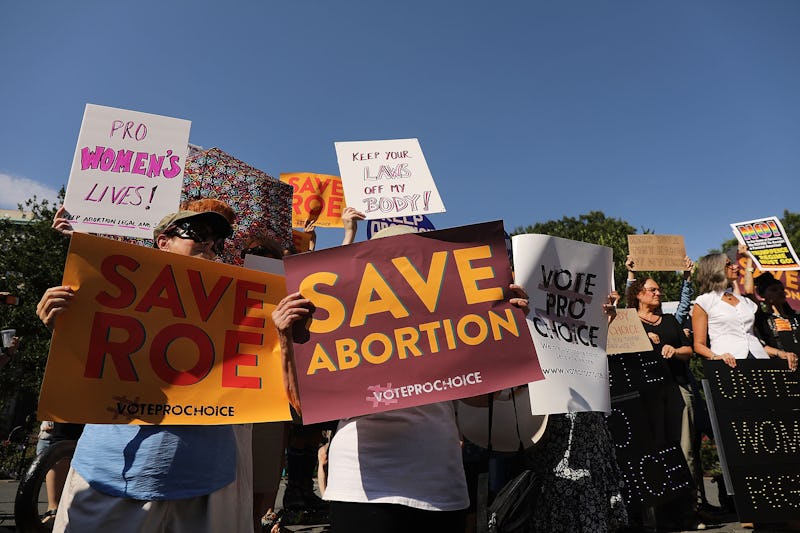 Spencer Platt/Getty Images News/Getty Images
On Monday evening, President Donald Trump announced his pick to replace Justice Anthony Kennedy on the United States Supreme Court. Leading up to the nomination, many have expressed concern that the landmark federal abortion case, Roe v. Wade, could be overturned in the future as SCOTUS becomes more conservative. To help mitigate this concern, New York prepared for Brett Kavanaugh's nomination with an executive order on reproductive rights. New York's executive order demonstrates the crucial role that states could play in protecting women's rights if Roe v. Wade is overturned — something which many other states have already recognized as well.
As The Hill reported, on Monday New York's Governor Andrew Cuomo signed the aforementioned executive order several hours before Trump announced his Supreme Court pick. While speaking at a rally for women's rights on Monday, Cuomo explained that the possibility of Roe v. Wade being overturned in the future constituted the impetus behind him issuing the order. As the governor explained:
Mark my words, they are moving to roll back Roe v. Wade, that is going to be the next move by this president ... They say it. It's not like you have to read the tea leaves ... In the face of this federal assault, New York is going to protect itself because this state has always been the progressive capital of the nation.
Cuomo's executive order addresses abortion rights as well as other aspects of reproductive health. It requires that the state's Department of Financial Services mandates that health insurance companies cover a year's worth of contraception as well as any emergency contraception without requiring deductibles, co-pays, or co-insurance. It also asks that the New York state Senate reconvene and vote to ensure that Roe v. Wade's abortion rights protections are incorporated into New York state law.
As WXXI News explained, the state's Assembly has passed legislation to codify Roe v. Wade into state law for the past six years, but its Senate has failed to follow suit. While abortion is legal under New York state law, codifying Roe v. Wade into state law would offer more comprehensive protections for women.
Cuomo is not the only state official to comment on abortion rights in light of Trump's new SCOTUS nomination. On Tuesday, a District Attorney in Pennsylvania, Stephen Zappala, asserted that, if Roe v. Wade were overturned, he would not seek to prosecute any women or medical professionals for seeking or providing safe abortions. As The Sentinel explained, Zappala's spokesperson said that the district attorney is pro-choice and wanted those in his district, which includes Pittsburgh, to know where he stood in case the federal abortion rights case is overturned and in case abortion was made illegal in Pennsylvania.
A variety of states already protect abortion rights through state law, which will ensure that women in those states have access to it even if Roe v. Wade is overturned. As Mic reported, 16 total states in the United States explicitly protect abortion rights. California protects abortion rights in both its state constitution and state legislation. Connecticut, Maryland, Delaware, Oregon, Nevada, Washington, Maine, and Hawaii all protect abortion through legislation. And California, New Mexico, Florida, Alaska, New Jersey, Massachusetts, Minnesota, and Montana protect abortion rights in their respective state constitutions.
New York's recent executive order shows the essential role that states will play in protecting women's reproductive rights in case Roe v. Wade is gutted by SCOTUS in the future. While a handful of states already have laws on the books to protect women's rights, it's certainly possible that these states will introduce new legislation to strengthen these laws in light of Kavanaugh's nomination. Moreover, other states without existing laws on reproductive rights could certainly explore the possibility of introducing new legislation.