You Can Now Read Entire Novels On Instagram Stories, Thanks To New York Public Library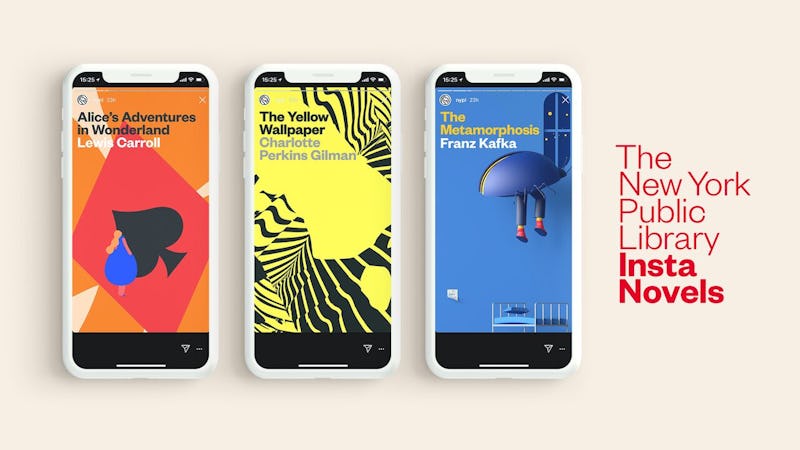 New York Public Library
If you, like me, often find yourself watching Instagram story after Instagram story while wondering to yourself, "Wow, I should really be reading right now," then you're in luck. The New York Public Library has teamed up with independent advertising and creativity agency Mother to create "Insta Novels" — Instagram stories that feature an entire classic novel for you to read. The project launched today, and you can read Part 1 of Alice's Adventures in Wonderland by Lewis Carroll right now on New York Public Library's Instagram account. In the coming months look out for "The Yellow Wallpaper" by Charlotte Perkins Gilman and The Metamorphosis by Franz Kafka.
So what does an Insta Novel look like anyway? Alice's Adventures in Wonderland begins with a short animation, followed by what is essentially an e-book that lives on your Insta feed. (With a space for your thumb, so you can hold down the story as you read the text.) Alice's Adventures in Wonderland features mesmerizing illustrations by designer Magoz (@magoz) that give the classic an entirely new look that seems well-suited to Instagram as a platform. "The Yellow Wallpaper" will be illustrated by Buck (@buck_design) and The Metamorphosis will be illustrated by César Pelizer (@cesarpelizer). You can take a look at the novels formatting below:
Screenshot from @nypl on Instagram
New York Public Library
Screenshot from @nypl on Instagram
It's easy to access Insta Novels: All you have to do is follow The New York Public Library on Instagram at @nypl. On the library's Instagram page, you'll see "ALICE PART 1" as a highlighted story at the top of the feed. (You'll also see a tutorial under highlighted stories to help you get started.) Just tap "ALICE PART 1," and the book will open up on your screen. Tap right to go to the next page, tap left to go to the previous page, and hold your thumb down on the bottom right as you read to remain on the same page. The thumb holder doubles as a flipbook: If you let the pages flip, you'll see a nifty animation.
Alice's Adventures in Wonderland was originally published in 1865, but in 2018, it seems to have found new life on a platform that even the wacky mind of Lewis Carroll probably wouldn't have been able to imagine.
"Instagram unknowingly created the perfect bookshelf for this new kind of online novel. From the way you turn the pages, to where you rest your thumb while reading, the experience is already unmistakably like reading a paperback novel," said Corinna Falusi, Partner and Chief Creative Officer of Mother, in a press release.
This project is part of the New York Public Library's mission to make the world's knowledge accessible to all. Carrie Welch, The New York Public Library's Chief of External Relations, said in a press release: "It's appropriate that one of the works we're using is The Metamorphosis, because in collaboration with Mother, we are completely transforming the way people look at this popular social media platform, and reimagining the way people access the classics."
So, next time you're standing in a line, or bored on a long commute, all you'll have to do is pop into your Instagram feed to get wrapped up in a great work of literature. No purchase, download, or library card required.