New Zealand's Prime Minister Knows People Compare Her To Trump & She's SO Pissed About It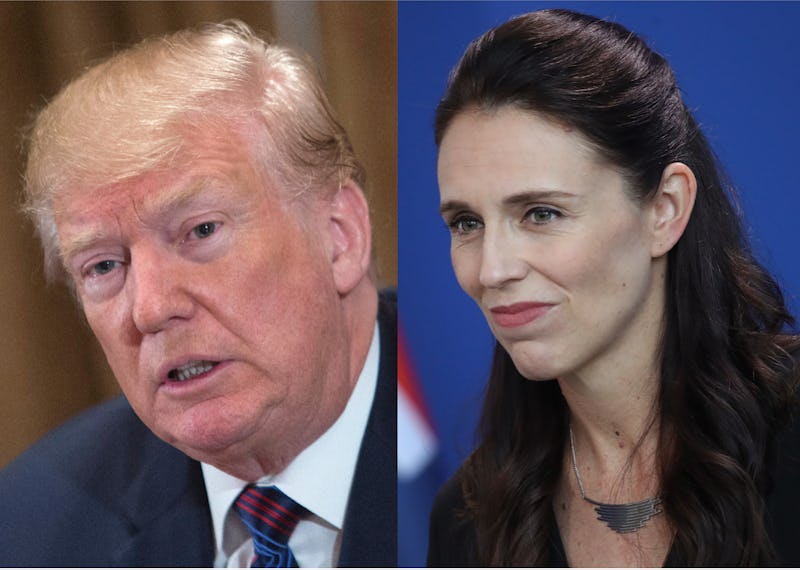 Pool; Sean Gallup/Getty Images News/Getty Images
In a recent exclusive TODAY interview with journalist Cynthia McFadden, New Zealand's Prime Minister Jacinda Ardern shot down comparisons between Donald Trump and her. The 37-year-old leader said that being compared to the American president "infuriated" her.
Ardern's passionate rejection of being likened to Trump came after McFadden asked her about a 2017 article published by the Wall Street Journal about Ardern. The publication had tweeted the article and said, "Meet New Zealand's Justin Trudeau — except she's more like Trump on immigration."
Ardern rejected the tweeted description, telling McFadden, "We are a nation built on immigration — I'm only a third-generation New Zealander." She added, "The suggestion in any way that New Zealand wasn't an open, outward facing country — the suggestion that I was leading something counter to that value — makes me extremely angry." She also said, "We [the Labour Party] are a party who, at the same time, were campaigning to double our refugee quota. We are a nation built on immigration."
If you're wondering whether Ardern has any plans to erect actual walls that would keep immigrants out, rest assured that the New Zealand premier told McFadden that she had "absolutely" no plans to follow her American counterpart's example.
It's worth noting that the original article by Wall Street Journal doesn't mention Trump, but it does point to two things that could explain the 2017 tweet. Firstly, it notes that prior to becoming the prime minister of New Zealand, Ardern's liberal Labor Party struck an unlikely partnership with the right-wing New Zealand First party (much like Trump's America First agenda in the United States). McFadden, too, mentioned this during the TODAY interview as well and said that it was as if "Bernie Sanders teamed up with Ted Cruz."
The second point in the Wall Street Journal report might also explain the publication's tweet from last year. In November, Ardern expressed plans to cut down the country's yearly net migration rate by 30,000 people, according to the journal. The New Zealand prime minister received public disapproval for the announcement while some likened her stance on migration to Trump's anti-immigration philosophy.
According to Reuters, Ardern pushed against the criticism and said, "For me, it's a slight on New Zealand's reputation to suggest that we are anything other than humanitarian, outwardly focussed and built on the hard graft and work of migrants in New Zealand."
Yet in spite of the Wall Street Journal's comparison, Ardern enjoys significant popularity in her country. While New Zealand has had two female prime ministers before — namely Jenny Shipley and Helen Clark — Ardern will be the country's very first female premier to run the country while being pregnant with her first baby.
In the interview with McFadden, Ardern said that her domestic partner Clarke Gayford would be a stay-at-home dad come June. Although she's the first female premier of New Zealand to be pregnant and presiding, Ardern won't be the first woman in the world to do so. Here's a tidbit for the history buffs that McFadden mentioned in the interview: Pakistan's prime minister Benazir Bhutto was the world's first female leader to be pregnant while in office.
Ardern told McFadden that she looked forward to living in a world where a pregnant woman was seen as fully capable of "multitasking" both roles as a mother and competent leader. "I look forward to the day where there won't be news stories about that," Ardern told McFadden, "because it won't be nearly as unusual but for now I accept that that's just the way it is."
This won't be the first time that Ardern has fired off against Trump. In November, both leaders met at the East Asia Summit in Vietnam where Trump said of Ardern, "This lady caused a lot of upset in her country." Unbothered, she responded, "You know, no one marched when I was elected."