New Zealand's PM Will Be The First World Leader In Decades To Give Birth In Office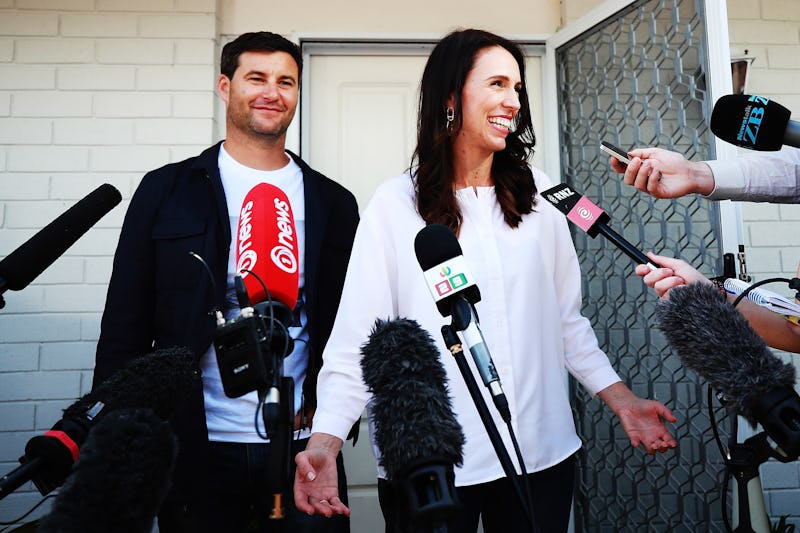 Hannah Peters/Getty Images News/Getty Images
In 2017, Jacinda Ardern became the youngest person in 150 years to be made prime minister of New Zealand. And on Friday, the progressive head of the country's Labour Party made history again: Ardern announced that she is pregnant with her partner, Clarke Gayford, making her the first world leader to be expecting a child in office since 1990.
"I'll be Prime Minister AND a mum, and Clarke will be 'first man of fishing' and stay-at-home dad," Ardern said Friday, addressing a pool of reporters outside her home. According to Ardern, the pregnancy was a surprise, since the couple wanted children but "had been told we would need help for that to happen."
Ardern said she plans to take six weeks of maternity leave following the baby's birth, and was confident that the two roles of Prime Minister and mom wouldn't be in conflict.
"I am not the first woman to multi-task," she told reporters, "I'm not the first woman to work and have a baby, I know these are special circumstances but there will be many women who will have done this well before I have."
The last world leader to give birth in office was former Pakistan Prime Minister Benazir Bhutto, who had a daughter in 1990.
To say Ardern has had a good 12 months would be an understatement. The 37-year-old former DJ took the leadership role in July, when the Labour Party was struggling in the polls. Her youth and charisma ignited what many pundits labeled "Jacinda-mania" in New Zealand, as Ardern drew a sharp contrast with the Conservative Party leader, Bill English.
Early on in her campaign, Ardern gained international attention with her adept handling of a question about whether or not she planned on having children. While appearing as a guest on the TV show The Project, Ardern was asked by male host Jesse Mulligan if the decision to have kids or not was one "you feel you have to make or that you maybe feel that you've already made?"
Ardern answered that she'd like to have children, under the allowance that she'd been open already about that topic. "But for other women, it is totally unacceptable in 2017 to say that women should have to answer that question in the workplace." Ardern went on to say that a woman's decision about having children "should not predetermine whether or not they are given a job, or have job opportunities."
Ardern's defense of a woman's right to work without having to explain her views on children won her widespread praise, and provided a small glimpse of the political skills that would help propel Ardern to unexpected victory.
The Labour Party is New Zealand's more progressive political body, and Ardern ran on its platform. Her central campaign policies were a guaranteed three years of free post-secondary education, cost-free mental and physical health services, and a ban on the purchase of New Zealand homes by foreign speculators.
Prior to running for New Zealand's top office, Ardern had a good deal of experience in the political realm. She had previously worked as a policy adviser to former U.K. Prime Minister Tony Blair, and Ardern won a seat in Parliament in 2008 at the ripe old age of 28.
Ardern is also bullish on the prospects of women in politics. "We set ourselves a goal as a Labour Party that we would bring more women into our caucus," she said at a press conference shortly after her successful campaign. "When we set that goal we set it at 50 percent, and we came very close to achieving that this election and I'm proud of that."