These NFL Cheerleaders Demanded Better Pay & Their Team's Response Will Piss You Off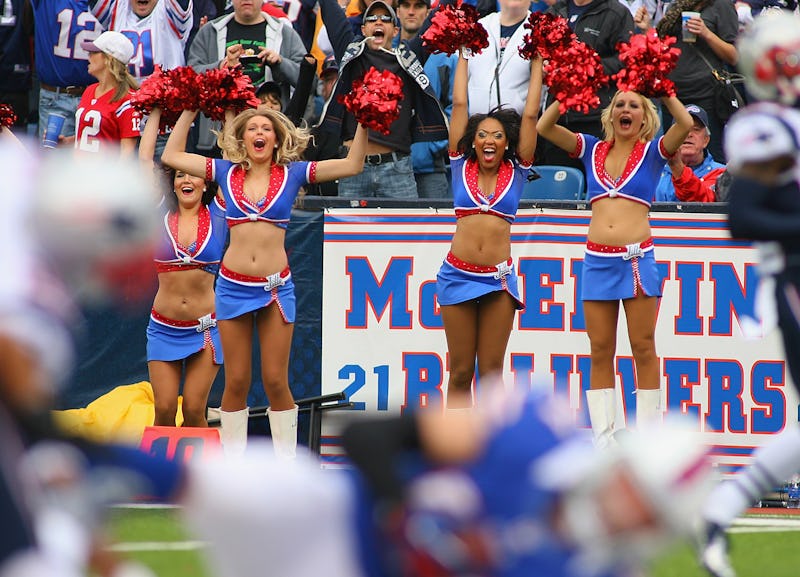 Rick Stewart/Getty Images Sport/Getty Images
As more women demand equal pay and workplace protections, one group stands out for fighting against a particularly awful and archaic pay structure. Imagine putting in hundreds of hours of unpaid physical labor and showing up for dozens of mandatory meetings, appearances, and performances that you're never paid for. Now, imagine you're also required to pay out of pocket for a uniform, hairstyle, spray tan, or manicure that a company paying you less than minimum wage requires of you. This is the experience of some NFL cheerleaders, whose low pay has led them to file lawsuits in recent years alleging they have been misclassified as independent contractors and thus unfairly denied workplace rights.
In April 2014, five former members of the Buffalo Bills cheerleading squad, known as the Buffalo Jills, filed a lawsuit alleging, among other things, that the team and the two companies tasked with managing the cheerleaders had violated minimum wage laws. Two days after that lawsuit was filed, one of the entities managing the Jills, Stejon Productions Corp., announced it was disbanding the cheerleading squad entirely. The Jills haven't cheered since (the Bills didn't respond to Bustle's multiple requests for comment).
At the time that suit was filed with the New York State Supreme Court, the Bills were valued at around $870 million and were generating $256 million in annual revenue. The Bills' highest-paid player at the time, defensive end Mario Williams, was estimated to take home nearly $16 million for the 2013-2014 season. By contrast, a Jill would take home anywhere from $105 to $1,800 for a season's worth of work.
"If you were an independent business person working as an NFL cheerleader you were losing a lot of money," Christopher Marlborough, an attorney representing the Jills, tells Bustle. According to Marlborough, Jills were required to put in hundreds of hours of unpaid labor at practices, games, and unpaid appearances. And that's on top of often paying for things like uniforms, gym membership, makeup, and mandatory salon services out of pocket. "Some of the cheerleaders made as little as $100 a year for hundreds of hours of work," he says.
But while Jills put in hundreds of hours of unpaid work each season, it seems their presence wasn't exactly valued by Bills' management. "They were inconsequential from a business standpoint to me," the team's president, Russ Brandon, said in a deposition that was taken as part of the lawsuit. Later in that same deposition, he said: "I couldn't have cared less if the Jills existed."
The Bills turned over management of its cheerleaders to a third party in 1986 (the first third party entity to manage the Jills was a local fast food chain called Mighty Taco, no joke). But the Jills' lawsuit alleges that although the Bills didn't directly manage the Jills, they still "worked closely" with the private entities tasked with "the management of the Jills' day-to-day activities." Moreover, the suit states Jills were bound by the Bills' Code of Conduct and general standards, despite being classified by the team as independent contractors.
"If you were an independent business person working as an NFL cheerleader you were losing a lot of money."
In their lawsuit, five former cheerleaders allege that the Bills and two private entities who managed the Jills from 2010-2014 "willfully and systematically exploited all those women who worked for them as Jills Cheerleaders" by "failing to meet the minimum wage standards" outlined in New York state laws. Jills were required to attend every pre-season, regular season, and post-season home game, typically working eight hours on game day, according to the suit, which alleges they received no monetary compensation for appearing and performing at games. Instead, the cheerleaders claim they were provided with one ticket valued at $90 and one parking pass valued at $25 for each game.
On top of that, the suit alleges Jills were required to attend two unpaid practices totaling eight hours each week. They also were allegedly required to attend 20-35 appearances during the season, many of which were unpaid, and expected to teach cheerleading workshops to young girls as part of the Junior Jills Program. While parents of children enrolled in the Junior Jills Program paid a $250 enrollment fee per child, no Jill received monetary compensation for their time spent teaching, according to the suit.
"Between game performances, practices, rehearsals, and appearances, each individual Jill provides approximately 20 hours of unpaid labor per week in the service of defendants... This equals 840 hours of unpaid work per woman, per year," the suit states.
The Jills' complaints go far beyond wages, however. In a column published by the New York Post shortly after news of the lawsuit first broke, Alyssa U., one of the five former cheerleaders named as plaintiffs in the suit, detailed how the women allegedly were given instructions on how to wash the intimate areas of their bodies. "I was taken back by it all," Alyssa wrote. "It's degrading. It's embarrassing to even talk about."
According to Alyssa, the Jills also were required to do jumping jacks in uniform in front of their coach so that their bodies could be carefully scrutinized for problem areas. "The Jiggle Test," as the procedure was known, allegedly was conducted a week before every game, and cheerleaders could be benched if their bodies weren't deemed fit enough. Alyssa claimed she was once told to color her hair at an out-of-pocket cost of around $85 in order to perform during a game.
The Bills said in a statement obtained by CNN in 2016 that, "it remains our position that this case is being prosecuted by a very small number of former cheerleaders whose allegations do not accurately reflect the sentiment of all cheerleaders." And it's true that not every Jill has wanted to participate in the lawsuit. "Unfortunately, we were subjected to an unprecedentedly high opt out rate where many of the Jills opted out of the case," Marlborough tells Bustle:
"Many, many of the Jills opted out of the case. Some by choice and, we believe, some because of unreasonable pressure that was put on them by other cheerleaders who were their supervisors."
But the Jills aren't the only NFL cheerleaders to challenge their team over their wages. A group of current and former cheerleaders sued the Oakland Raiders over allegations of wage theft and unfair employment practices in January 2014. According to the San Jose Mercury News, the lawsuit alleged the Raiders withheld all pay from the Raiderettes until the season was over, didn't compensate them for all the hours they worked in a season, and forced them to pay for business expenses like hair and makeup out of their own pockets — despite the fact the team dictated how the cheerleaders should look. That case ultimately was settled for $1.25 million, and the team created new contracts that guaranteed the Raiderettes earned $9 per hour, the Los Angeles Times reported.
Cheerleaders filed similar lawsuits against the Cincinnati Bengals, who ended up settling for $255,000; the New York Jets, who settled for $325,000; and the Tampa Bay Buccaneers, who settled for $825,000. But while other teams have reached settlement deals with their cheerleaders, the Bills haven't.
The Jills' legal battle is ongoing. Since 2014, courts have ruled in the Jills' favor both on a motion for class certification that enabled them to pursue their lawsuit and on an appeal of that ruling from the Bills. In May, the Jills also won a decision confirming them to be "non-exempt employees and not independent contractors."
It's worth noting the Jills have tried to organize for their rights before. In 1995, the Jills filed a complaint with the National Labor Relations Board alleging their third-party employer had improperly classified them as independent contractors. They won and earned the right not only to be classified as employees, but also to unionize, as the NLRB determined the employer maintained significant control over the Jills' schedules, uniforms, and even physical appearance. But when the Jills attempted to form the first ever professional cheerleaders' union, their employer cancelled all of their appearances and farmed the cheerleaders out once again.
Support for a cheerleader's right to a fair wage is growing as well. The Jills' lawsuit spurred New York state Sen. Diane Savino to introduce the Cheerleaders' Fair Pay Act in 2015. If passed, the bill would require teams like the Bills to treat their cheerleaders not as employees rather than independent contractors, and comply with labor laws regarding minimum wage and workplace protections. While the state Senate's Labor Committee is still reviewing the bill, a similar law was enacted in California in 2015.
When the Philadelphia Eagles take on the New England Patriots this Sunday at Super Bowl 52, captivating viewers with touchdowns, bone crushing tackles, and maybe even a Hail Mary pass or two, keep in mind those players aren't the only ones performing for fans on the field. NFL cheerleaders also play an important role in keeping fans entertained, and it's clear that a lot of questions remain about how they're treated and how they're compensated.
Correction: A previous version of this story mischaracterized the Jills' attempt to unionize. It has been updated to accurately reflect the parties involved.