Niall Horan Is Now A Brunette, You Guys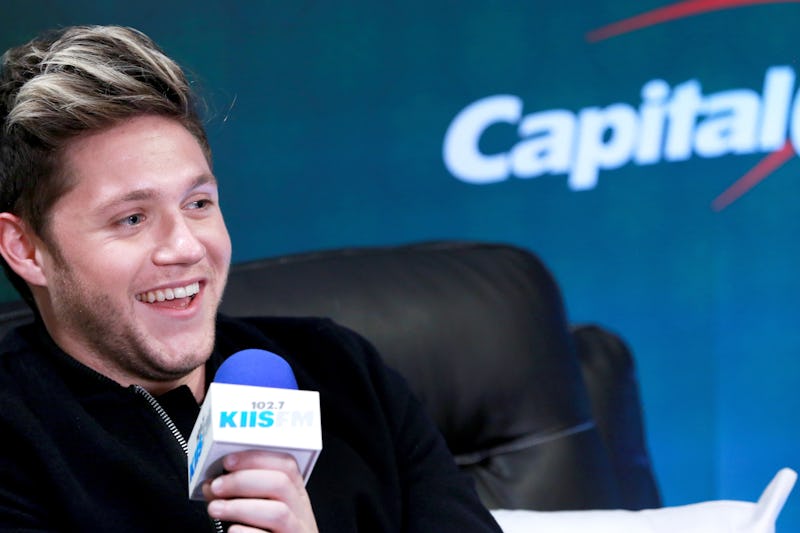 Jonathan Leibson/Getty Images Entertainment/Getty Images
A lot of things have changed since One Direction first broke onto the scene as a boy band. Even the things you assumed would remain constant — Harry Styles' shaggy, luscious locks, Niall Horan's blonde hair — are no longer the same. Niall Horan is now a brunette, according to MTV, and fans are freaking out over the color swap.
People online are either in love with the new 'do or are lamenting the good old days when the band was performing together and Horan's hair was a bright, white blonde. According to Horan's Instagram, he went dark a couple of weeks ago, but when photos of his hair surfaced online recently, the Internet started to take notice. Imagine everyone's surprise when they realized their favorite boy band icon had a new hairstyle. I mean, really, what has the world come to?
Horan's going darker proves that you really never know what might happen. Things change at a moment's notice. New things are bound to come at the beginning of a New Year, and this 1Der's hair color is just another thing you'll have to adjust to. While I did find Horan hard to recognize at first, I gotta say, I'm not minding the brown color on him. Each fan has their own opinion, however. Take a look at the photos so you can officially weigh in, too!
Here he is sporting his "darker side."
He really pulls it off well, if you ask me!
1. Sexy
Some fans are finding this new hue rather sexy.
2. Unexpected
The change was unexpected, to say the least.
3. Rocking It
He's definitely owning this new look.
4. Shocking
Folks still haven't gotten over the surprise.
5. Temporary
Others are OK with it, but they're hoping the whole "going brunette" thing is temporary.
6. Best Life
Some believe he's living his best life as a brunette.
7. Can't Believe It
Yes. This is really happening.
8. Well-Groomed
He's looking all sorts of good right now.
9. R.I.P Me
Don't mind me, I'm just dying over the new 'do over here!
10. Good Day
Today's looking up.
11. Thumb's Up
He may look different, but it's good different.
12. Trust Issues
Just when you thought you could trust his hair to stay blonde, you know?
13. Sound The Alarm
That's right. Alert everyone!
14. So Ready
There are those that miss the blonde, but then there are those who have been waiting for this moment for a long time!
15. Zero Blonde
There's zero blond left, and I've got zero problems with it.
Let's see if he sticks with this new 'do.