Niall Horan Fangirls Over Ed Sheeran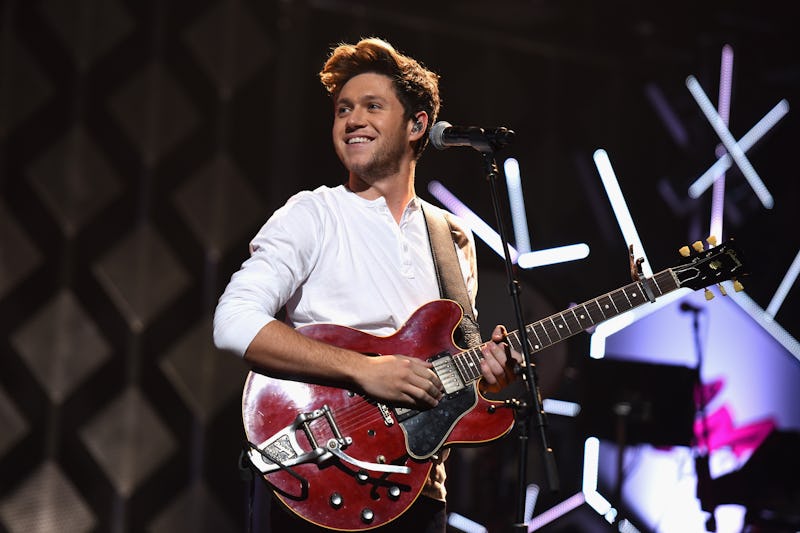 Dave Kotinsky/Getty Images Entertainment/Getty Images
Though 2017 may seem like the year everything goes to hell in a handbasket, Ed Sheeran is here to save the day. On Friday, Jan. 6, the world's very own Ginger Jesus dropped two new songs — the first time he's released new music in two long, Sheeran-free years — and my ears have been blessed with their beauty. Fellow Sheeran fan, friend, and possibly one-time "other man" (see: "Don't") Niall Horan immediately took to Twitter to praise the singer-songwriter's new tracks, particularly the nostalgic "Castle on the Hill." And honestly? Horan's reaction to "Castle on the Hill" pretty much sums up everyone's response — only with a lot less all-caps "BLESS YOU FOR THIS ED SHEERAN" tweets.
Clearly, Horan — who has been headed towards a Sheeran-esque career of his own with his acoustic single "This Town" — has been pumped AF for the British singer's new tunes, tweeting "He's back!" on Friday after Sheeran dropped both "Castle" and "The Shape of You."
"Castle on the Hill is my kind of song," the former One Direction singer tweeted. "It reminds me of home." Which is exactly the point, Sheeran explained in his BBC Radio 1 interview.
"Castle on the Hill" is "a love song for Suffolk 'cause I don't think anyone's ever done that," the singer revealed. And even though he and Horan are from two different hometowns — Horan hails from Mullingar, Ireland — he can still relate. Because even though what Sheeran is describing is specific to his childhood experience, it really just leaves everyone with the nostalgic, wistful twinge of their own youth.
With lyrics about breaking his leg when he was 6 and "tast[ing] the sweet perfume of the mountain grass I rolled down," we can all relate to that feeling of carefree innocence, of summer days of rolling down hills and not having anything else on our minds but fun.
"I'm on my way / Driving at 90 down those country lanes," Sheeran belts on the chorus, his powerful voice straining with emotion. "Singing to 'Tiny Dancer' / And I miss the way / You make me feel, and it's real / We watched the sunset / Over the castle on the hill."
While listening to this song personally makes me want to jump in the car and follow the entirety of Sheeran's next tour, it also has me yearning for my own childhood, despite the fact that there were no castles in my suburban New York neighborhood and the closest I got to singing "Tiny Dancer" with the windows rolled down was watching Stillwater do it in Almost Famous. But "Castle on the Hill" just has that affect on you, and Niall Horan gets it.
Feast your ears on the beauty of "Castle on the Hill" above.