'Love Island's Kendall Tried To Blag Her Harry Potter Knowledge & Twitter Said Nope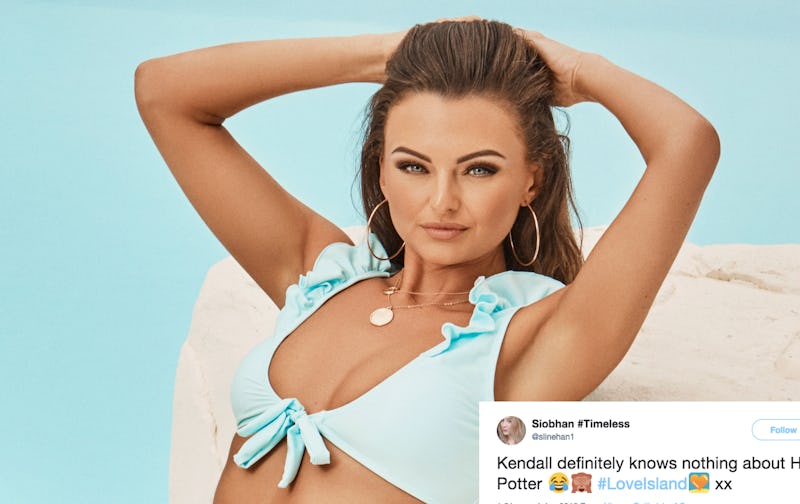 Love Island/ITV
Love Island has only been back on the nation's screens for five minutes, but already, there's been a bit of drama — although, this isn't an argument anyone could have predicted. In a twist no one saw coming, Love Island's Kendall Rae-Knight Harry Potter knowledge has upset fans. Yes, really. Let me explain...
When Niall Aslam walked into the villa, Kendall clearly liked what she saw and immediately stepped forward. Seconds later, they were coupled up and were trying to get to know each other a little better. It turns out, he is a huge fan of Harry Potter — as in, he actually has a permanent tattoo of Hermione's wand. That kind of fan. So, in a bid to impress him, Kendall insisted she was all about J. K. Rowling too. As the conversation started to flow, Niall innocently asked Kendall what her favourite Harry Potter film was. And this is where it all got a little awkward.
Poor Kendall clearly wasn't expecting her new partner to come at her with such a hard-hitting question: "What is your favourite Harry Potter film?" A look of discomfort spread across her sun-kissed face as she dug deep in her brain to come up with an answer. After a few moments passed, she eventually said: "The first one?"
Erm, let's just say the Internet was not impressed. In fact, Kendall has unintentionally royally hacked off Harry Potter fans everywhere. But while they might not be impressed, Twitter (and myself) are very grateful for the legendary memes that have been flooding social media since:
Hopefully Kendall will win over Harry Potter fans later on in the series, but for now it doesn't exactly look great. As for Niall, it'll be interesting to find out what he has to make of wizarding knowledge considering his loyalty to the film series.
Before he entered the villa, Niall opened up about why he got a tattoo of Hermione's wand. Speaking to The Sun, he said: "I got [it] because I like Harry Potter so then I thought that's quite good. Originally I thought I would get Harry's but when I Googled it its just a stick. The other one was Voldemort's but I didn't want to be that kind of guy."
However, it's unlikely Niall will stay in the good books of Harry Potter fans for very long either. Despite describing himself as a huge fan, he actually hasn't ever read any of the books Rowling has penned. He added: "I haven't read any of the books — I don't read books – who reads books? You'll read a book and it's like Hagrid's big long beard — I would rather see it in HD. Why bother." Urgh. You're killing me right now, Niall. Perhaps he and Kendall are a good match after all.
In Tuesday night's episode of Love Island, every relationship in the villa is under threat. Although all the girls are now coupled up, late arrival Adam Collard has been sent in and has been tasked with breaking up one of the pairings. Presenter Caroline Flack explained to the islanders: "In 24 hours, he will be coupling up with one of your girls, leaving one of you single and vulnerable. Because you know the rules. To stay on Love Island you have to be in a couple."
Well it looks like this is going to get awkward. Mind you, no more awkward than telling the nation you're a huge fan of Harry Potter bu then not being able to name a single film title. Bring on episode two.
Love Island is on ITV2, Sundays to Fridays at 9pm.