Nick Grimshaw Has Quit The BBC Radio 1 Breakfast Show & Twitter Has FEELINGS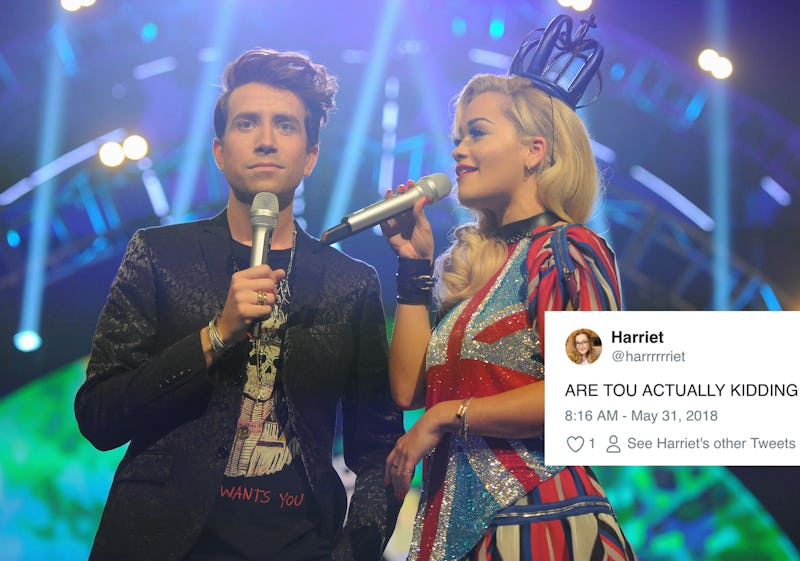 Eamonn M. McCormack/Getty Images Entertainment/Getty Images
Some things seem permanent; the sky is blue, the grass is green, Nick Grimshaw is on the radio in the morning. Alas, it appears that the world as we know it is changing. Grimmy has announced that he is no longer going to be hosting his trademark weekday BBC breakfast radio show, a move that came out of nowhere for listeners and longtime fans. But why is Grimshaw quitting Radio 1? Well, he's explained why but needless to say, Twitter is not too happy.
The surprise move, which Grimmy made public during his show on Thursday, will be a blow to the millions of listeners Radio 1 has. According to figures from a BBC press release, the station is "the biggest and most relevant youth station in the UK with more than a third of all 15-24-year-olds" making up its 10 million listeners each week. Walking away from a station with such huge numbers is definitely a risky move. So there has to be a pretty good reason why Grimshaw left, besides wanting a lie-in that is.
As he announced his departure from Radio 1 live on air, he was joined by drivetime presenter Greg James, and the pair had some very interesting news for listeners. Thankfully, BBC have revealed that Grimshaw won't be leaving the nation's airwaves permanently. Instead, he will be swapping his morning show for James' evening slot. Explaining why he's jumping ship, Grimmy said: "I had the time of my life. But I've decided it's time for a change and a new show." He added that his love for Radio 1 is by no means over and that he "can't wait to get on with the new time slot and the removal of all alarms from [his] house."
In a press release sent to Bustle by the BBC, Grimmy said: "It was always my dream to do the breakfast show and I'm very grateful that I got to live my dream every day for what will be nearly 6 years. But 6 years is a long time and this isn't a forever job. I'm so happy to be swapping shows with my friend and yours Greg James, and can't wait to wake up to him each morning. Not literally. Just on the radio. Unless he's up for it."
Twitter is taking the news as well as can be expected, after all it's not every day a mainstay of your morning up and leaves. Fellow DJ and BBC presenters Annie Mac and Clara Amfo were two of many to send Grimmy their best wishes. Listeners, however, may take a little more time to get used to things.
Grimmy's Breakfast Show is the soundtrack to the nation's mornings and he has hosted the show for a staggering five years and 250 days, which makes him the the second longest-running breakfast show host in the station's history. And basically as much of a staple on the work commute as a coffee. He began on the Radio 1's Breakfast Show in 2012 and since then has notched up millions of listeners and a seriously impressive list of guests and interviews.
James, who will be taking over the breakfast show gauntlet in the Autumn when Grimshaw moves across to the drivetime slot, has been with the BBC for 10 years and has spent six of those hosting his current show. Opening up about following in Grimmy's footsteps, James admitted he was "beside myself" to have the opportunity to present "the most famous radio show in the world." In a BBC press release, he continued: "It really doesn't get any bigger than this and I really want to build on the great work Grimmy has done. The listeners have become like mates during the ten years I've been on air, so to be there when they wake up is a real honour."
There is still an entire summer's worth of mornings left with Grimshaw though, which will help acclimatise listeners to the big move. And in the words of BBC Radio 1 controller Ben Cooper, "it's going to be fantastic." The switch-up will definitely make for interesting listening as Grimshaw really made the breakfast slot his own, so seeing what James will bring to a totally new structure is exciting."