Nick Jonas Went Through An Entire Grammys Performance With Veggies In His Teeth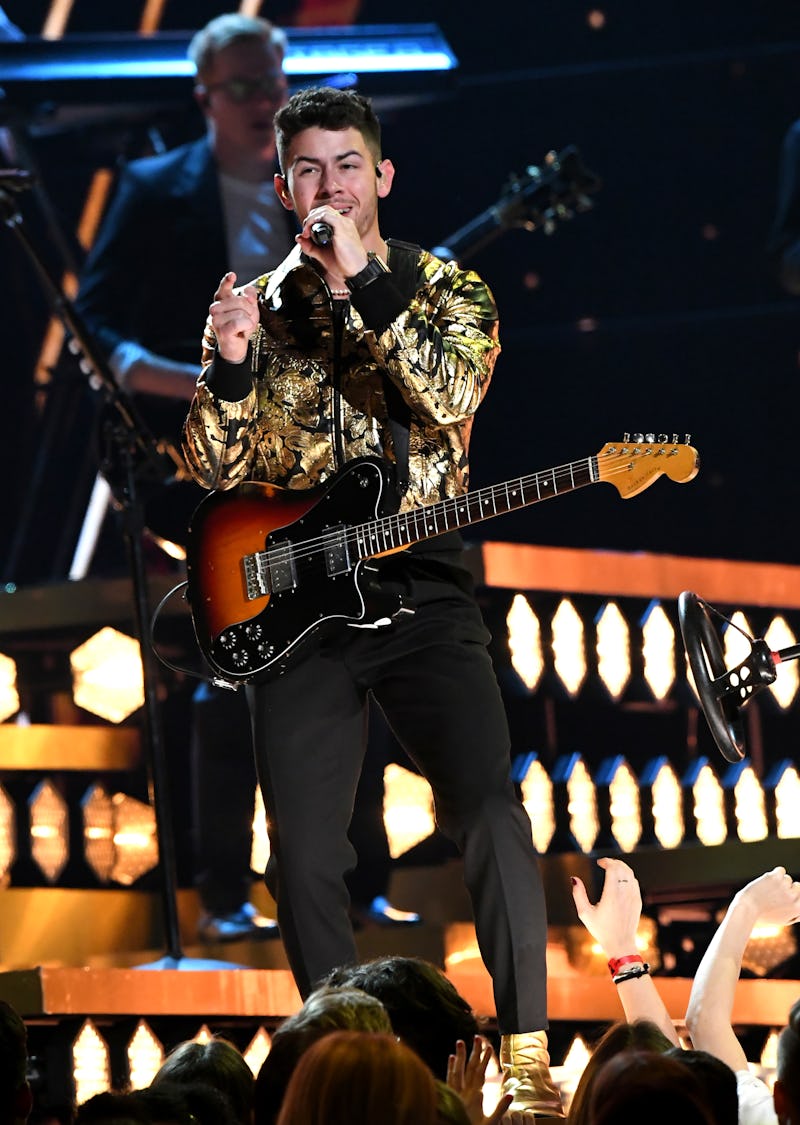 Jeff Kravitz/FilmMagic, Inc/Getty Images
If you noticed a little funk in Nick Jonas' teeth during the Jonas Brothers' 2020 Grammys performance, it wasn't your TV. While he sang and played the guitar on stage, zoomed-in shots helped fans notice a little something in his teeth. It turns out that Nick is just like us! He ate a salad (or something) and forgot to floss. After the performance ended, Jonas took to Twitter to confirm their suspicions. Yes, he forgot to floss before taking the stage.
"So honored to have been back on the Grammy stage tonight," he tweeted. He followed that up with the fact-check everyone needed. "And at least you all know I eat my greens." You'd think his brothers or someone would have given him a little heads-up before going live on national television.
The band, whose hit song "Sucker" lost the Best Pop Duo/Group Performance category to Lil Nas X and Billy Ray Cyrus' "Old Town Road," performed a mix of their new songs "Five More Minutes" and "What's a Man Gotta Do," the latter of which they dropped a music video for on Jan. 17.
Jonas' brothers may have not noticed his dental faux pas, but his fans were there for him from a distance. "Who let nick jonas on stage with the LETTUCE IN HIS TOOTH," @nquale19 tweeted. Another was sure the lonely piece of lettuce deserved a Grammy of its own. If you didn't get a glimpse of it during the livestream, see for yourself, the dark speck in all its pearly white-surrounded glory:
Naturally, people were curious to know what kind of leafy green could have been nestled up there. "Was it spinach? Kale? Lettuce?" @StaceyMarieP tweeted. "These are the things we need to know. It's important." They do hold wildly different nutritional values, after all.
Others encouraged him and told him to brush it off. "we love an icon who eats his greens and sings," @BayAreaJonas wrote. @Rob_Hoffman got creative by calling it a "plant-based grill alternative."
The deepest tweet referencing the instance overall, though, has to be one that shades the band's previous breakup. Is it possible that his bros, out of resentment, purposely didn't give him a heads-up? "Nick Jonas had food in his teeth during his performance and I think Joe and Kevin purposely didn't tell him as pay back for breaking up the band years ago," @AlliNichole7 wrote on Twitter.
Let's hope not. They just got back together, after all.