Nick Jonas & Priyanka Chopra Just Made A Special Visit To An Orphanage In Mumbai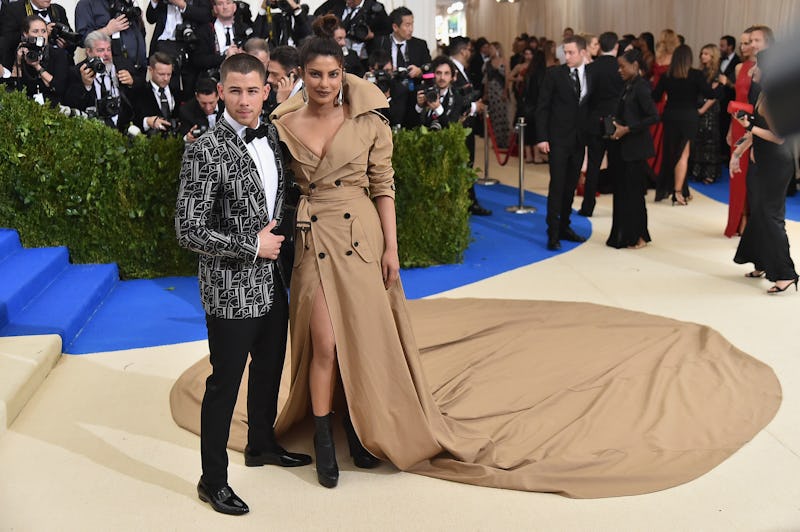 Mike Coppola/Getty Images Entertainment/Getty Images
As it turns out, their recent trip to India wasn't just to see family and friends. Alongside a family ceremony for their engagement, Nick Jonas and Priyanka Chopra visited an orphanage in Mumbai, according to E! News, and the video of the smiling girls in the audience is heartwarming enough to make you become a new fan of this couple.
As E! News reported, the singer posted a video to his Instagram story of the former Quantico star dancing with a young girl in red at St. Catherine's Orphanage in Andheri, a suburban locality of West Mumbai. The audience, made up of other young girls, is cheering and clapping along with the song. In the caption for the video, Jonas wrote, "St. Catherine's orphanage today. My heart is full."
Chopra is linked to a number of charities, Bollywood Life reported, and serves as the UNICEF Goodwill Ambassador for Child Rights. In May, she spent time at the Rohingya refugee camps in Bangladesh, where she urged people to "Open your heart to the children" and to "Be compassionate for the sake of the humanity," according to The Hollywood Reporter.
The 36-year-old Bollywood star and 25-year-old pop star confirmed their engagement on social media after landing in Mumbai Saturday. The couple wanted to celebrate with family and to hold a traditional pre-wedding event called a Roka ceremony.
On Saturday, Chopra posted a picture of herself in Jonas' embrace as the two shared an intimate look. Alongside the photo, Chopra wrote, "Taken.. With all my heart and soul.." But it was Jonas' caption on his account with the same photo that confirmed their rumored engagement to fans around the world: the groom-to-be simply wrote, "Future Mrs. Jonas. My heart. My love." For fans hoping for closeup photos of her engagement rock, a stunning ring was featured, but unfortunately, it was on the wrong hand.
The Jealous singer also posted a separate batch of photos on Saturday that gave fans a more detailed glimpse of the Roka ceremony. He captioned the post with, "Prayer, family and loved ones as the foundation to this new chapter," next to an emoji of India's flag. Chopra posted the same series of pictures, writing, "The only way to do this... with Family and God. Thank you all for your wishes and blessings." The couple wears traditional Indian dress for the ceremoney, with Chopra in an embellished yellow salwar suit and Jonas in a white kurta churidar.
The photos also included a family photo with parents from both sides. The picture showed Kevin Jonas Sr. and Denise Jonas, dressed in light Indian wear, sitting next Chopra's mother, Madhu Chopra, with her brother Sidharth standing next to the couple. And, as Bollywood Life reported, the affair wasn't entirely a family one — friends also arrived to celebrate the engagement, including several high-profile Bollywood figures.
Jonas' two older brothers were not present for the celebration in India, but the two did offer their congratulations on social media. Kevin Jonas offered a simple but excited congratulations on his Instagram story, E! News reported, while Joe was a bit more heartfelt.
"I couldn't be happier for my brother," Joe wrote, welcoming Chopra to the family. "We love you."