Nick Jonas & Priyanka Chopra's Honeymoon Photos Are The Most Romantic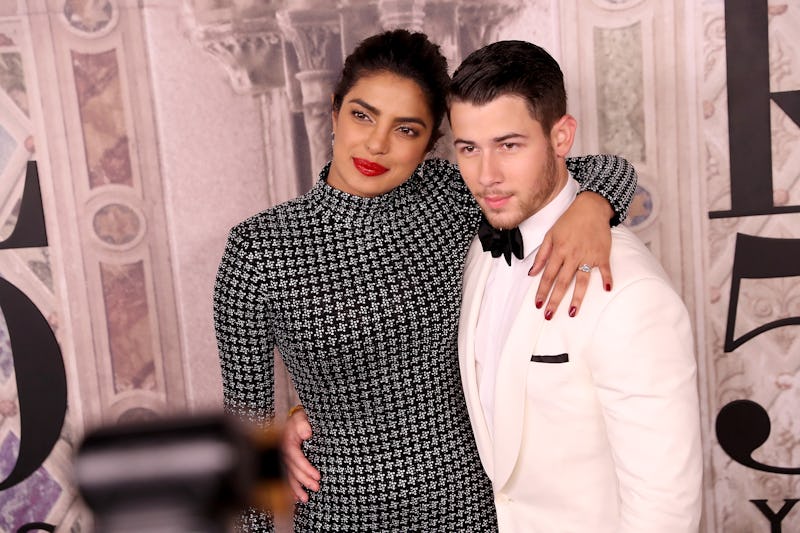 Rob Kim/Getty Images Entertainment/Getty Images
Mr. and Mrs. Jonas are living it up in the Caribbean and they're doing so in total style, of course. As E! News reported, Nick Jonas and Priyanka Chopra are on their honeymoon, over a month after they exchanged vows in December 2018. But, based on the photos from their trip, their vacation was definitely worth the wait.
Since the couple had a slew of previous engagements in December, such as hosting parties, attending a wedding celebration, and spending some time with their family over the holidays, they had to postpone their honeymoon a little while, per E! News. So, the newlyweds got to go on their trip recently, which saw the pair heading to a gorgeous, tropical locale. Apparently, the honeymoon was made all the more special thanks to some careful and secretive planning on behalf of Jonas. A source told E! News that the singer had planned "the whole honeymoon and surprised Priyanka with the celebration."
"She had no idea it was going to be the Caribbean and Nick is planning everything for the trip, it's all a complete surprise to Priyanka," the source claimed, "She knew it was a honeymoon trip but didn't find out where they were going until they landed." Wow, guys, it's only January but Jonas may have just won Husband of the Year already with that romantic move.
In his Instagram Story, the "Jealous" singer gave fans a sneak peek at the couple's getaway, as he posted a clip of his wife swinging away on a picturesque beach. The married couple also posed together for a stylish photo, which Jonas captioned with a simple, "Mr. & Mrs. Jonas."
Similarly, the Quantico star posted a photo of the couple during their getaway and wrote, "And then.. there was only him... 😍." Talk about romantic.
Chopra previously hinted that her husband was planning the major surprise. She told India's NDTV at the India launch of Bumble on Dec. 5, which happened to mark the newlyweds' first public appearance together, that she wasn't aware of any of the honeymoon planning. She said:
"Right now, I have just work commitments this whole month...and I don't know. We still haven't figured out where. I think it's going to be a surprise though. I think that's what my husband's planning."
While the couple was busy with all of their globetrotting tasks, they did still make time for a little "mini-moon" vacay in mid-December. According to People, they got some relaxation time in during their brief trip to Oman. They managed to make a pit stop at the destination shortly after they attended Isha Ambani's pre-wedding celebration in Mumbai.
During their mini-moon, Chopra posted a little glimpse into their vacation, as she posted a selfie of her and Jonas (with her stunning engagement ring on full display) and wrote, "Marital bliss they say.. 😍❤️💋."
After exchanging vows in multiple ceremonies in early December, Jonas and Chopra have certainly had a lot on their plates. Between fun ski trips with the family and spending their first Christmas together as a married couple, they'd definitely had a busy holiday season. So, it's nice to see that they've recently managed to get some rest and relaxation during their fun honeymoon getaway.