Nick & Rachel Are Already Talking 'Bach' Hometowns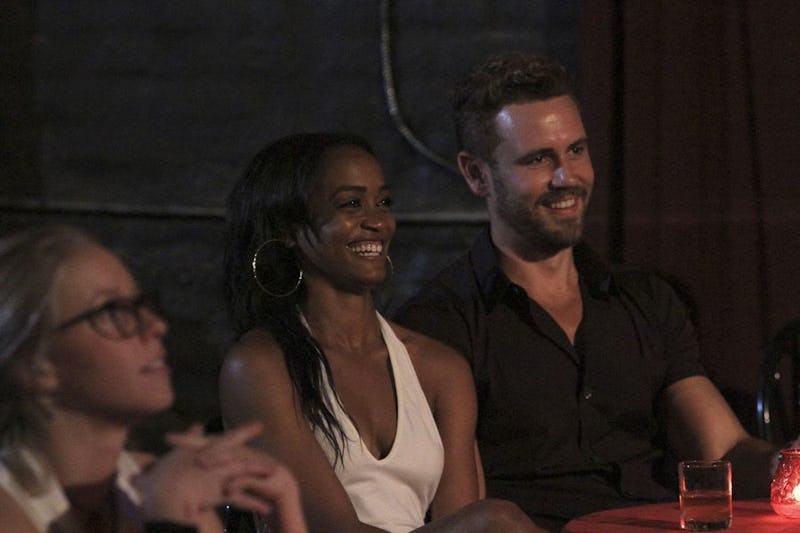 Mark Coffey/ABC
The Bachelor may have only started earlier this month, but it's pretty clear that Nick Viall is already starting to decide who he might want to spend the rest of his life with — and as of the latest episode, he's even starting to talk about it. It's been obvious that he has chemistry with Corinne and loves hanging out with Vanessa, and now, there's another frontrunner they'll have to contend with: Rachel. During a one-on-one date on Monday night's episode, Nick mentioned Bachelor hometowns to Rachel, and this is some serious evidence that he's developing real feelings for her.
It happened while they were at dinner after a day spent exploring New Orleans and eating beignets together. Nick and Rachel got to talking about their families, and then he started asking questions about Rachel's dad, who just so happens to be a federal judge. The way he was talking made it sound like there's no "if" he meets Rachel's parents, just a "when," and he started mentioning how he was going to address her dad and maybe even ask him for his blessing marrying his daughter (!!!!!). It's relatively uncommon for such serious talk to happen so early on, especially during the first one-on-one they've shared, so his feelings for Rachel must be huge.
And the feelings part was something that Nick was transparent about during their date. Not only did they exchange several smooches, but he also admitted that he has a strong connection with her, which is pretty important. And as far as Rachel is concerned, it seems like the feeling is mutual.
If Nick's truly speaking from the heart, it seems like we can expect to see Rachel sticking around for the long haul, which is great because she seems like such an awesome person and a great fit for Nick. I can't wait to find out if this initial chemistry he's feeling is really indicative of the way the season will go. Not too much longer 'til those hometowns.