January Jones Says Nick Viall Asked Her To Lip Sync Battle Him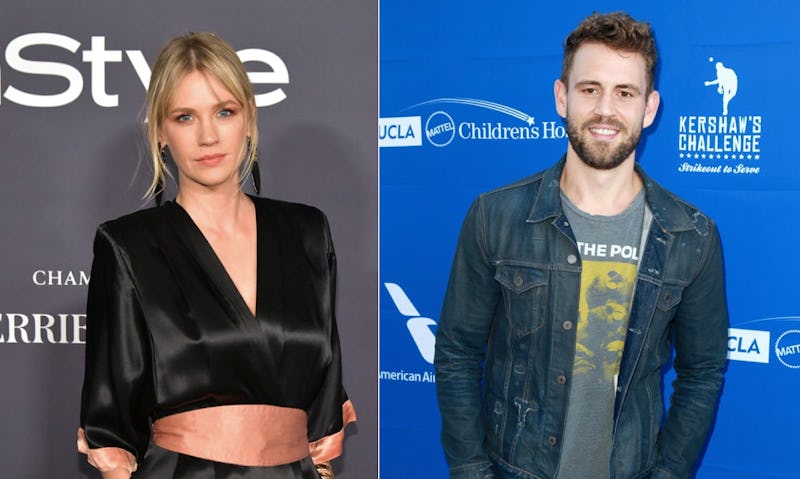 Getty Images
Just like many Bachelor viewers, January Jones cannot decide how she feels about Nick Viall. Unlike most Bachelor fans, Jones actually had a chance to interact with him. Nick Viall reached out to January Jones for the weirdest reason, as she explained in a recent interview, and it sounds like they really should meet each other.
No, the five-time reality star did not slide into the actor's DMs or attempt to date her... but maybe he should? During an appearance on The Late Late Show With James Corden, Jones revealed, "He asked me to battle him on Lip Sync Battle." Yes, really.
The Mad Men star clarified that the two-time Bachelorette runner-up did not reach out to her directly about competing on the show. As she told Corden, he "got in touch with me through my buffer person." As an avid viewer of the Bachelor franchise, the idea seemed to confuse Jones more than anything. "Is that his way of asking me out or does he have a problem with me?" she said. "I don't know what that was, but I declined because I don't need to be humiliated," she explained.
Viall actually went pretty far during his Dancing With The Stars stint, so it's not surprising that he wants to go on Lip Sync Battle next. Plus, former Bachelor Ben Higgins and the most recent Bachelorette star Rachel Lindsay just filmed an episode, so it does make sense that he would want to do it, too.
At first it seemed like Jones might be put off if that was Viall's way of asking her out, but there was a plot twist: She might actually be cool with the idea. Corden asked, "Did he not come back and say 'do you want to get a drink or something?'" Jones said, "No, he didn't and that says a lot."
Most people would not push for a date after a failed business proposal, but Jones seemed like she might be open to it. "You don't know if you like him or if he's a scumbag," she said, "and I think that's why I'm attracted to him, maybe?" That's not exactly singing his praises, but it's safe to say she is at least intrigued by the man.
Emmy Rossum was another guest on Late Late Show episode, and she said that she saw Viall getting coffee once. Jones added, "He just goes and drinks coffee like he's cute and normal. I'm so mixed." She sounds like a lot of Bachelor viewers who cannot decide how they feel about him, but she does have a chance of actually meeting him and deciding for herself instead of forming her opinions based on TV. Maybe she should take him up on it.
Corden told Jones, "You just don't know where you stand with this guy." She agreed and added, "I don't know where he stands with me." This sounds like something a Bachelor contestant might say if she was unsure about receiving a rose.
So, did Viall want to battle Jones because he's into her? Did he want to go against her because he thinks she is a worthy opponent? Maybe he just knows that Jones is a Bachelor super fan... who is possibly into him.
During a March 2017 appearance on The Late Late Show, Jones was asked which reality show she would want to be on. Without hesitation she answered, "The Bachelorette."
She even explained a conversation that she had with her publicist: "I watch the show, have a couple of glasses of wine, Ben [Higgins] gets kicked off and I'm like — 'Oh, I'm going to be the next Bachelorette and get that guy. And then she says that's going to ruin my career and I get shot down. But that's my dream!"
Corden asked if she would want to date Higgins and she admitted, "maybe," before revealing "he's not even my favorite." She shared, "Well, Nick's pretty cute." So maybe Viall should have just asked her out instead of challenging her to a lip sync battle?
It looks like this episode of Lip Sync Battle is not happening, but Jones and Viall should really get in touch.