Nick & Vanessa Had A Sweet Post-'Bachelor' Date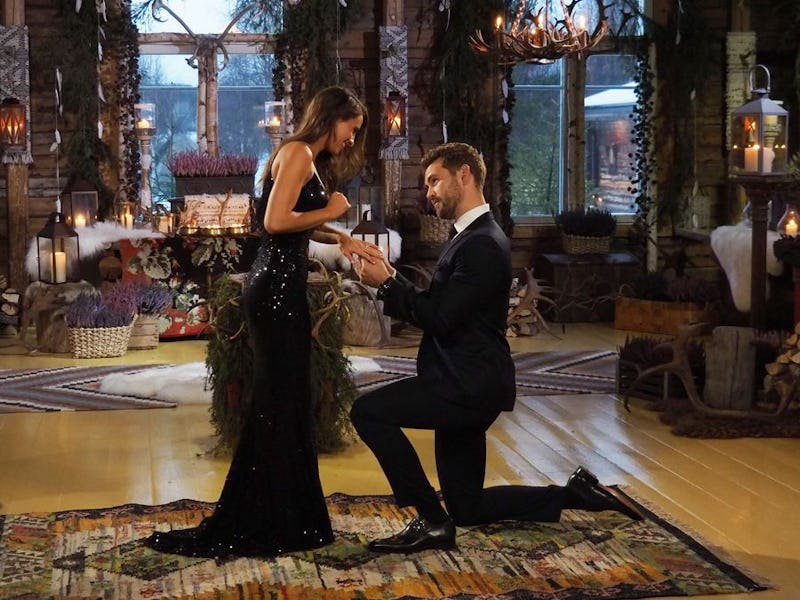 Terhi Tuovinen/ABC
Say what you want about Nick Viall and Vanessa Grimaldi, but The Bachelor lovebirds seem to be enjoying their newly public engagement. According to an According to social media, Nick and Vanessa went to a post-Bachelor date to a basketball game on Friday in Milwaukee, which is his hometown. According to E! News, Nick and Vanessa attended a Milawaukee Bucks NBA game at the BMO Harris Bradley Center, which also held a "A Night With Nick Viall" event where fans could meet the new Bachelor couple in person and receive roses.
Vanessa posted a cute selfie of her and Nick at the game on her Instagram account, accompanied by the caption: "Good to finally be back with my man in his hometown," followed by three basketball emojis. According to social media posts and photos, Nick and Vanessa posed with fans and roses at the meet-and-greet event and drank some beers while they sat in courtside seats. And if you're wondering if Nick is still practicing his moves for Dancing With The Stars, E! News reported that Vanessa posted several Instagram stories showing her fiance dancing around in their hotel room and prepping for his next big performance. So, this wasn't a day off for the DWTS competitor.
But the trip back to Nick's home state was a short one — they arrived back in Los Angeles on Saturday, according to social media. Nick posted a selfie of him and Vanessa at the Milwaukee airport with the caption, "So much fun getting back home with this one. Back to LA! Need to fine tune my [dance emoji] moves."
Nick and Vanessa seem to be enjoying the fact that their engagement is finally public and out in the open since The Bachelor season finale aired earlier this month, appearing on Ellen DeGeneres' talk show Ellen recently and posting throwback photos from earlier in their relationship, like the one below.
So despite the criticism the couple has received, it seems like Nick and Vanessa are having a blast together in their post-Bachelor life.