Nick Viall Just Revealed How He Feels About Being The Next Bachelor & It's A Lot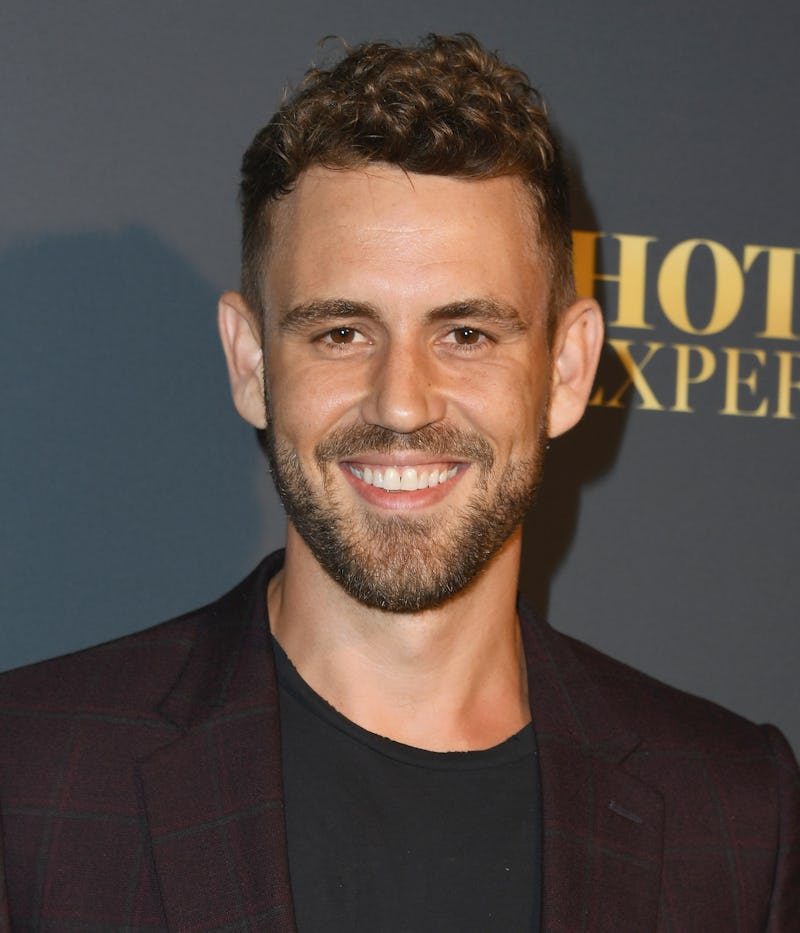 Jon Kopaloff/Getty Images Entertainment/Getty Images
They say that third time's the charm, but in the case of former Bachelor Nick Viall, third time is also the final straw. During a recent interview with Us Weekly, the reality star opened up about his time in the franchise and made it absolutely clear that he has no intention of being part of the show for a fourth time.
When asked what exactly it would take for him to return as the Bachelor, Nick wasted no time in beating around the bush. "Imprisonment?" he joked. "I don't know. A gun?" Suffice to say, Nick's comments about The Bachelor prove that he's pretty much done with trying to find love on-screen in any way, shape, or form. And honestly, that's completely understandable.
Nick's journey for love has never been easy. He was the runner-up on both Andi Dorfman's and Kaitlyn Bristowe's perspective seasons of The Bachelorette before becoming the Bachelor himself in Season 21. In the finale, he proposed to Vanessa Grimaldi, however, the couple eventually broke up less than a year later on amicable terms. According to Us, Vanessa later revealed that Nick's strong presence on social media proved to be an issue for her, preferring to live a more private life. But Nick is less concerned with all that and more focused on the chemistry he shares with someone.
"I don't like to put any limits [on a relationship]. Personally, I think limits like that are kinda silly. Things like whether someone's on social media or not, the reality is, whether you're someone who's a public figure or not, a lot of people have a pretty strong social media – it's almost like the new norm," he told Us Weekly. "But sometimes it can be refreshing that someone is less involved in that. I'm more looking for more specific things rather than the peripheral, whether they have an Instagram following. It's more about connection than that kind of stuff."
But any future connections he finds will have to be done off-screen and without any sort of rose distribution process. That's not to say that Nick doesn't still remains close to numerous members of Bachelor Nation. In fact, he's become very close friends with former Bachelor Ben Higgins, though, he suspects that much like himself, Ben wouldn't be interested in being the Bachelor for a second time around, telling Us Weekly during the same interview that "I don't think he would do it."
So who does he want to see become the next Bachelor when the show returns in 2019? "I really have no idea who will be the next Bachelor, but I hope it's Blake [Horstmann]," Nick revealed. Blake was the runner-up during Becca Kufrin's season of The Bachelorette, which left him completely blindsided and broken hearted — two key ingredients needed in creating the perfect Bachelor edit.
So far the higher ups at ABC are keeping mum about whether or not Blake will be series' new leading man, but when it comes to narrowing down the candidates, it's safe to say that Nick's name won't be among them.