Nickelback Just Delivered The Most Epic Comeback While Reading Mean Tweets On 'Kimmel'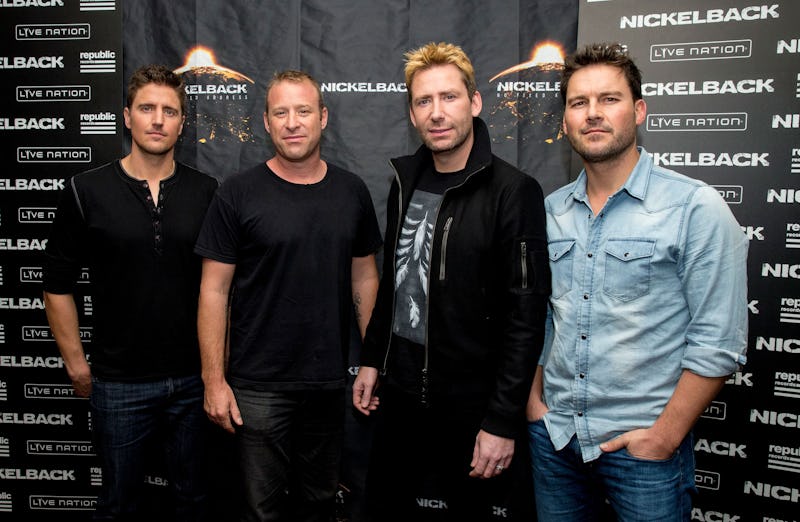 Mark Davis/Getty Images Entertainment/Getty Images
Every late night talk show host has various segments and skits they deliver during their time on the air, but one of the most beloved has to be Jimmy Kimmel's iconic mean tweets segment, where he forces Hollywood's finest to read some of the meanest things the internet has to say about them. This week, that honor was bestowed upon an array of different musicians, and while it was just as amusing as ever, Nickelback's comeback to Jimmy Kimmel's mean tweets was totally epic and may even prompt you to listen to one of their songs out of respect.
The segment was in honor of the American Music Awards, which took place on Tuesday, Oct. 9. And what better way to take these artists' egos down a peg or two than by forcing them to visit one of the scariest places imaginable: Twitter. The artists featured in the segment included the likes of Miley Cyrus, Elvis Costello, Gwen Stefani, Halsey, The Chainsmokers, Dua Lipa, The Strokes, and many others. Stefani kicked things off by reading the first insult: "Gwen Stefani really is the worst thing to ever happen. Period. Full stop. #UghBarf." Later on came Cyrus, who read: "Miley Cyrus is a smelly pirate hooker," immediately prompting her to flip off the camera.
Not to be left out, The Chainsmokers found themselves roasted pretty decently as well, with one tweet reading: "One of my employees was talking about how The Chainsmokers are actually pretty good and don't deserve all the hate. So I fired him." (They seemed to take the hit well enough.) But it wasn't until the end when Nickelback came into the spotlight and had their shining moment.
Leaning into the band's history of being disliked by many (seriously, there's even a scientific explanation about it), the roasting began with Korn reading their own mean tweet out loud: "Korn. F*ck those guys more than Nickelback," a statement which made all members in the band groan in excess. Then came Nickelback themselves, who took their mean tweet like champs. "I would rather stab myself in the t*int than hear another Nickelback song," the tweet read. This prompted lead singer Chad Kroeger to respond with the most perfect comeback: "That's funny— that's how we make Nickelback songs."
Say what you will about the band's music, but love it or hate it (or even love to hate it or hate to love it), there's no denying that they had a pretty great response to the insult. Sometimes the replies to the tweets can prove to be even better than the tweets themselves during Kimmel's segment, and this is a prime example of that fact. When it comes to saving the best for last, normally the word "Nickelback" doesn't automatically come to mind, but in this case you've gotta give it to them. They've earned it.
So let's all just take a moment out of our day and raise a glass to Nickelback, who proved on the late night circuit that, when push comes to shove, they are more than capable of laughing at themselves.