Is Nicki Minaj Dropping A New Single?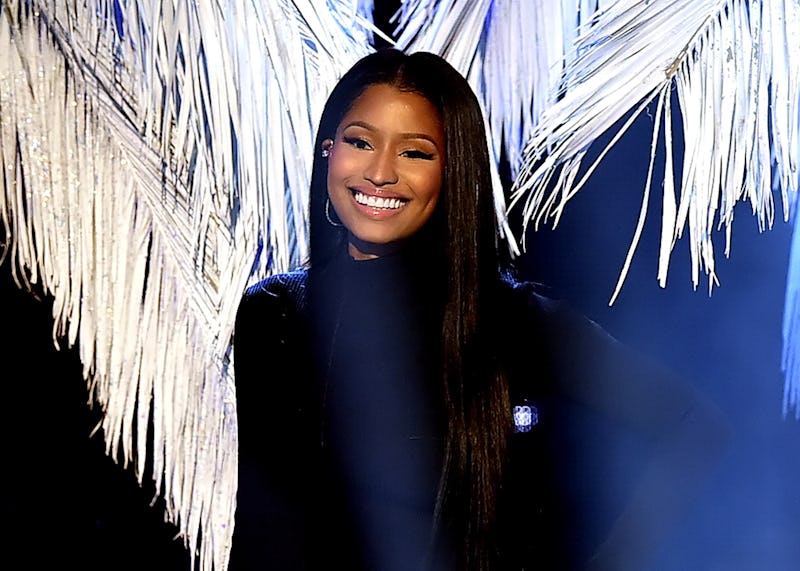 Kevin Winter/Getty Images Entertainment/Getty Images
When Nicki Minaj speaks, the people listen, and this Friday we're apparently going to want to keep our ears open. Idolator reported that Minaj is going to drop a new single and it may just be a response to Remy Ma's "Shether." The track, which Ma dropped last month, had her going in on Minaj's recent breakup with Meek Mill, accusing her of ghostwriting and even taking on Minaj's brother, Jelani Maraj, who faces trial for allegedly raping a 12-year-old girl in 2015. Minaj seemed to respond to Remy Ma's track with two Instagam posts that made it clear she wasn't interested in hearing Ma's take on her success. Minaj even brought out the big guns, posting a video of Beyoncé serenading her with Prince's "Darling Nikki." Minaj hasn't confirmed this is a diss track. In fact, she hasn't confirmed she's even releasing any new music tomorrow, but some have started to share what they know.
Writer Sowmya Krishnamurthy tweeted that "per my source" Minaj's new song is her single and it's dropping at midnight. It's reportedly called "Frauds" and features Drake and Lil Wayne. Recently, Minaj instagrammed a photo of her in Paris with both Drake and Lil Wayne giving some legitimacy to this yet to be confirmed news.
Minaj certainly teased that something may be in the works with her caption: "#3PackFromPARIS w/love." It even sparked a new rumor, that the three pack refers to the singles all three artists plan to drop. This means fans may not just get a Minaj solo track featuring these guys but an additional two tracks featuring Minaj.
But, is "Frauds" a diss track? Krishnamurthy isn't quite sure. "She doesn't go directly at Remy Ma but there's subliminals," she tweeted, admitting "I have not heard the track."
According to a DJ named Justin Credible at Power 106 FM, who also hasn't heard the song but was willing to confirm something is coming, Minaj's new song may not be a response to Remy Ma. "Maybe it's a diss record, maybe it's not," he wrote on Twitter. But, as he pointed out, "Any new Nicki is good Nicki!!"
Ma may prefer it's not a diss track, since she recently revealed on Facebook Live session on Buzzfeed's Another Round podcast that she wasn't proud of "Shether." She wishes things could have gone differently and that she and Minaj could have worked together on a track. "It just bothers me that me picking apart another female is what went viral," she said, adding. "I don't regret it, I'm just not particularly proud of it."
While Minaj hasn't released a proper album since 2014's The Pinkprint, she certainly hasn't been quiet. In the past month, she appeared on Nick Jonas' "Bom Bidi Bom" of the Fifty Shades Darker soundtrack, Jason Derulo's "Swalla" with Ty Dolla $ign and Gucci Mane's "Make Love." The latter of which debuted at #73 in the Billboard Hot 100 and helped Minaj reach a new milestone. Minaj is now tied with Aretha Franklin for most Hot 100 hits among women. Whether Minaj's new track is a response to Remy Ma or not, it's clear, her fans are ready to hear what she has to say.