Nicole Kidman's Emmys Speech Had Reese Witherspoon & Her 'Big Little Lies' Castmates Weeping With Joy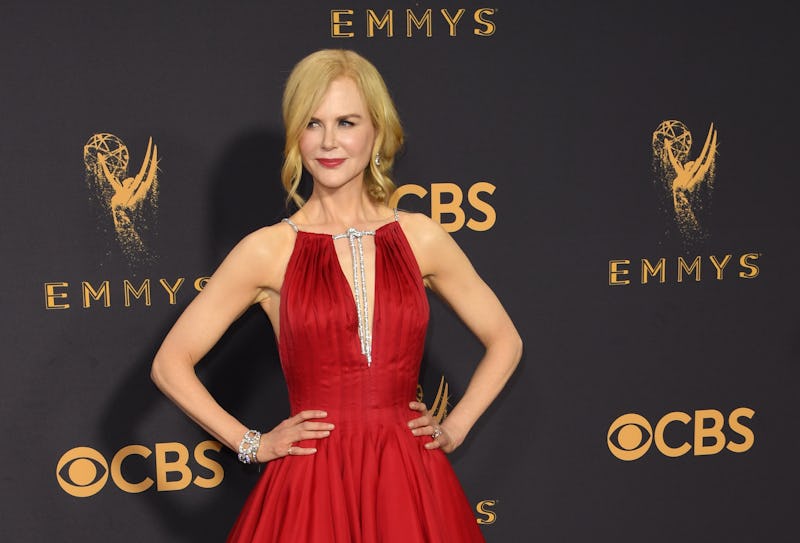 MARK RALSTON/AFP/Getty Images
Frankly, every last nominee for the 2017 Limited Series Actress Emmy is too good to be true. Only one of the Big Little Lies women could be the Television Academy's choice, but Nicole Kidman shared her Emmy with Reese Witherspoon, her nominated co-star. The other actors in the category were Carrie Coon for Fargo, Felicity Huffman for American Crime, Jessica Lange and Susan Sarandon of Feud, but the Emmys showed enough love to Big Little Lies earlier in the night that it seemed this one was going to go to one of those gorgeously complicated moms from Monterrey, California. Kidman's Emmys speech showed that there's no resentment or competitiveness in the Big Little Lies sisterhood, and Witherspoon's tears — as well as those of their other co-stars and creative collaborators — showed why female-driven series like this are so vital to women in the industry lifting one another up.
Kidman wasted no time in showing love for Witherspoon after she was presented with her trophy, saying, "Wow, thank you, thank you so much. Reese, I share this with you. Without you, I would not be standing up here, so."
The actor and producer of the acclaimed HBO miniseries went on to thank her collaborators, including the network for "never wavering in your belief in us, then praised "the extraordinary cast and crew we had" and co-stars Laura Dern, Zoe Kravitz, Shailene Woodley, Alexander Skarsgård, and Robin Weigert, her "intimate acting partners."
Kidman and Witherspoon not only brought their acting prowess to the series, but were the drivers of the project. Kidman referred to its beginnings and how she helped to shepherd it by calling back to their meeting with the author of the novel Big Little Lies adapts. "It all started with Lianne Moriarty in a cafe in Sydney, and she entrusted us with her book," Kidman said, before turning her attention to the project's writer and director. "Then David E. Kelly came along and shaped it with his brilliant storytelling. And Jean-Marc Vallée, this is yours, it's your vision. You imbued the series with your passion, with your artistry, thank you."
Big Little Lies' success is about more than just a talented cast of mostly women filling these Emmy categories with difficult, memorable portrayals. (Though, of course, that's great too.) Kidman framed its societal importance by talking about what she wants her two youngest children, her daughters with husband Keith Urban, to glean from this experience.
"I also am a mother and a wife. I have two little girls, Sunny and Faith, and my darling Keith, who I asked to help me pursue this artistic path and they have to sacrifice so much for it. So, this is yours. I want my little girls to have this on their shelf and to look at it and go, 'Every time my mama didn't put me to bed, it's because of this. I got something.' But also I want them to know that sometimes when you're acting, you get a chance to bring a bigger message. And this is your contribution and their contribution, we shine a light on domestic abuse. It is a complicated, insidious disease. It exists far more than we allow ourselves to know. It is filled with shame and secrecy, and by you acknowledging me with this award, it shines a light on it even more. So thank you thank you thank you, I bow down to you."
It's a sad and tired stereotype that women cannot work together without trying to tear one another down. And it's an utter untruth that art doesn't have an impact on the way we live. Kidman's speech reminded everyone watching the Emmys that women can be one another's biggest champions, and that stories like the one told on Big Little Lies can be entertaining and compelling, but absolutely essential to our lives too.