Why Everyone Needs To Hear Nina West's 'Drag Race' Story, Even If You Don't Watch The Show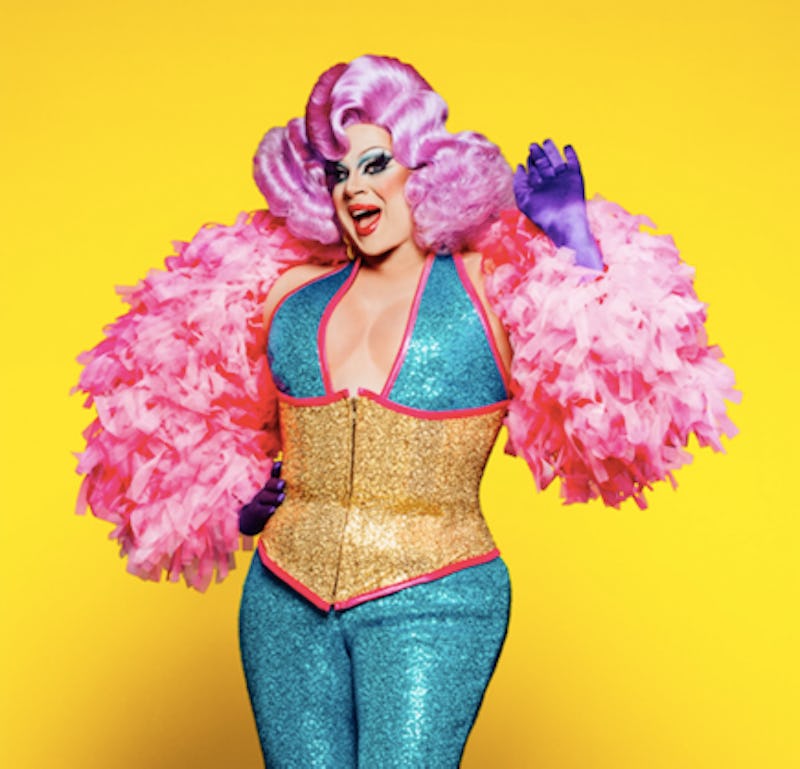 VH1
Throughout Drag Race's tenure, many queens have chosen to take advantage of the show's platform by sharing their unique stories, hopeful that at-home viewers will relate to them, or else learn from them. And during the March 21 episode, Drag Race Season 11 queen Nina West joined in. Her heartbreaking experience with adversity is one that's sadly all too common within the LGBTQ community, but that serves as a poignant reminder why Drag Race, for all of of its wig-snatching drama, is not just another reality competition series. It's a safe space to celebrate queer culture — and to further dialogue about the issues many people in the community are still facing.
Ru kind of set the stage for political banter with the announcement of "Trump: The Rusical" as the week's maxi-challenge, so when he asked Nina if she was politically-minded, it didn't come as a surprise that her answer was yes. Her backstory, however, was a little more unexpected. "I grew up in a really political family," she told Ru. "At the age of 12, I went to the Republican National Convention." She went on to say that she met Barbara Bush and Connie Chung and was the president of the Young Republicans Club. "Then I started to realize I was gay," she said. "And now I'm super liberal and super progressive."
It was when Ru walked away as the queens blended their eyeshadow and applied false lashes that the conversation grew more somber. "I really wish the country would get back to how it was when Obama ran, about the idea of hope," she said. By the time she attended college, Nina was openly gay, and she decided to run for student government. "This underground hate group that was on a really small, conservative college campus took it upon themselves to harass me, to break into my dorm room, to threaten my life," she told the other queens. "It was so scary. I can remember thinking that I was in trouble." Nina was afraid for her life, especially because the events took place during the time Matthew Shepard, a 21-year-old University of Wyoming student, was brutally murdered after being targeted for being gay.
"The Matthew Shepard murder changed my life," Nina said. "This is why I'm involved in gay rights issues because I don't want anyone to ever feel the way that I felt ... It is awful. You don't wanna ever feel like you don't matter.
Unfortunately, Nina's experience is one many in the LGBTQ community can relate to: as noted on GLAAD's website, a study commissioned by the Gay, Lesbian and Straight Education Network (GLSEN) found that four out of five LGBTQ students reported that they were harassed frequently in school based on their appearance or perceived sexual orientation. And according to research conducted by the Human Rights Campaign foundation, sexual orientation ranks as the third-highest motivator for hate crime incidents, while 54 percent of LGBTQ people say they're concerned about being a victim of a hate crime. All of which to say is that harassment and violence against the LGBTQ community is common, and it's critical that we fight back against it — which is exactly what Nina is doing.
Although she never should have been subjected to harassment, Nina didn't let it leave her defeated, and has instead channeled her experience into raising awareness for people who are victims of similar abuse. "We live in a culture right now where divisive rhetoric is winning," she said. "It is our responsibility to create the world we wanna live in. Don't let anyone tell you your voice doesn't matter. We all have the power to hopefully enact change."
Nina informed her followers on Twitter that Thursday's Drag Race episode would be a political one, but she did it in a way that encouraged them to get involved. "It is a very political episode on Thursday, which begs the question, are you registered to vote?" she wrote. "Let's help lead the charge because I just want to remind you, your voice matters. And 2020 is right around the corner."
She may not be on the ballad in 2020, but amid such a polarizing political climate, Nina is helping to remind us that no matter how bleak things may feel, we have to keep going. And whether that serves as reassurance or a jolt of motivation, that's probably something a lot of Drag Race fans need to hear — even if, at first, they only tuned in for the tea.