The Yazidi Activist Who Won The Nobel Peace Prize Wants Leaders To End Wartime Rape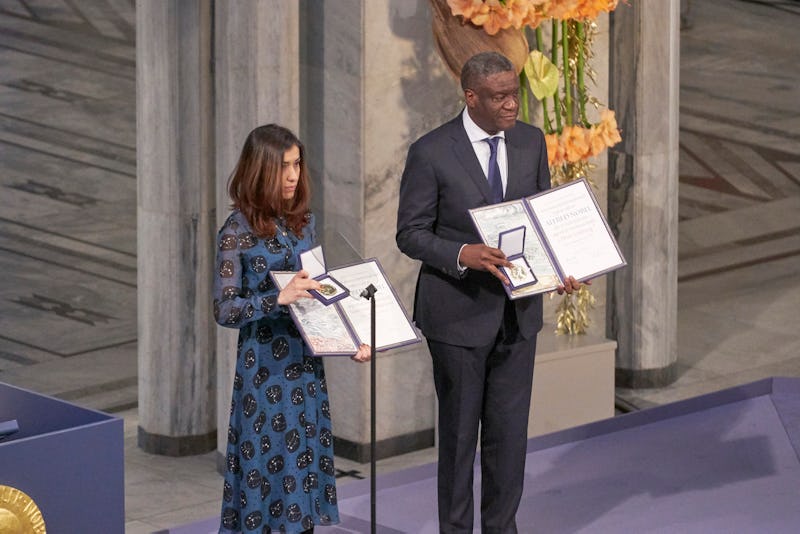 Erik Valestrand/Getty Images Entertainment/Getty Images
In their unapologetic speeches given on Monday in Oslo, Norway, this year's Nobel Peace Prize recipients, Nadia Murad and Denis Mukwege, demanded sexual violence be addressed through the international community's concerted efforts. According to The New York Times, the Nobel laureates held little back as they called for swift accountability from world leaders against mass rape in wartime.
For the Nobel Peace Prize recipients, sexual violence is a critical issue. Murad, a member of the Yazidi minority group in Iraq, gained international recognition when she brought the sexual violence committed by ISIS in her country to light. Since escaping her captors, Murad has spoken publicly about being held captive by ISIS. Now an activist, she is also the United Nations Goodwill Ambassador for the Dignity of Survivors of Human Trafficking. On the other hand, Mukwege is a gynecologist who has helped thousands of women in the Democratic Republic of Congo, according to The Hill.
While accepting the prize, Murad said, "Thank you very much for this honor but the fact remains that the only prize in the world that can restore our dignity is justice and the prosecution of criminals." She spoke of Kojo, Iraq, where she hails from, and how her dreams were crushed when ISIS captured the village.
"I did not know anything about the Nobel Peace Prize," the 25-year-old said. "I knew nothing about the conflicts and killings that took place in our world every day. I did not know that human beings could perpetrate such hideous crimes against each other."
Murad lambasted the global community, including Iraqi and Kurdish authorities, as she said they "stood idly by watching the annihilation of a complete community."
Mukwege, in his speech, urged global leaders to draw a "red line" against sexual violence during times of political conflict. "This red line would consist of imposing economic and political sanctions on these leaders and taking them to court," the doctor said.
He pointed to the political chaos in Congo and said that women were vulnerable to attacks from members of the militias as well as government soldiers. The doctor said that hundreds of thousands of Congolese women had been assaulted while four million people were displaced by wartime upheaval. "This human tragedy will continue if those responsible are not prosecuted," he warned.
In April, the UN Security Council discussed the issue of sexual violence used as a political tool of war and noted that such abuse was often carried out for the purpose of "political repression." The Security Council pointed to instances in Burma and Bangladesh, and noted that solutions had to be enacted.
In 2015, the UN Security Council released a similar report about conflict-related instances of sexual violence. In an example related to the Central African Republic alone, the report claimed that there had been 2,527 cases of such sexual violence during war.
Mukwege also pointed out that the exploitation of Congolese workers was central to the creation of smartphones that millions use. "The Congolese people have been humiliated, abused, and massacred for more than two decades in plain sight of the international community," he said. Mukwege urged politicians to address violence in his country and added, "Enough is enough! Peace, now!"
Echoing a similar sentiment about abuse and violence, Murad maintained a strong emphasis on international justice throughout her speech. "It is inconceivable," she said, "that the conscience of the leaders of 195 countries around the world is not mobilized to liberate these girls."
"What if they were a commercial deal, an oil field or a shipment of weapons?" Murad said. "Most certainly, no efforts would be spared to liberate them."