Non-Citizens Have A Right To Vote In Some Elections — But Trump May Be Deterring Them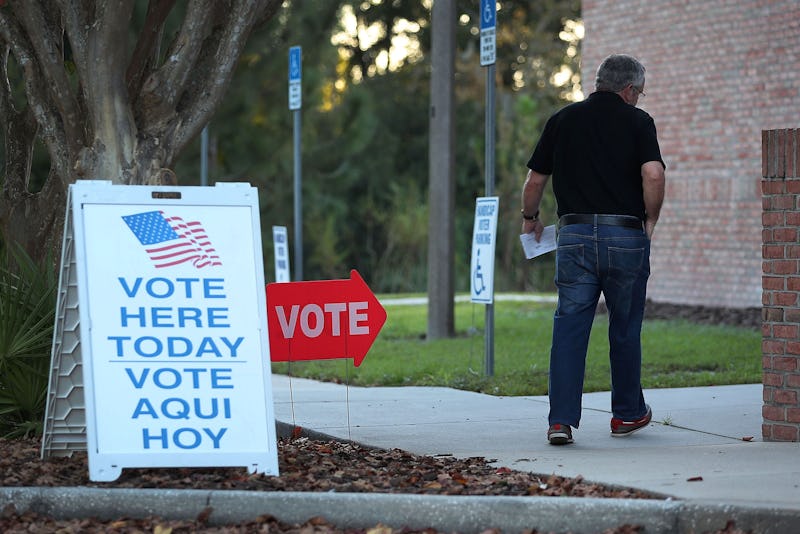 Joe Raedle/Getty Images News/Getty Images
Midterm elections are rapidly approaching and a host of unique electoral challenges are arriving along with them. For example, several cities around the United States grant non-citizens the right to vote in some local elections. Non-citizens typically include both undocumented and documented immigrants who reside in the country, but don't have citizenship status. However, while some non-citizens are legally able to head to the ballot box on Election Day, it seems like few are choosing to do so, thanks to the Trump administration's anti-immigration rhetoric.
San Francisco, California is the largest city that allows non-citizens to vote in local elections. As the Associated Press (AP) described, they can participate in the city's school board elections if they are a parent or guardian to a child in San Francisco's school district. In order to register to vote in the Nov. 6 school board race, they just have to provide their date of birth and address. Even so, only 35 non-citizens have registered to vote across the city. As the AP pointed out, though, people still have more time to register, as they can sign up to participate through Election Day.
Some think that the low registration numbers thus far stem from the president's harsh rhetoric about immigration.
David Lee, the executive director of the Chinese American Voters Education Committee, which has been hosting voter registration drives in the city, shared this sentiment with the AP:
People are really fearful because the Trump administration is perceived to be very anti-immigrant ... There is legitimate concern that their information may be turned over to the federal government and that they may end up being detained or deported.
Indeed, the city itself also forewarns voters that their registration information is publicly available and thereby may be accessed by federal immigration authorities. As the AP described, the city's election department has posted specific notices about this issue on both registration forms and voter information flyers.
San Francisco is not the only city in the United States that allows non-citizens to vote in local elections. As Axios reported, 10 different cities in Maryland that span the state's Montgomery and Prince George's counties allow non-citizens to participate in certain elections. Chicago, like San Francisco, also allows non-citizens to vote in school board elections, though these elections are for local school councils, not a city-wide school board. The aforementioned cities have not indicated one way or the other whether their non-citizen voter registration numbers seem to be impacted by the Trump administration's immigration discourse.
Non-citizens cannot vote in federal or state elections, as this is prohibited by federal law. However, this was not always the case. Newsweek reported that Ron Hayduck, a political scientist at San Francisco State University, said that from 1776 until 1926, 40 federal territories and states permitted non-citizens to vote in a myriad of elections, including those at the state and federal level. "For most of America's history and in the vast majority of the USA, voting by non-citizens was the norm, not the exception," he told the publication. Hayduck added that he believes laws and perceptions about non-citizen voting changed after a surge in immigration in the early 1900s.
Overall, while non-citizens can participate in some local elections across the country, it seems that the president's comments about immigration may be deterring them from voting, particularly in San Francisco. It remains to be seen how many will ultimately decide to cast ballots in local elections next month.