This Gender-Inclusive Brand Sold 5,000 Bottles Of Serum In Just 48 Hours Because It's THAT Good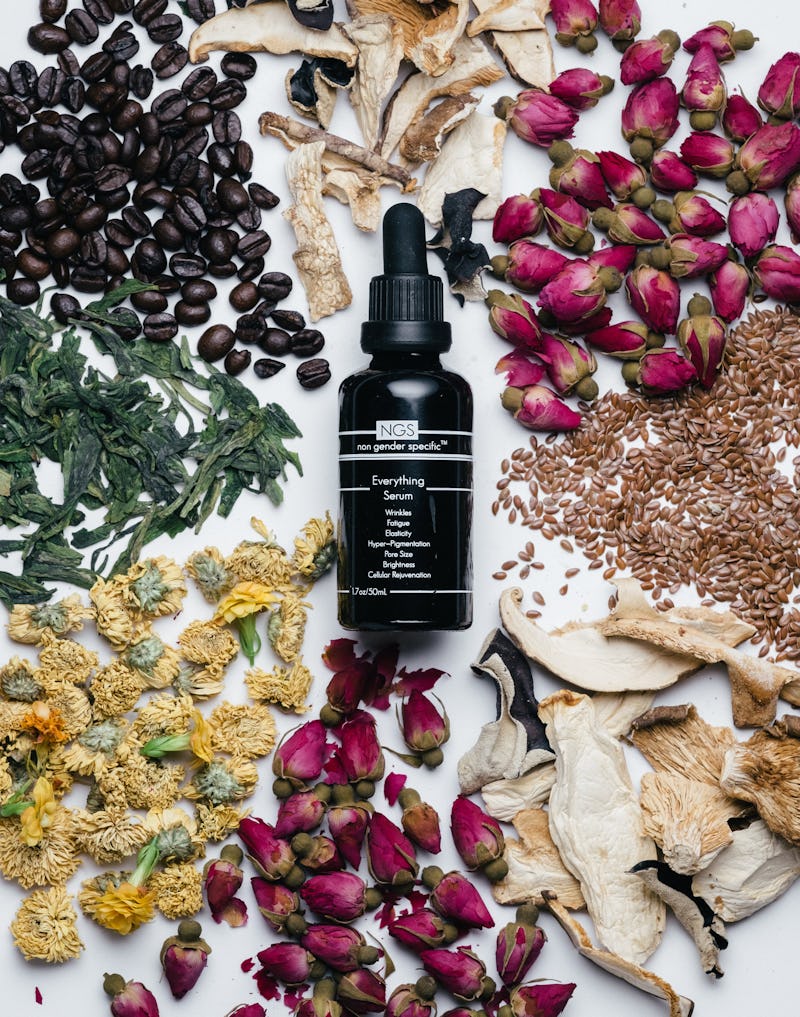 Courtesy of Non Gender Specific
Skin care is always in — no matter the trendy ingredient, the packaging, or the brand. However, there is a company that is capturing attention based on the fact that its products are quality and literally gender-free. Inclusive indie brand Non Gender Specific sold 5,000 bottles of its Everything Serum in just 48 hours. That's a downright massive movement of product for a brand that's not a household name — yet!
Non Gender Specific isn't simpy the company's name — it's the actual ethos that defines it. Despite marketing efforts, cosmetic products have no inherent gender — they just need to work! Clearly, Non Gender Specific is responding to a need and a want in the skin care category.
According to the press materials Bustle exclusively received, the brand sold a whopping 5,000 bottles of the product within two days of partnering with FabFitFun's subscription box service.
Here are precisely the reasons why.
Besides the benefits the Everything Serum provides for one's skin and visage, there's something more important at play here. Non Gender Specific promotes itself as a brand for all humans. It was created for all people and all gender identities — the company firmly believes in and encourages individuality.
This ace, skin-pampering, people-accepting, and multi-functional product is also vegan, all-natural, and eco-friendly.
NGS is not focused on whether or not someone identifies as male, female, or one of the other 71 known gender identities. They just formulate products that work and that you want to use.
Let's break down the Everything Serum's awesomeness into bite-sized pieces.
When incorporated into your morning routine and applied daily to clean skin, it brightens, reduces pore size, and firms. The do-all formula is silky smooth and instantly absorbs into skin, rather than sitting on top of it. There is no icky, sticky residue to deal with, especially if you are going to be applying liquid, cream, or powder foundation and beyond on top of it. All you with have is radiant, smooth, even, and brighter skin — a gorgeous canvas to start your day and to serve as a base for your makeup look.
The aptly-named formula doesn't pull double, triple, quadruple, or even quintuple duty. It feel as though it does, like, a million things in addition to evening out your complexion and simplifying your routine. The Everything Serum also combats other skin issues and concerns and assists the user in dealing with matters such as wrinkles, fatigue, elasticity, hyper-pigmentation, and discoloration.
The Everything Serum is a superhero product that will enhance your regimen. But it's also a wonderful way to support an indie brand that is doing its best to blur the boundaries and erase gender barriers. NGS is accepting of all identities and that's always, always something to get down with.
The serum is currently available for purchase on the brand's site. However, supply could very well be wiped out soon as word of this brand and the love skincare gurus have for it starts to further spread throughout the beauty community.