Nordstrom Is Making A Big Step Toward Inclusive Fashion & A Kardashian Might Be Behind The Change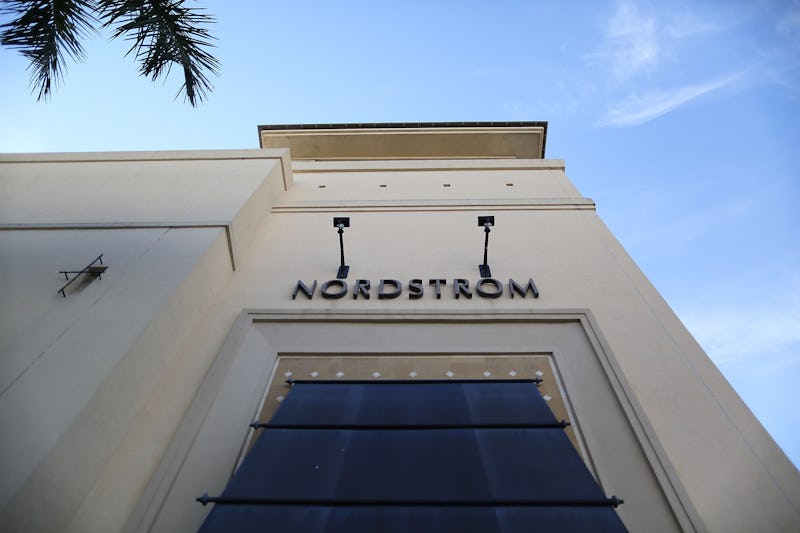 Joe Raedle/Getty Images News/Getty Images
When you're a plus size woman, shopping in major department stores often means being relegated to "your section." Now, however, that may be changing. Nordstrom's size inclusive expansion is a major move toward integrating all sizes into one inclusive section. The major department store is making a move to test merchandising all clothing together, starting with denim, instead of having a dedicated plus size section.
That's right. Women of all sizes are created equal and can all shop in the same section. Who would have thought?
How did Nordstrom's decision come about? According to Glamour, Khloe Kardashian and her Good American partner Emma Grede are to thank. Kardashian's Good American line launched exclusively in Nordstorm, Kardashian and Grede insisted that all of their denim be sold together, not split up into petite, straight size, and plus. In doing so, Good American seemed to trigger a light bulb in Nordstorm's retail head.
According to the Glamour article, Tricia Smith, the executive vice president of women's clothing at Nordstrom, gave direct credit to the denim brand.
"We've always known there were customers we couldn't take care of because their favorite brands didn't offer extended sizes," she said. "Good American's approach really resonated with me because of how inclusive it was and how it celebrated all body types. It was really powerful, and the reception was fantastic. It's one of our most successful launches, and it revealed to us the best-selling sizes: 0, 14, and 16. And it gave us the confidence to find a size-inclusive solution."
Forbes reports that the brand not only intends to merchandise plus, petite, and straight size denims together, but that the retailer has also called brands to expand their ranges to include sizes 0, 2, 14, 16, and 18. They're backing up the call as well by expanding their own in-store brands Caslon and Halogen.
Nordstrom's decision to only merchandise denim together is just a test, according to Glamour. The new Century City California store will act as a way of gauging interest in selling sizes side-by-side instead of breaking them into individual sections.
Both petite and plus size sections will still appear in stores nationwide until Nordstrom decides how to move forward based on sales and interest from Century City's test.
Merchandising clothing together will remove the stigma that comes with shopping in a wholly disparate section that isolates customers. However, expanding sizing to only 18 is just a hint of a positive move. With plus size retailers like Torrid and Eloquii hosting sizes up to 28 and 30, Nordstrom still has a lot to do before it can really be celebrated as a champion of body diversity. However, the decision to cross merchandise sizes and expand sizing by even a small amount is a step in the right direction.
The department store's call and expansion does mark a move forward for in-store shopping, a past time many plus women are still unable to do thanks to size exclusivity. Stores like Torrid and Lane Bryant, however, still deserve recognition not just for their expansive plus size selection, but for crafting safe spaces where most plus women can shop.
Hopefully, Nordstrom is just one of many departments stores who will soon be calling for size inclusivity. If a size 2 or a size 22 woman wants that gorgeous Rag n' Bone blazer, then she should be able to shop it.