A Judge Just Stopped North Carolina's 20-Week Abortion Ban In Its Tracks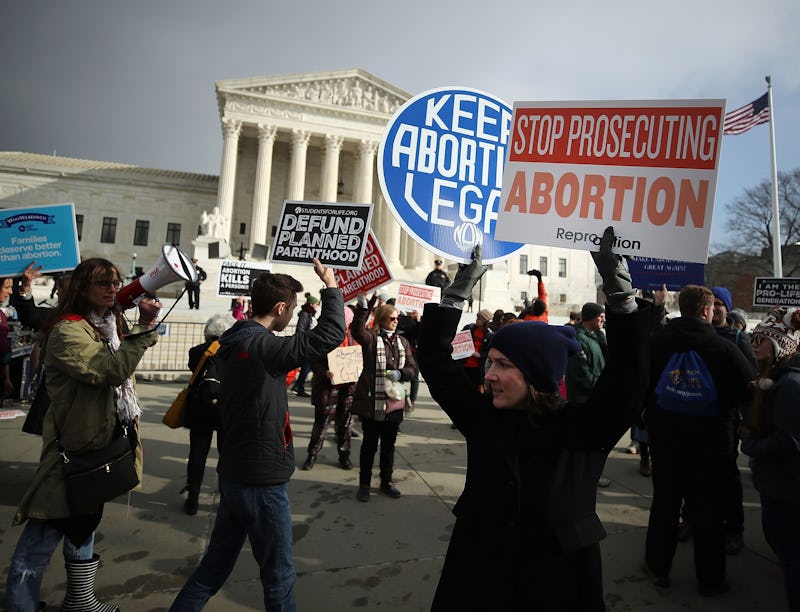 Mark Wilson/Getty Images News/Getty Images
On Tuesday, a U.S. federal court struck down North Carolina's 20-week abortion ban. The ban was overturned by U.S. District Judge William Osteen, and will take place in 60 days — unless the state appeals the decision. For now, though, the decision marks a huge win for the abortion rights groups in the area.
According to Reuters, three abortion rights groups filed the lawsuit against the ban: the Center for Reproductive Rights, the American Civil Liberties Union, and Planned Parenthood. In a statement following the announcement of the ban being overturned, Genevieve Scott, an attorney for the Center for Reproductive Rights said, via The Hill, "This ban is unconstitutional and ignores the unique circumstances, challenges, and potential complications pregnant women face. Politicians taking medical options off the table for women at any stage of pregnancy is irrational and dangerous."
Similarly, Attorney Irena Como for the ACLU of North Carolina said, via The Hill, "Important medical decisions throughout different points of a woman's pregnancy, including whether to have an abortion, must be left to the woman and her doctor – not politicians."
Per Reuters, a spokeswoman for the North Carolina attorney general said the office was reviewing the decision made by Osteen.
Following his decision, Osteen wrote, via The New York Times,
[A] state is never allowed to prohibit any swath of pre-viability abortions outright, no matter how strenuously it may believe that such a ban is in the best interests of its citizens or how minimal it may find the burden to women seeking an abortion.
Per CNN, Osteen added that his ruling "accords universally with those of other federal courts that have considered the constitutionality of twenty-week bans and similar week- or event-specific abortion bans."
Because of Osteen's decision, women will now be able to get an abortion in the state of North Carolina up until the point that a fetus is viable or able to live outside of the womb. And despite what some conservatives have argued about the heartbeat of a fetus defining viability, The Washington Post reports that the generally accepted age of viability for a fetus among experts is 24-28 weeks.
Additionally, Hal Lawrence, the Executive Vice President of the American Congress of Obstetricians and Gynecologists, is quoted by The Washington Post as saying in 2015, "In no way, shape or form is a 20-week fetus viable. There's no evidence of a 20-week fetus surviving, even with intensive medical care."
In an interview with The Washington Post, Andrew Beck, one of the ACLU lawyers who fought the ban, said that Osteen's decision was "just a reminder of what the law was," referencing Roe v. Wade. Beck added, "Politicians shouldn't be meddling with women's health in a way that's actually illegal. This decision puts the health and well-being [of women] front and center."
Though this might be an instance of a judge reinforcing Roe v. Wade as the law of the land, there are plenty of bills being pushed in conservative states in an active effort to destabilize Roe, simultaneously. Last week, Mississippi's governor signed a "heartbeat bill" into law, which aims to ban any abortion after a heartbeat is detected in the womb. This often takes place as early as six weeks into pregnancy. A number of these bills are being considered in other states; abortion rights groups have signaled their intent to challenge those bills in all instances.