North Carolina Senate Votes To Repeal HB2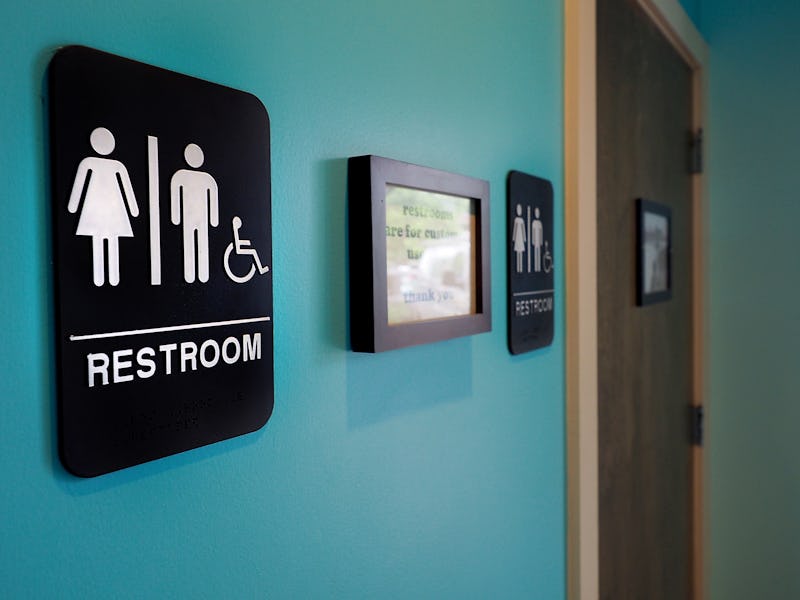 Sara D. Davis/Getty Images News/Getty Images
A so-called compromise measure that would repeal North Carolina's controversial "bathroom bill" was approved by the state Senate on Thursday. The bill aimed at dismantling HB2, which required people to use bathroom and locker room facilities that correspond to the gender given on their birth certificate while in schools and other government-run buildings, will now head to a vote in the North Carolina House of Representatives.
North Carolina's state Senate voted 32-16 to pass HB142, a compromise bill drafted by Republican leaders Rep. Tim Moore and Sen. Phil Berger that would repeal HB2, which was signed into law last year, with a few added stipulations. Although HB142 has garnered the support of North Carolina's Democratic government, many LGBTQ advocate groups have said the compromise bill does not fully repeal HB2 and thus still allows for potential discrimination against transgender people.
Under HB142, "state agencies, boards, offices, departments, institutions, branches of government" that include state universities, and "local boards of education" would be barred from regulating "access to multiple occupancy restrooms, showers, or changing facilities." Rather, attempts to regulate bathroom access or protect transgender people's right to use a bathroom or changing facility that corresponds to their gender identity would have to come from the state's General Assembly, where Republicans currently hold the majority of seats. However, the compromise bill also prohibits municipalities from implementing any non-discrimination ordinances – like the Charlotte non-discrimination ordinance that HB2 was initially designed to block – until 2020.
LGBTQ advocates worry this temporary ban on non-discrimination ordinances could be extended indefinitely and leave the state's transgender community without any clear legal protections. "This repeal is nothing but a replacement of the same discrimination of the original HB2," American Civil Liberties Union (ACLU) lawyer Chase Strangio said in a statement to ABC News. "The new bill, HB2.0, still bars trans people from receiving any protection from discrimination in schools and government buildings when it comes to using restrooms and other facilities." Similarly, the Human Rights Campaign argues HB142 "would effectively ban LGBTQ equality statewide until 2020."
The Republican lawmakers behind HB142 have said the bill is meant to be a compromise, which "requires give and take from all sides." "We are pleased this proposal fully protects bathroom safety and privacy," Berger and Moore said in a statement released earlier this week.
Roy Cooper, North Carolina's Democratic governor said Wednesday he would support the compromise bill while acknowledging "it's not a perfect deal." Cooper hailed the bill as legislation that "begins to repair our reputation" in a statement.
The bill must still clear the House and be signed by Cooper before it becomes law.