North Korea Sees Burger Restaurants As The Way Back Into Trump's Good Graces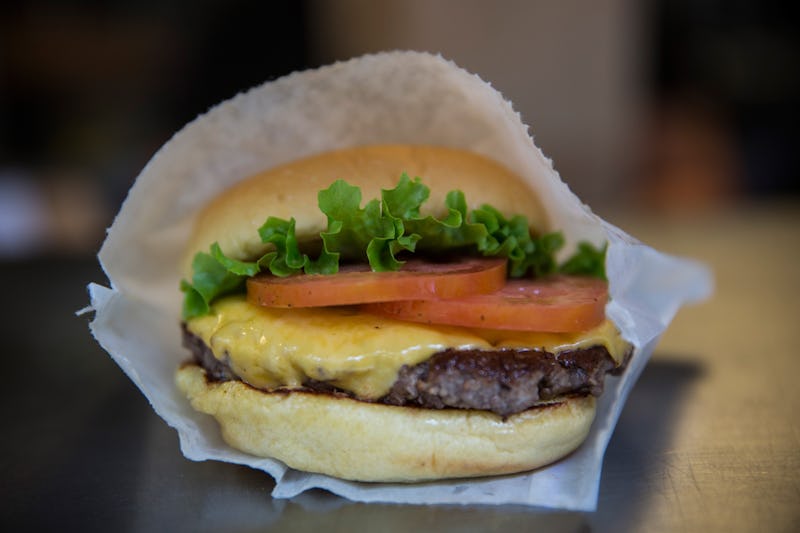 Andrew Burton/Getty Images News/Getty Images
That President Trump is a lover of hamburgers should come as no surprise to even casual followers of his public life. He's not shy about broadcasting his affection for them — and according to a new report, that's why North Korea is considering opening a burger franchise in its capital.
NBC News first reported the details about a possible fast food franchise in Pyongyang, culled from a CIA report outlining the likelihood of North Korea relinquishing its nuclear weapons program. The potential burger joint was listed as a possible "concession" on the part of North Korea. Purportedly, the diplomatic gesture would signal to Trump that North Korean leader Kim Jong Un is tuned into the president's personal needs. Trump also mused during the 2016 campaign that he'd like to chat with Kim informally, saying, "We should be eating a hamburger on a conference table, and we should make better deals with China and others and forget the state dinners."
But on the real goal of talks with North Korea — denuclearization of the totalitarian regime — CIA analysts are not optimistic. As one intelligence analyst told NBC News, "Everybody knows they are not going to denuclearize."
That sentiment was echoed in another recently published report, this one by Stanford professor Siegfried S. Hecker. Once the director of the Los Alamos weapons lab located in New Mexico, Hecker has also toured and inspected all of North Korea's nuclear sites, and is currently the only American scientist to have laid eyes on its uranium enrichment facility. And according to Hecker, nuclear disarmament of North Korea will take roughly 15 years — far longer than the Trump administration wants.
A summit between Trump and Kim that was planned for June 12 in Singapore has been put on hold by the president. Trump appeared to cancel the possibility outright on May 24, publishing a letter to Kim that faulted North Korea for "tremendous anger and open hostility" toward the president and his administration.
But a whirlwind of events over the ensuing week signaled that the Singapore summit may proceed after all. For one, North Korea responded to Trump's cancellation with remarkable friendliness and expressed a desire for a U.S.-North Korean meeting to happen at some point. The president responded in kind, calling the North Korean statement "warm and productive" in a tweet.
And as Alex Ward outlined at Vox, there are several other indications that are making a historic summit between the U.S. and North Korea look like an increasingly likely outcome.
For starters, Ward points to an impromptu meeting between South Korean president Moon Jae-in and Kim in North Korea over the weekend. That marked just the fourth time leaders from the two nations met in person — and the second such meeting in a month for Moon and Kim. According to Ward, their last-minute summit sent two messages — that Moon is deeply committed to ensuring talks between the United States and North Korea move forward, and that he and Kim may have plans to reach their own peace deal, regardless of U.S. opinion.
On top of that, the U.S. is still prepping for the summit in Singapore, in case both countries agree that it will go forward. Trump has delayed imposing economic sanctions on North Korea, in what is likely a gesture of good will toward Kim. And one of North Korea's highest ranking officials will visit New York this week, marking the first time in 18 years that a representative of the authoritarian regime meets with an American administration.
Odds of a meeting taking place seem increasingly high, though most experts agree that denuclearization in North Korea remains a long shot. It remains to be seen if a North Korean burger joint can move events in that hoped-for direction.