North Korean "Ghost Ships" Are Mysteriously Washing Up Onto Japan's Shores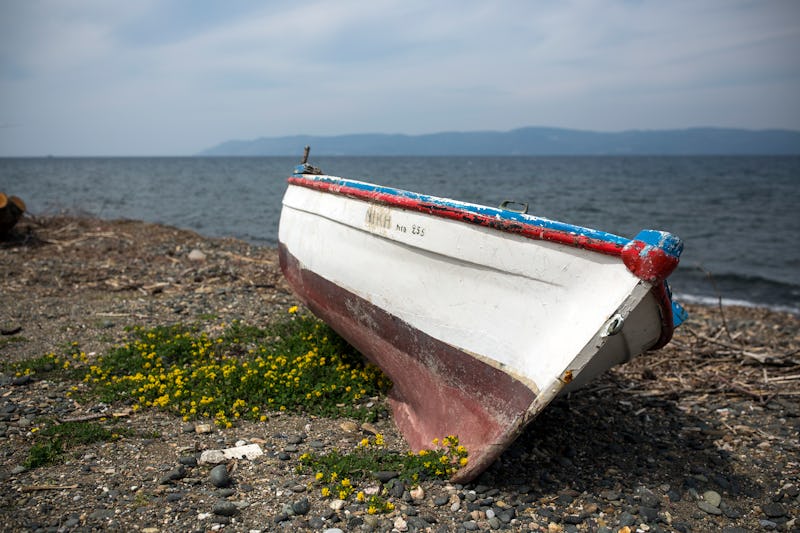 Dan Kitwood/Getty Images News/Getty Images
Japan is increasing its coastal patrolling after several wooden boats, thought to belong to North Korea, have been popping up on or near the Japanese coast, according to an AP report. But it gets worse — the most recent boat, found last Monday, contained several partially decomposed corpses, and this isn't the first time (or even the second) that this has happened. The phenomenon has become so common that the boats in question are often referred to in Japan as North Korean "ghost ships."
On Monday, Nov. 27, a wooden boat with eight partially decomposed bodies, all of which were men, was found near Japan's Akita Prefecture, a mountainous area of Japan which faces North Korea. The boat was reportedly first spotted two days prior, but was unreachable because of choppy ocean conditions, which are common in the area in November. Though the vessel lacked any identifying flags, a coast guard official who chose to remain anonymous told the AP that one of the corpses found was carrying a piece of North Korean currency.
Other reports indicate that the boat had life jackets marked with North Korean lettering, as well as a brand of cigarettes popular in the reclusive state. An investigation is currently underway to determine whether or not the boat actually hailed from North Korea.
"The coast guard and police have to cooperate to step up sea patrols around Japan," Japan's Chief Cabinet Secretary Yoshihide Suga told reporters after the boat was inspected. "The government intends to improve this to ensure we can guard against suspicious boats or people arriving in Japan."
The wooden boat with the corpses was not the only potentially North Korean boat to be recently intercepted by Japanese authorities. The week prior, Akita prefectural police rescued a boat with eight living fisherman that was found drifting around the region's waters. The men reportedly said that they were North Korean, and that their boat had experienced mechanical issues that led them to drift away so far east.
In 2017 alone, more than 40 boats full of dead bodies are estimated to have washed up onshore in Japan, or else were found floating off the coast; because the crews are frequently dead, the boats are often called "ghost ships."
Monday's ghost ship was reportedly spotted by a local woman who notified local authorities about a decrepit boat drifting off shore. As of now, it is not officially known whether the dead on board were fisherman, or whether they were North Korean defectors, according to The Washington Post.
Some experts believe that there has been an uptick in so-called ghost ships because fishermen are experiencing increased pressure to yield larger catches. North Korea is known to experience vast food shortages due to a combination of weather and international sanctions, and expanding fisheries might be a way leader Kim Jong Un is attempting to combat the issue. Out of North Korea's 24.9 million people, about 18 million are reportedly reliant on the government for subsistence.
However, it's difficult to tell which boats drifted intentionally and which were by accident. Tens of thousands of North Korean defectors have reportedly attempted to escape the country since the 1990s. Because some die and some are caught in the process, it's not possible to report a concrete count. Those who the government catches attempting to defect are punished, reportedly by two years of hard labor, according to Vice. South Korea automatically takes in all North Korean citizens who manage to cross over to the southern portion of the peninsula.