Guess Where North West Celebrated Her Birthday?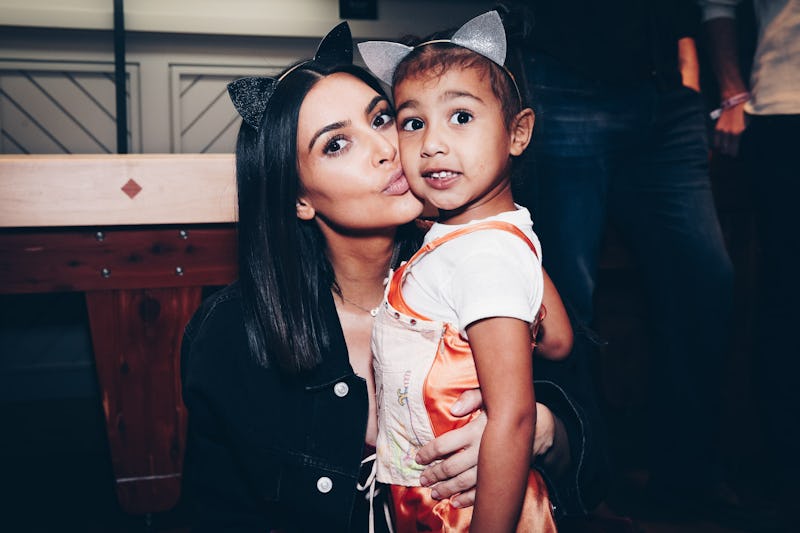 Handout/Getty Images Entertainment/Getty Images
When you have famous parents, you get to have a lot of rare life experiences early on: flying on a private plane, jet-setting across the world, wearing high fashion. But if you're Kanye West and Kim Kardashian's child, apparently you just want to go to Chuck E. Cheese's like any other kid, which is exactly what happened at North West's fourth birthday party.
On Thursday, the Kardashian clan took to Snapchat to document North's big bash, which featured a sparkly tiara for the birthday girl, a sprinkle-covered purple and white cake (complete with a Chuck E. figurine), and — because why not? — puppies. After a pair of cream-colored Pomeranians popped up on Kourtney Kardashian's Snapchat, fans speculated that Kimye had given the dogs to their daughter as a gift.
That all seems pretty tame for a Kardashian party (let's not forget North wears Balmain), but it's commendable that North's parents want to give her some semblance of "real" childhood. Besides, Chuck E. Cheese's is fun, no matter how much money you have.
It's worth noting that, according to People, North will have another — potentially more "lavish" — celebration at home, which will be filmed for Keeping Up With the Kardashians. But hey, it's the thought that counts, right?
And really, what party isn't better with puppies?
All in all, it sounds like North had an ideal fourth birthday, and if she does end up getting another celebration, well, more power to her.