The Norway Curling Team's Pants For The Olympics Are Extra AF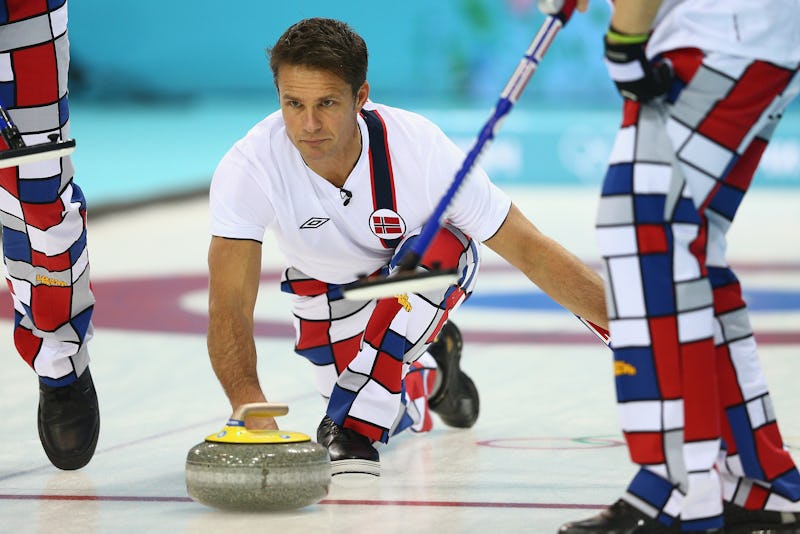 Clive Mason/Getty Images Sport/Getty Images
When you think of Olympic uniforms, you probably think of patriotic themes, flags, and national colors. You'd be right. However, Norway's 2018 Olympic curling team's pants are proof that national pride can be funky and patriotic.
Norway's curling team isn't exactly a stranger to the more wild side of fashion. In fact, they seem to have become known for their colorful, multi-patterned uniforms. Things aren't changing for the 2018 PyeongChang Olympic Winter Games. According to Cosmopolitan, the Norway curling team has found another incredible pair of trousers to wear where sweeping their way to the Olympic podium.
This year, the Olympian team's pants aren't their chevron print of the past or the Piet Mondrian-esque pants of 2014. These new trousers are much more reminiscent of fireworks (though, according to Time, they're inspired by icicles). Honestly, they may just be better than ever.
Is it a distraction technique for their opponents? Do the team members just love cool pants? There seems to be no identifiable reason for the loud trousers. But people are living for them.
According to Time, designer Loudmouth Golf is responsible for the now iconic pants. As for if the curling players are pro-pants of not, they certainly seem to be with team member Christoffer Svae telling the magazine that they've seen it all design wise, and the funky printed pant makes them much more recognizable.
How did the brand get involved with the team? According to NBC, the team purchased their pants for the 2010 Vancouver games practically off the rack, but after a Facebook page formed in honor of the pants and people starting loving the funk patriotic chic styles, the brand signed on to support the team at the 2014 Sochi Olympics — and they're back for 2018 in PyeongChang.
This year, the Norway curling team won't have but just one pair of fancy pants but 12. Yes, you read that right. The team has 12 different types of pants, and it's sure to be one of the most major moments of the 2018 games. Sure, there's medals to be had and inspiring stories to hear, but hello, to these ultra fun and funky pants.
Before the announcement of what Norway's curling uniform would look like, Olympic watchers were already wondering if the classic pants would be back. After see the looks in Sochi and Vancouver, how could people not be curious about these definitely not understated trousers.
While curling should be taken more seriously given that it is an Olympic sport and these athletes do work hard, it's difficult to deny that the pants really may just be the biggest draw to watching the competition live. No offense to Norway and curling lovers.
Some people, however, do seem excited for both the sport and the pants. However, there's got to be a notation about the fact that the sport itself seems equally as exciting to viewers as a pair of pants. But hey, they're not exactly your average, everyday pair of pants now are they?
As for why the team kept going with the eye catching looks, team member Svae told NBC, "When we started playing in colored pants, it was breaking tradition. It was turning heads, for sure." While it may not be traditional, the tradition of those pants is continuing.
During the 2018 Winter Games in PyeongChang, be on the lookout for the Norwegian curling team. If you're new to curling, they're definitely the perfect introduction to the sport. If you love funky fashions or viral sensations, you'll want to see all 12 of the team's uniforms. Get your remotes out and your DVRs set because Norway and their funky curling pants are headed your way.