Not Even The Trump Train Can Derail America's Climate Change Progress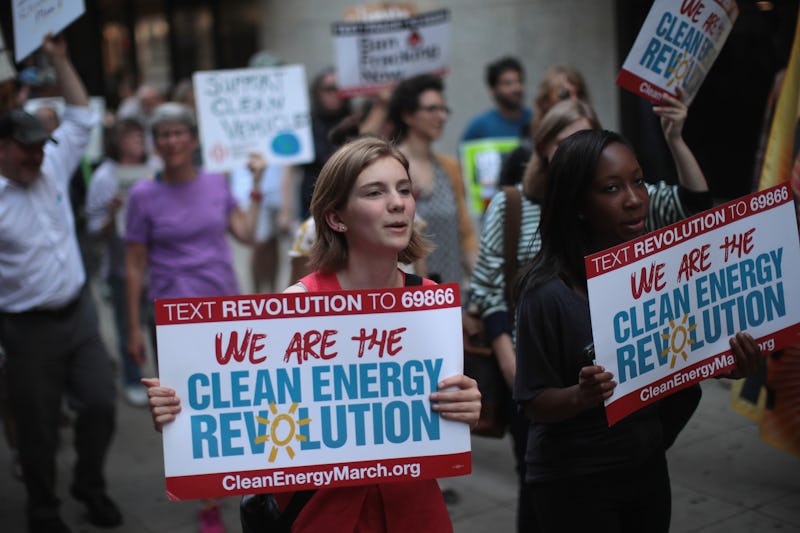 Scott Olson/Getty Images News/Getty Images
It's no secret that many Americans are disappointed by President Trump's decision to withdraw the United States from the Paris Climate Agreement. According to a survey published by the Yale Program on Climate Change Communication in May, 69 percent of registered U.S. voters wanted the country to remain part of the accords. But there's still hope for them, thanks to resistance at the state, city, and local level.
For one, mayors and governors across the country have taken a stand to commit their cities and states, respectively, to the tenets of the Paris Climate Agreement, with or without federal leadership. Felice Stadler, senior director of campaigns for U.S. climate and political affairs at the Environmental Defense Fund, sees this response as a silver lining to Trump's withdrawal.
"It raises the bar and the need for increased leadership from others here at home," Stadler tells Bustle. "Leadership is not coming from this administration, so the leadership has to come from members of congress, it has to come from governors, it has to come from mayors, it has to come from state legislators."
Last week, mayors throughout the country denounced Trump's decision to withdraw the United States from the environmental pact, and they reaffirmed their cities' commitment to fighting climate change and investing in renewable energies. Maura Cowley, associate director of the International Climate Program at the Sierra Club, tells Bustle that 29 U.S. mayors had already signed on to the organization's Ready for 100 program prior to Trump's decision. The pledge calls on cities to work to achieve 100 percent renewable energy use.
Stadler also says she is confident that the transition from fossil fuel and coal energy to renewable energy is well underway and will continue its path forward, even during the Trump administration.
"Investments in clean energy are not going to stop," Stadler says. "That transition is very much well underway. All of the data points confirm that. We've seen investments in solar and wind really skyrocket, and none of that is going to slow down. The market will continue to favor investments in clean energy."
Louis Blumberg, director of California Climate Change at the Nature Conservancy, explains how his state is continuing to bust the widespread misconception that protecting the environment and fighting climate change isn't good for the economy. He points to how since California enacted its own climate change regulations in 2013, the state has grown from being the eighth largest economy in the world (if it were a nation) to the sixth largest.
"It dispels the myth that regulating climate change is bad for the economy," Blumberg says. "Gas emissions have declined under the climate law here, and the economy has grown significantly. In California today, there are 10 times more jobs in the clean energy sector than there are in the entire U.S. coal industry."
Although Thanu Yakupitiyage, U.S communications manager of climate advocacy group 350.org, describes Trump's move to pull out of the agreement part of his "broader destructive agenda," she says the public outcry and call to action has been inspiring.
"We're seeing that people want to take action," Yakupitiyage tells Bustle. "Where we will be focusing our energy is really on local efforts. That's really where the focus has to be because its really up to us. We can really demonstrate on the local level why renewable energy actually provides more jobs for people."
While the significance of pulling out of the agreement can't be understated, climate experts remain hopeful about the work that will be done on climate in our country, with or without the Trump administration on board.
"We're going to see days like [last week], but we're also going to see a lot of amazing victories across the country," Cowley says. "'Keep your chin up' is part of our message."