All The Germs That Live In Your Bra Right Now & How To Get Rid Of Them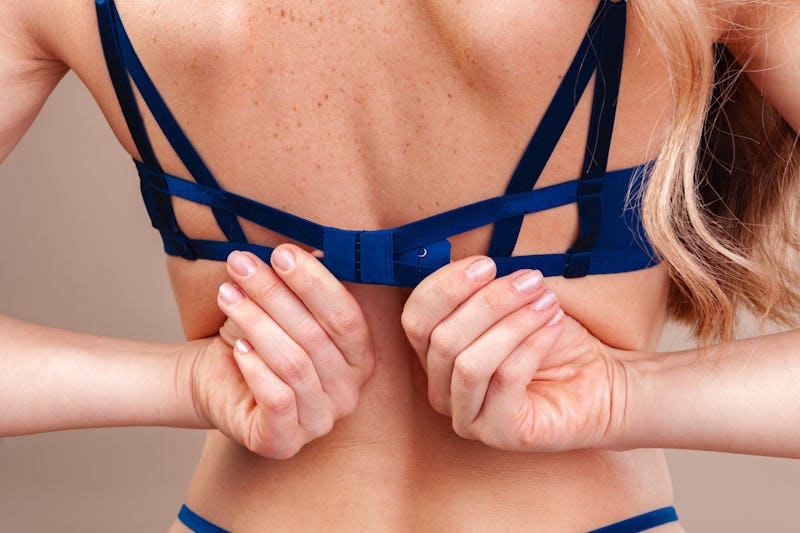 Shutterstock
Everybody's guilty of leaving a bra unwashed for days or weeks, because it's just so comfortable, or lies at the bottom of the washing basket, or you just... don't. However, experts tell Bustle that bras come into close contact with skin, nipples, and sweat for long periods, and that means they can often be havens for bacteria. And that means not washing your bra can mean these five kinds of germs flourish — like, really party.
"The mixture of organisms normally found in the inner surface of a bra is the common bacteria found on human skin," Dr. Gretchen Frieling, a dermatopathologist, tells Bustle. "This normal flora consists of fungi, protists, and bacteria, with the latter being the most abundant." This makes sense; our skin produces and houses a lot of bacteria, and anything worn close to the skin will definitely pick up some of it — particularly bras, which are rarely made of breathable or porous materials, and so gather sweat and other things easily.
However, this isn't a sign that you need to give up bras entirely for your skin health, or scrub yourself endlessly every time you wear one. The skin bacteria that gather in your bra, according to dermatologists, is by and large not going to hurt you — but, you do still need to wash your bras regularly. Here are five nasties that might be lurking in your bra.