The NRA's Latest Response To The Las Vegas Shooting Is Horrifying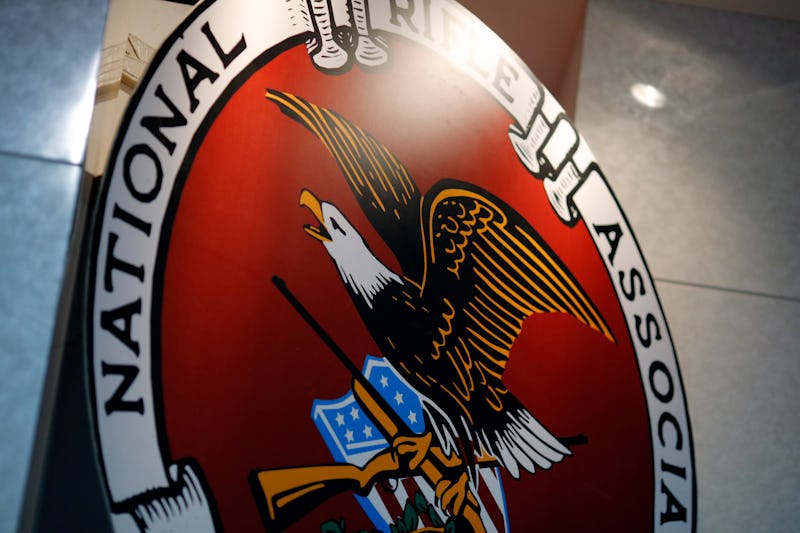 DOMINICK REUTER/AFP/Getty Images
During an interview on Fox and Friends on Monday, an NRA spokesperson insisted that the Las Vegas mass shooting was impossible to prevent, implying instead that the organization was waiting for "red flags" to come out about the shooter — and adding another layer to the organization's controversial response to the Las Vegas shooting.
NRA spokesperson Dana Loesch made these comments during Monday's episode of Fox and Friends while discussing the tragic mass shooting in Las Vegas at the Rouge 91 Harvest Festival, which killed 59 people and injured over 500. During the interview, Loesch reflected a great deal on the shooter and his motivation and insisted that nothing could have been done to stop the attack, saying,
There's nothing that could have been done, unfortunately, to prevent this tragedy ...I know this investigation is ongoing and I don't want to get ahead of the law enforcement that's involved in this right now, but usually with individuals like these there are some sort of red flags, and I'm just curious as to what sort of vibe, what sort of red flags that this individual was putting out.
Loesch also insisted that it is likely just a matter of time before police discover what motivated the Vegas shooter to carry out the attack and cited the case of Congressional baseball game shooter, James Hodgkinson, as an example of how "red flags" about an individual seemingly emerge after-the-fact, saying,
.. I mean I look at James Hodgkinson ... After that tragedy nobody rally knew his M.O. and it took a while for that information to come out, that he was targeting on political ideology ... But then people started talking about the red flags that were popping up about this guy and sooner or later the truth will out."
The NRA's suggestion that little could have been done to prevent the Vegas shooting and implication that it was likely merely individual characteristics of the shooter that allowed for the attack to occur constitutes the latest in a string of controversial comments the NRA has made in the wake of the tragedy.
First, the organization chose to stay silent in the immediate aftermath of the Vegas mass shooting — a tactic it has previously employed after other mass shootings. According to Josh Horwitz, the executive director of the Coalition to Stop Gun Violence, the NRA employs this tactic as a means of "avoid[ing] the media until the story passes and then figur[ing] out someone else to blame."
The NRA finally broke its silence about the Vegas shooting on Thursday, nearly five days after the attack occurred. The organization did so to announce that it was open to additional regulations on bump stocks — devices that allow semi-automatic guns to operate likely fully-automatic guns, firing hundreds of rounds of ammunition per minute. At the time, the organization released a statement saying, "The NRA believes that devices designed to allow semi-automatic rifles to function like fully-automatic rifles should be subject to additional regulations."
However, on Friday, the NRA clarified that it would not be willing to ban bump stocks after President Trump suggested that his administration was looking into pursuing legislation that would outlaw the devices. Chris Cox, the organization's executive director, made the NRA's anti-ban stance very clear on Fox and Friends, saying on Friday's episode of the show that, "We don't believe bans ever worked on anything."
CBS also reported that Wayne LaPierre, the NRA's Executive Vice President and CEO, told CBS' Face the Nation on Sunday that the ATF (the Bureau of Alcohol, Tobacco, Firearms and Explosives) needs to "look at" current laws on bump stock laws and "do its job." LaPierre also called out various entities for what he believes constitutes irresponsible use of firearms, as well as accused others of trying to "politicize" the Vegas shooting, saying,
To the people that are trying to politicize this tragedy, I would say this. There are monsters like this monster out there every day. There are menaces out there every day. People want to be able to protect themselves. That's why they support this freedom. All the elites that have been speaking out this past week, they all want to protect themselves The number one person teaching irresponsible use of firearms is all these elites' employer, the Hollywood, television, gaming industry. We spend millions teaching responsible use of firearms. They make billions every single day ... teaching irresponsible use of firearms. They're so hypocritical, it's unbelievable.
Overall, following a lengthy period of silence post-Las Vegas, the NRA has seemingly now taken to speaking out a great deal about the mass shooting — and making quite controversial assertions as the organization makes its stance known, including claiming that nothing could have been done to stop the Vegas shooting.