An NRA Spokesperson Says Penalizing Gun Owners Is Like "Shaming A Rape Survivor"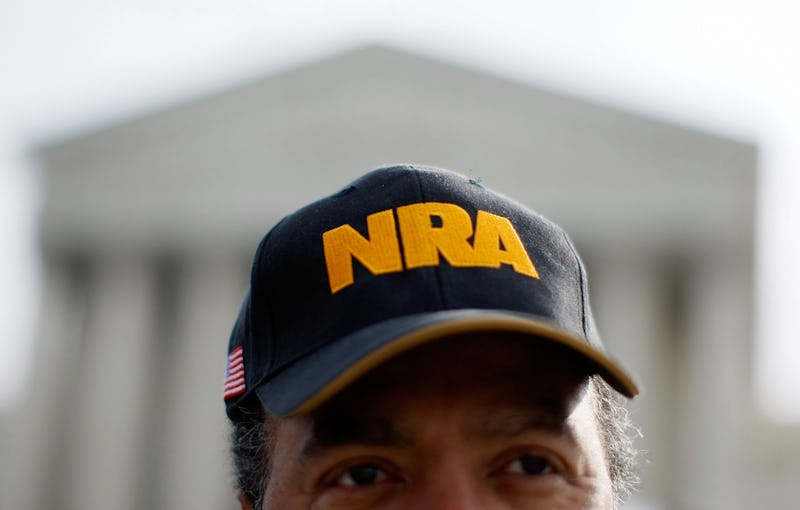 Mark Wilson/Getty Images News/Getty Images
Dana Loesch, spokesperson for the National Rifle Association, is yet again making headlines for controversial reasons. On Friday, during an interview with Grant Stichfield on the NRA TV channel, Loesch equated penalizing gun owners with shaming rape victims. Her comments were in response to a study conducted by the Center for American Progress indicating an increased rate of gun thefts in Southern states — with most of the stolen firearms ending up illegally trafficked and utilized in robberies and violent crimes. Texas, Georgia, and Florida topped the list with over 8,100 thefts of licensed firearms between 2012 and 2016. The Center for American Progress suggested implementing laws enforcing stricter storage guidelines for gun owners.
Loesch argued that focusing on gun owners rather than on those stealing the guns is analogous to shaming victims of sexual assault:
That's like shaming a rape survivor. It's the exact same logic. How about this, how about they make tougher penalties for individuals who steal? Steal firearms. How about they have harsher punishment for those individuals who break the law? These individuals that they are seeking to punish haven't broken the law. They have been victimized, as you accurately noted. So why in the world would they pass legislation that seeks to further victimize the already victims of these criminal acts?
Loesch and the NRA have used the subject of rape to defend gun ownership in the past. In 2016, the organization released an ad warning sexual predators to stay away from women they're planning to attack, as these women may be armed and ready to use their weapons in self-defense. "There's a very good chance your next target will be armed, trained, and ready to exercise her right to choose her life over yours," Loesch says in the ad. Critics of the ad pushed back against the perception of sexual assault — of such attacks most frequently being committed by strangers in dark, public places — that the video appeared to promote. According to studies by RAINN, 7 out of 10 rape victims are attacked by someone they know.
Loesch has additionally been accused of using victim-blaming rhetoric against women concerned about sexual assault in the past. In 2012, she defended a Virginia bill that required women seeking abortions to undergo invasive trans-vaginal ultrasound procedures. Loesch argued in favor of the bill, insisting that the penetration women would have to undergo for the ultrasounds was the same as consensual sex.
"That's the big thing that progressives are trying to say, that it's rape and so on and so forth," Loesch said during a broadcast of her radio program The Dana Show. "There were individuals saying, 'Oh what about the Virginia rape? The rapes that, the forced rapes of women who are pregnant?' What? Wait a minute, they had no problem having similar to a trans-vaginal procedure when they engaged in the act that resulted in their pregnancy."
In its conclusion, the Center for American Progress' study argues that owners of firearms must assume the responsibility of keeping their inventory safe. "These stolen guns are often diverted directly into illegal trafficking networks and end up being used in the commission of violent crimes," it reads. "Gun owners and gun dealers therefore have a compelling responsibility to take measures to help ensure that all guns in their possession are not vulnerable to theft. Implementing the policy recommendations in this report would be a smart and commonsense step forward in helping to reduce gun thefts and protect community safety."