All The BTS Secrets Of *NSYNC's 'Merry Christmas, Happy Holidays' Video (Justin Breakdanced!)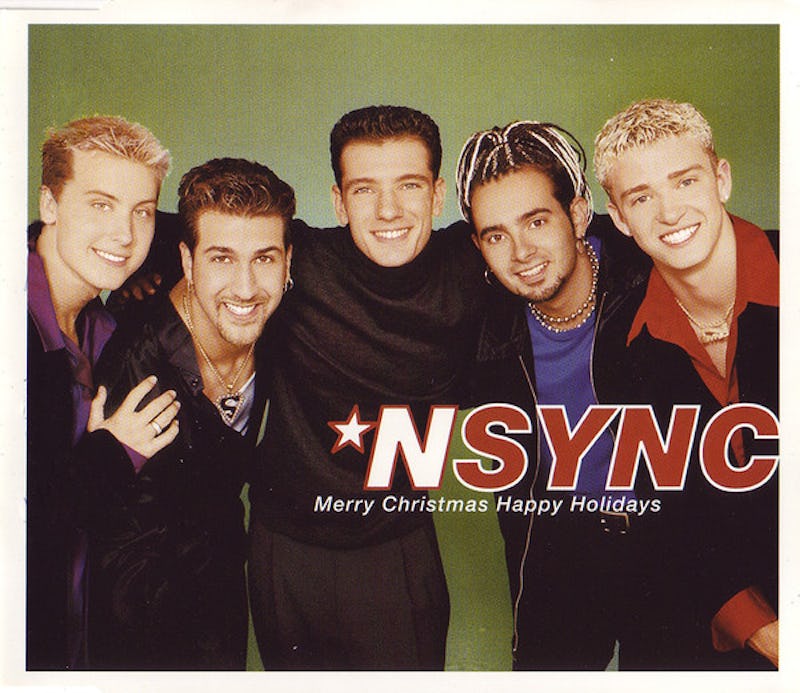 RCA
It's hard to believe that 20 years have passed since one of the best pop holiday records of all time came out. *NSYNC's album Home for Christmas hit record stores in 1998, just one year after their self-titled debut introduced the boy band to American audiences. Two decades later, Home for Christmas still stands up. The "O Holy Night" a capella shows off the group's killer harmonies, "Kiss Me at Midnight" is the New Year's bop we'd been missing, and who could forget Lance's epic bass note in "The Only Gift"? But the song that first showed off the group's festive side was the album's lead single, "Merry Christmas, Happy Holidays," which came with a casual, colorful video in which the band fills in for an under-the-weather Santa.
The clip is barely plot-driven; its main function is to get you hype for the holidays. But it still raises some questions: Who's the Diff'rent Strokes fan in the band? Whose kids are those? And was working with *NSYNC during their rise as much fun as it looked? To get those answers and more, I spoke to to director Lionel C. Martin, who's something of a legend in the music video field. So queue up the track, and read on for a nostalgic look back at one huge moment in Christmas — and boy band — history.
The Video Was Shot In A Single Day
Few acts were in as much demand in the late '90s as *NSYNC, which made for a truncated timeline for filming the music video. Martin can't remember if they had a tour coming up or some other commitment, but he does recall that he only had the band for a single day to film "Merry Christmas, Happy Holidays." "Besides their travel, we had to make the Christmas deadline," he adds when we speak over the phone in October. To get traction on MTV during the season, they had to submit the finished product by a certain time. All of those elements resulted in "one very long shoot," he says.
*NSYNC Had A Lot Of Creative Say
Though it was early in their career and you might have imagined that they weren't afforded a lot of control, the group really drove the look and feel of the video. "They always wanted a lot of input, but it was fun, it wasn't like a struggle," Martin recalls. "They just wanted their stuff to be pop, fun, and energetic." When it came to this video in particular, they wanted "this really Christmas card deal," he says, and fully embraced the idea that it would be "a little bit cheesy."
The director also helmed the videos for the band's singles "U Drive Me Crazy" and "God Must Have Spent (A Little More Time On You)," so together, he and the guys developed an easy, creative rapport. "They had always been just really easy to work with, really excited," he adds.
So you can re-up your stan card, safe in the knowledge that the boys weren't secret divas.
The Band Specifically Requested Their Guest Star
"We collaborated, and the first thing they said is, 'We want Gary Coleman to be in it to play the elf,'" Martin says. It was "a little tricky" to secure the Diff'rent Strokes actor, but eventually he came on board. But apparently, there was a little controversy on set around his famous catchphrase, "Whatchu talkin' about, Willis?," which was initially scripted for him to say, not *NSYNC.
"For some reason, his agent, she told us he wasn't allowed to say that because NBC owned it," Martin says. "But in hindsight, I think at that stage he just didn't want to do that. I think he was like, 'I don't want to be that guy.' And it was cool with me, and the group were alright with it."
Involving the classic sitcom star was part of an *NSYNC video trend. Martin notes that the guys were fond of adding throwback references into clips, including the Jackson 5 homage in "U Drive Me Crazy."
Casting Extras Was Easy
In fact, Martin calls it "the easiest casting job in the world." All they'd have to do is put out a call on local radio about an opportunity to meet *NSYNC, and they'd have the people they needed. The extras in "Merry Christmas, Happy Holidays" may have even worked for free, according to the director.
No One Had More Fun Than Justin Timberlake
The singer, who would have been about 17 at the time, was full of energy on set. The director recalls him breakdancing between takes and trying to cop Martin's sneaker style. "That was his personality, he was true to that," he says of Timberlake's carefree and gregarious public image.
So, there you have it: "Merry Christmas, Happy Holidays" brought as much holiday cheer to the people who worked on it as it does to *NSYNC fans year after year.