*NSYNC Just Launched A Massive Homeware Line That's Not Just '90s, But Also Hilarious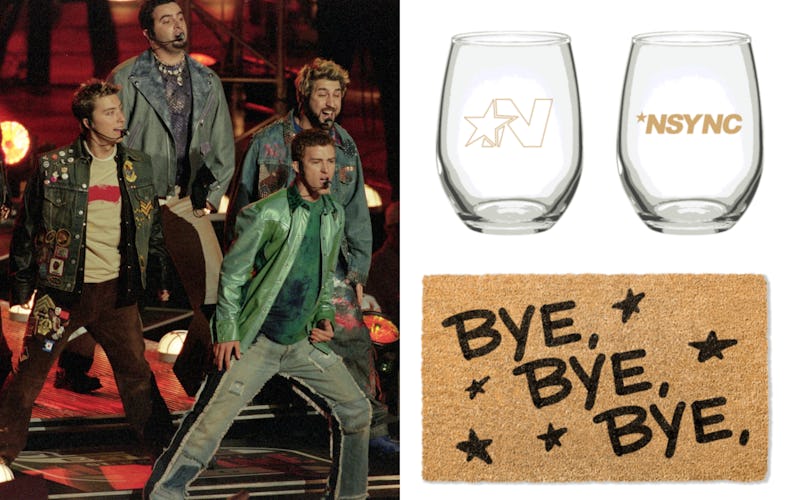 Jonathan Daniel/Getty Images Sport/Getty Images; *NSYNC
In news you probably never thought you'd be hearing in 2018, *NSYNC has released new merch. Or as they're calling it, the *NSYNC Capsule Collection: Vol. 2. That's right, they already released one capsule collection earlier this year, as reported by Billboard, and now they're on to another.
And because everyone who was once a young *NSYNC fan is now... older, shall we say, the collection includes a lot of homeware and baby items. Yep, we're all just wine-guzzling, home-owning moms, now... Well, that doesn't really have to be true, I guess we can all use a coaster. And you could gift the very real "It's gonna be poop" onesie to someone who does have a baby, if you don't have one of your own.
The collection was announced on the group's Instagram account on October 18, and it's available for a limited time only. Currently, there's just over a week left, but if you're interested, the giant countdown clock on the website will let you know just how much time you have left.
The collection ranges from at $175 bomber jacket to a $15 "Keychain of My Heart", so lets take a look at some of the options the boy band of 2000 has for the boy band fan of 2018.
1. Black Tee
2. Wine Glasses
3. Mug
4. Little Kid T-Shirt
5. Poop Onesie
6. Coasters
7. Tie-Dye T-Shirt
8. Pin Set
9. Bandana
10. Doormat
There are a lot more items available on the *NSYNC site — in particular way more T-shirt options. Whether you're an *NSYNC fan who still wants to rep your favorite group, a parent who wants to dress your baby in a not-quite-punny, but definitely accurate onesie, or just someone who likes a nostalgic mug for their morning coffee, the *NSYNC Capsule Collection: Vol. 2 has you covered.