2 NYPD Cops Who Allegedly Raped A Teenager In Custody Plead Not Guilty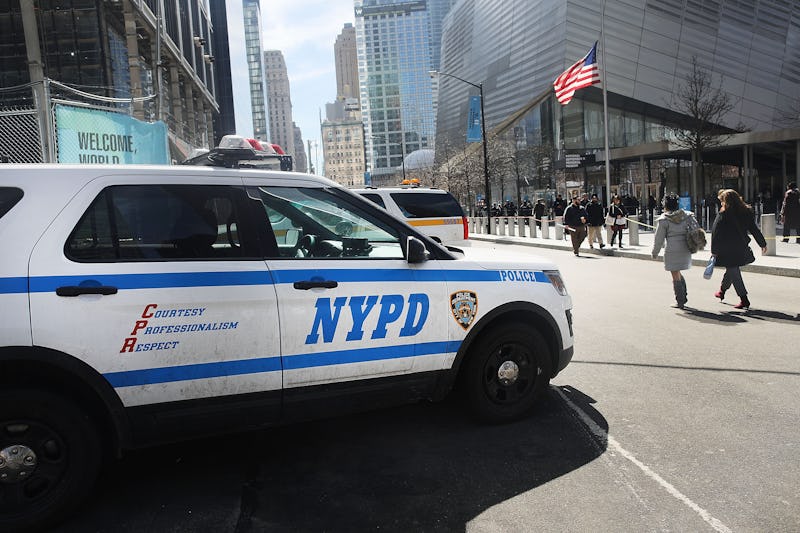 Spencer Platt/Getty Images News/Getty Images
After admitting to having sex with an 18-year-old in police custody, two NYPD detectives were arrested for alleged rape Monday morning and indicted on 50 counts, DNA info reports. Eddie Martins and Richard Hall are accused of allegedly forcing the teenager to perform oral sex and allegedly penetrating her without consent in an unmarked police van. However, the plainclothes officers claim she consented to sex after they detained her in September for having small amounts of weed and Klonopin on her, and pleaded not guilty on Monday.
"It is incomprehensible that two veteran NYPD detectives would allegedly commit such an outrageous act," said acting District Attorney Eric Gonzalez in a press release. "They took a oath to protect and serve, but allegedly violated that oath by raping a young woman who was in their custody."
On Sept. 15, Martins, 37, and Hall, 32, pulled over a car the woman was in with two other people, arresting the 18-year-old after she admitted to having weed and two Klonopin pills. The alleged assault reportedly happened four miles from where the arrest was made, and security cameras show the woman being dropped off near the 60th Precinct in Coney Island that night, though she wasn't taken inside and charged for the drug possession. Prosecutors allege the detectives made her take one of the Klonopin pills when dropping her off and told her to "keep her mouth shut."
A rape kit taken at Maimonides Hospital that night found the DNA of both Martins and Hall.
The detectives maintain that the sex was consensual and pleaded not guilty to the charges of rape, kidnapping, and official misconduct. They were both suspended and demoted on Friday, and released on bail on Monday.
It's technically legal for police officers to have sex with someone in custody, even though the imbalance of power inevitably means the detained person would be incapable of giving uncoerced consent. And despite the fact that Martins' and Halls' DNA was found, prosecuting rape cases requires proving a lack of consent, which can be challenging.
The detectives' lawyers made clear at the arraignment that they'll attempt to discredit the woman, calling her account "uncorroborated". Mark A. Bederow, Detective Martins' defense lawyer, suggested the allege victim had a "financial" motive to fabricate the alleged assault, though it's unclear how he'll attempt to prove his claim.
"It is shocking and unfortunate that they would blame a teenager for the acts of their clients," acting DA Gonzalez said in a news conference after the arraignment. "To think that these are grown men in a position of power over an 18-year-old, and for them to blame her, is ridiculous and demeaning. To my mind it speaks to desperation."
According to The New York Times, not a single officer showed up to Detectives Martins' and Halls' arraignment Monday, which is unusual when an officer is charged with a crime. The lack of uniforms present sent the message that the NYPD wasn't standing behind the men accused of first-degree rape.
Unfortunately, this isn't the only recent allegation that NYPD police officers abused their power to sexually assault women. Earlier this month, police officer Raul Olmeda was indicted on 67 counts for allegedly having sex with an underage girl. Olmeda allegedly paid a teenage girl for sex five times and "preyed on the vulnerable young woman and videotaped his demeaning and dehumanizing act," according to Bronx District Attorney Darcel Clark. Olmeda's alleged misconduct was discovered by police during a sex trafficking investigation.
"It is especially disturbing that these crimes are alleged against a member of the NYPD," DA Clark said in a press release.
After his arraignment, Olmeda was suspended without pay. All three NYPD officers could face decades in jail if found guilty.