NYU's Medical School Just Proved That, Yep, Offering Free Tuition Is Totally Possible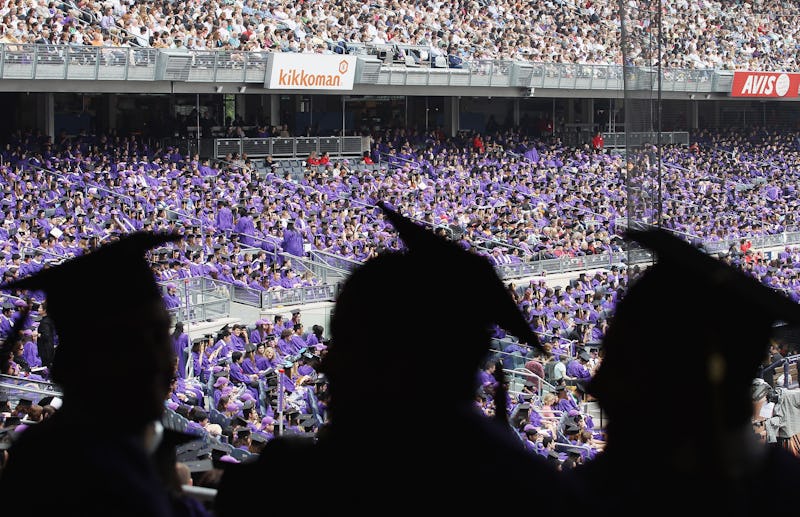 Mario Tama/Getty Images News/Getty Images
Imagine this: you walk across the stage, receive your college diploma, and look towards your future, unburdened by the idea of spending years paying off over a hundred thousand dollars in student loans. This heavenly image has become a reality for all current and incoming MD students at New York University's School of Medicine. At the end of Thursday's "White Coat Ceremony," administrators made a surprise announcement: NYU medical students will receive free tuition, regardless of need or merit. It took thousands of financial donors, but every MD student will have their $55,018 tuition covered.
"A population as diverse as ours is best served by doctors from all walks of life, we believe, and aspiring physicians and surgeons should not be prevented from pursuing a career in medicine because of the prospect of overwhelming financial debt," said Dr. Robert Grossman, dean of NYU School of Medicine and CEO of NYU Langone Health, in a statement.
According to the Association of American Medical Colleges, over 70 percent of medical students graduate with debt. In 2017, medical students had a median debt of $180,000. For a private school education, this median debt skyrockets to $202,000.
NYU School of Medicine is addressing this issue, so anyone can pursue a career in medicine.
Students will still have to pay for fees and room and board — an expense the school estimates between $27,000 and $31,000 annually, depending on the student's year — but the tuition scholarship is a drastic decrease in the overall cost.
NYU's med school needs an endowment of $600 million to maintain their tuition-free future, as they'll be covering a $55,000 tuition for each of their over 400 medical students, effectively immediately (although some students already get free tuition through the National Institutes of Health). According to Money, $450 million has been raised thus far.
The funding is sourced from more than 2,500 donors, according to a university statement, including a number of university trustees and alumni. The New York Times reports that about $100 million was donated by the med school's namesake, Kenneth G. Langone and his wife, Elaine. Langone serves as chair of NYU School of Medicine's board of trustees, but is most popularly known as the owner of Home Depot.
"The day they get their diploma," said Langone in the announcement video, "they walk out of here, unencumbered, looking at a future where they can do what their passion tells them, which is to help people live better-quality lives."
According to the university, the crippling debt most medical students graduate with leads them to pursue a career in the more lucrative, specialized fields. This leads to fewer primary care doctors and pediatricians, both vital to society's health.
Some other schools have offered full-ride scholarships for medical students, the Times reports, but only on the basis of merit or for specific research-based programs. NYU School of Medicine is the only top 10-ranked university in the United States to offer free tuition to absolutely all incoming and current medical students, regardless of need or merit.
"We believe that with our tuition-free initiative, we have taken a necessary, rational step that addresses a critical need to train the most talented physicians, unencumbered by crushing debt," said Grossman in a university statement. "We hope that many other academic medical centers will soon choose to join us on this path."