NYU Will Offer All Medical School Students Free Tuition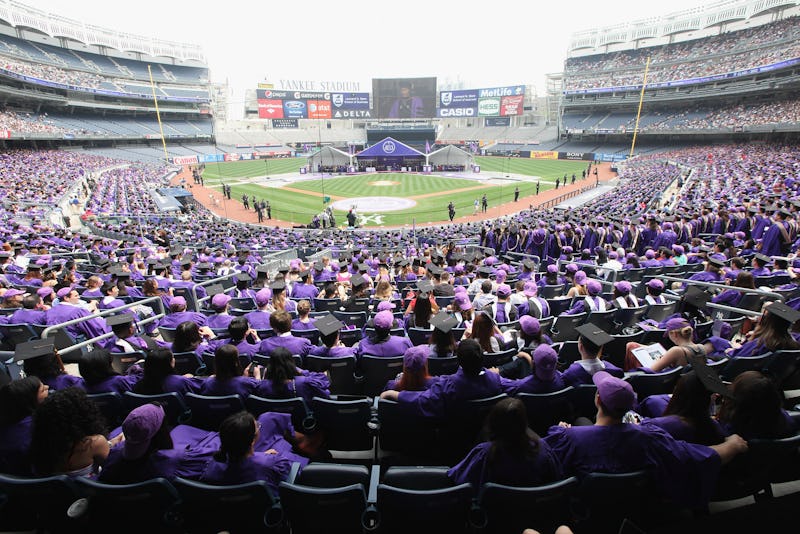 Mario Tama/Getty Images News/Getty Images
New York University School of Medicine officials announced during Thursday's white coat ceremony that NYU will now offer free tuition to medical school students. The scholarships will go to both current and future students in the university's doctor of medicine program, which covers a yearly tuition of $55,018, NPR reports. However, students will still be responsible for the cost of room and board and other living expenses, which NPR says amounts to about $29,000 annually. NPR says the scholarships will help 93 first-year medical students and 350 students who are in the program.
CNN reports that all students are eligible for the scholarship regardless of their financial need or their academic performance. That's because NYU School of Medicine is hoping to make careers in medicine more accessible by lowering the "overwhelming financial debt" facing medical school graduates, according to The New York Times. When the average medical student owes roughly $191,000 after they graduate, it can really make you think twice about entering the medical field.
"The debt can scare people away," Rafael Rivera, associate dean for admissions and financial aid, told CNN. "One of those individuals could be the one to find a cure for cancer. For us, it's important to have the best applicant pool possible and society deserves nothing less."
In a video announcement posted Thursday, Kenneth G. Langone, chair of the university's board of trustees, said, "I'm proud to announce that as of right now, every student that we admit to New York University School of Medicine comes tuition-free. And this includes the incoming class and the upperclassmen as well that are here right now — no more tuition. They walk out of here unencumbered, looking at a future where they can do what their passion tells them, which is to help people live better quality lives."
The scholarship is an endowment made possible through the donations from various sources, CNN reports. "Thanks to the extraordinary generosity of our trustees, alumni, and friends, our hope — and expectation — is that by making medical school accessible to a broader range of applicants, we will be a catalyst for transforming medical education nationwide," Langone told NBC New York.
Medical schools like NYU have become increasingly concerned that students are only pursuing top-paying specialties instead of much-needed — but lower-paying — careers in areas like family medicine, pediatrics, or research because they're worried about paying off student debt once they graduate, reports The New York Times. That's why medical schools are trying to find solutions to the financial debt their students face once they enter the workforce. In December, Columbia University College of Physicians and Surgeons announced a $250 million endowment to fund financial aid. Columbia's gift is from alumnus Dr. P. Roy Vaeglos, and it offers students with the greatest financial need a full-tuition scholarship, as well as other student grants, says NBC New York.
It would most certainly be a new day in medicine to see medical professionals enter various medical fields because they are passionate about what they are doing, not because they needed to choose a field that would help them pay off their student debt. And if estimates of the physician shortage are anywhere near accurate, then it is encouraging to see medical schools take proactive steps to encourage students to enter the medical field using super positive recruiting techniques.