Watch Obama Kitesurfing With Richard Branson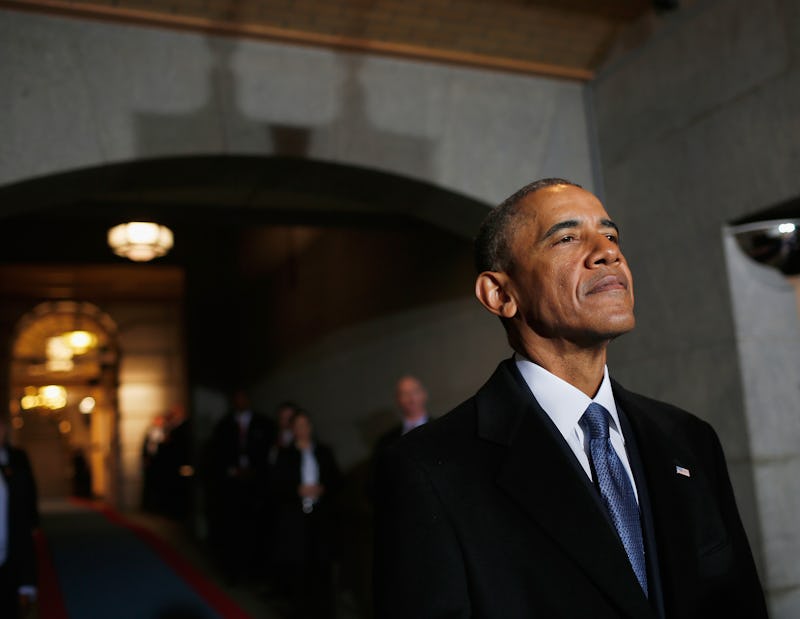 Win McNamee/Getty Images News/Getty Images
Most people would not have guessed that kite surfing would be on Barack Obama's to-do list after passing the torch to his successor, but apparently it was one of his top priorities for newly regained private life. A video posted to Richard Branson's official YouTube page shows the former president absolutely crushing the exotic sport, beating Branson's distance of 50 meters by double. Obama is living his best life post-White House, and he seriously deserves it.
The video is a spectacle, but it's also a painful reminder of why Obama was such an awesome president. Obama shows off that famous physique with arms to rival Michelle's, and looks like a total badass on a surfboard. (Apparently, he was making up for the eight years when the Secret Service wouldn't allow him to surf because it was too dangerous.)
But for those still mourning the end of Obama's presidency, the video is bittersweet, too. The clip highlights one of Obama's primary appeals, that he seems super fun to hang out with. He's adventurous, athletic, and isn't afraid to be a little silly, which translates to approachable and open-minded. Those qualities are distinctly lacking in the new president, and Obama is just reminding everyone how much more awesome he is.
Since leaving Washington, D.C., on Jan. 20, Obama has largely left his political career in his wake, focusing on partying it up in the British Virgin Islands. His only political involvement since the inauguration was releasing a statement on Jan. 30 that condemned Donald Trump's Muslim ban and supported the nationwide protests. "Citizens exercising their Constitutional right to assemble, organize and have their voices heard by their elected officials is exactly what we expect to see when American values are at stake," Obama said in the statement. Otherwise, Obama's main commitments have been brunch with Branson and beachside strolls with Michelle.
Honestly, Obama deserves a vacation more than anyone in the world. Not only did he have to put up with (previously) unprecedented levels of criticism and thinly veiled racial attacks throughout his presidency, but he also has to live knowing his administrative legacy is being dismantled by someone like Donald Trump who denies all his ideals. A lesser man would be binge drinking in a shack somewhere, but Obama, as usual, is taking the high road to better places. Though many people want nothing more than for him to come back to the White House, he did his duty to the country and it's time for another generation to lead the charge against Trump.