How Queen Elizabeth's Meeting With Trump Was Different From Obama's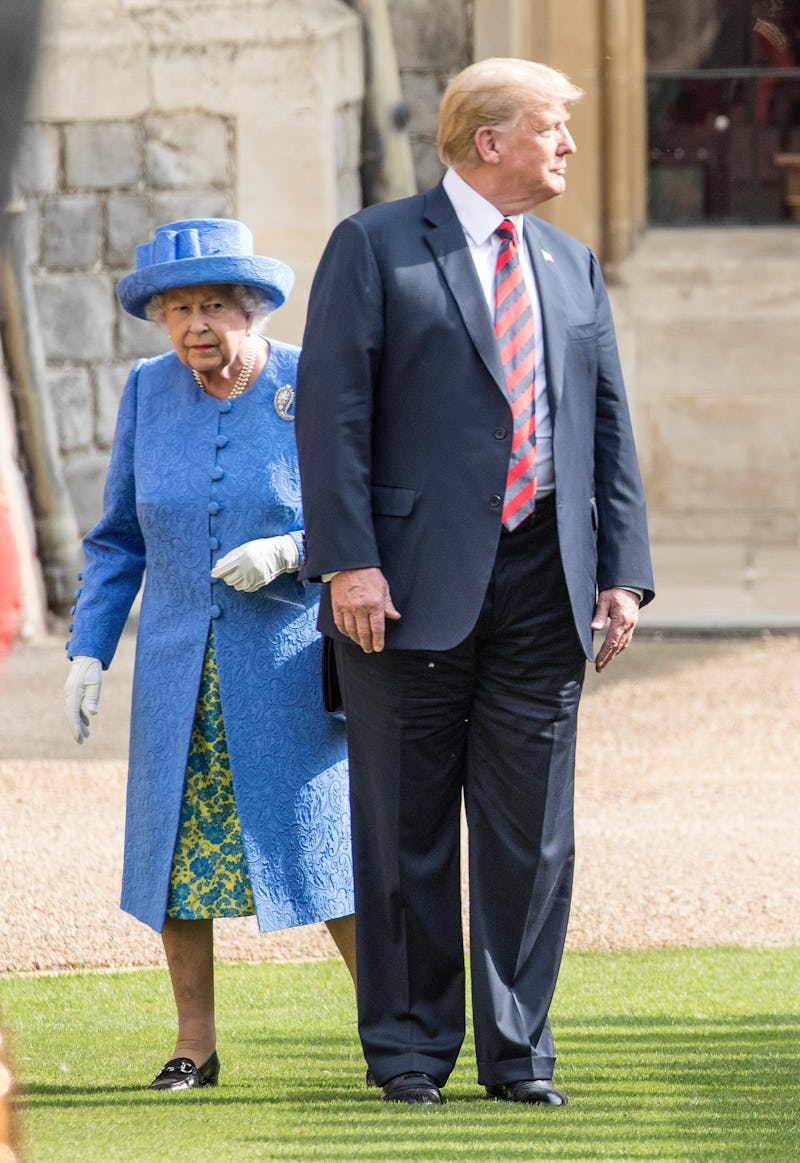 WPA Pool/Getty Images News/Getty Images
Queen Elizabeth has been on the throne for more than 60 years, and as of Friday, has met with 11 of the 12 sitting U.S. presidents whom she's outlasted as heads of state. The photos and videos make the visit seem fairly typical of a meeting between two heads of state, but Trump is anything but a typical president. So, how did Trump's visit with Queen Elizabeth compare to Obama's?
First off, Obama has had more meetings. According to CNN, Obama was Queen Elizabeth's guest three times in London, although she's never visited the White House. His first visit was in 2009 at Buckingham Palace. Then-First Lady Michelle Obama shared a small embrace with the queen that had royal watchers worried about breaking protocol. (People also criticized Michelle Obama for wearing a cardigan.)
Barack and Michelle Obama met Queen Elizabeth and Prince Philip during a state visit in the United Kingdom in May 2011. The BBC reported that the Obamas stayed at Buckingham Palace during this visit.
The Obamas gave the royals photographs from Queen Elizabeth's parents' trip to America in 1939, according to Time. Elizabeth gave a collection of letters between U.S. presidents and the monarchy in return. When President Obama saw the American Revolution letters, according to Time, he joked, "That was only a temporary blip in the relationship."
Here's a video of Obama's last meeting with Queen Elizabeth at Windsor Castle in April 2016 from The Associated Press:
Barack Obama and Queen Elizabeth also met during the 70th anniversary of D-Day landing in Normandy in 2014.
The Obamas' last visit to the United Kingdom was in April 2016, just after Queen Elizabeth celebrated her 90th birthday. "She is truly one of my favorite people and should we be fortunate enough to reach 90, may we be as vibrant as she is," Obama said during a press conference.
The press conference was filled with Obama's praise for Her Majesty. "She is an astonishing person and a real jewel to the world and not just to the United Kingdom," Obama said. He also called the queen "a source of inspiration for me like so many other people around the world" in his remarks.
After a number of visits with Obama (but before her meeting with Trump), Queen Elizabeth joked about the men's verbose natures during the filming of a documentary about her love of trees called The Queen's Green Planet, according to Newsweek. "Why do they go 'round and 'round when you want to talk? Sounds like President Trump. Or President Obama," Queen Elizabeth joked to David Attenborough.
The warmth seen between the Obamas and Queen Elizabeth was built with time, but the Trumps appeared to get along with Her Majesty and Prince Philip during their Friday meeting, according to multiple media reports.
The first family arrived at Windsor Castle on Friday evening and were greeted by the queen. Melania Trump wore a pale pink Dior suit with a black belt, according to CNN, thereby avoiding Michelle Obama's cardigan incident.
After shaking hands, Queen Elizabeth and Trump inspected the Guard of Honour, according to CNN. When they both rejoined the first lady on the dais, the three watched the Coldstream Guards march as a military band played. Then, they went inside for tea.
Trump repeatedly said how excited he was for the meeting, which was a small part of his multi-day working visit to the United Kingdom. "I really look forward to meeting her. I think she represents her country so well," Trump told British tabloid The Sun on Thursday before their meeting.
According to Trump, Queen Elizabeth hasn't had any major embarrassments as a leader — a point he made sure to mention in his Sun interview. "You don't see, like, anything embarrassing," he said. "She is just an incredible woman."