This Touching Moment Sums Up The Strength Of Obama & Joe Biden's Friendship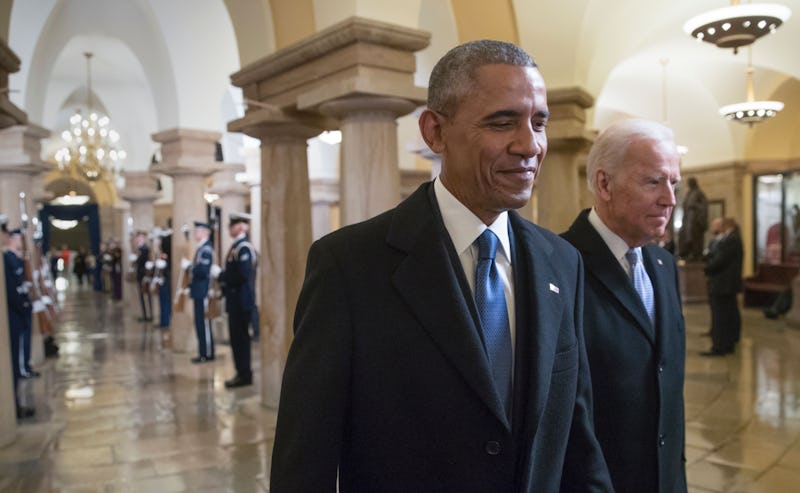 AFP/AFP/Getty Images
During an interview with InStyle, Joe Biden revealed that when his son was diagnosed with cancer, he had considered selling his home to cover treatment costs. But Barack Obama wouldn't have any of it. The former vice president told InStyle that Obama offered to help pay for Beau Biden's cancer treatment. Biden called this one of the defining moments of their friendship.
When Beau had what we thought was a stroke two years before it got diagnosed as cancer, Barack came running down the hall saying, "Joe, is Beau OK? Joe, is he all right?"
Barack was emotional. He said, "Joe, don't do that, don't do that! You love that house. Don't do that. I'll give you the money.'"
Biden wrote about his son Beau's illness in his new memoir, Promise Me, Dad: A Year of Hope, Hardship, and Purpose. It follows Biden "from the time of Beau's diagnosis to when I announced I wasn't running for president," he told InStyle. The book's timeline spans from 2014 to 2015. He details undercover trips to see Beau at the Walter Reed National Military Medical Center, all while dealing with a military crisis in Ukraine.
"I'd put so many bad thoughts out of my mind," Biden said. "The way I've dealt with my Beau being gone is by thinking of him as the leader he was and the loving son he was, smiling and strong."
The former vice president added that there were times he leaned on Obama for support. "'Joe and I make up for each other's weaknesses,'" Biden quotes Obama as saying. "Actually, he makes up for many more of mine than I do his. I'm a little more passive and obsequious than he is. As he would say, 'Measure twice, cut once.' Mine is, 'Take a good look, and if you have to act, act!'"
Biden said he and Obama began to embrace their role as America's favorite bromance, which inspired him to tweet out fake friendship bracelets on Obama's 55th birthday — "a brother to me, a best friend forever," he wrote. The internet, of course, couldn't get enough of the pair's friendship.
"I think the reason the memes worked is because no one has ever doubted the authenticity of the relationship," Biden said. "And by the way, we have had shouting matches too, but that's what brothers do, that's what friends do. They don't let insults or hurts go unattended."
Another one of Biden's favorite memories with Obama is when he appeared in a video called "Couch Commander," where the president is deciding what he'll do with his time once he leaves office.
[H]e's lying on the couch in the Oval Office and there are, like, 25 pairs of Ray-Bans. I'm putting them on and saying, "How does this look?" And he says, "Joe, they're all the same!" And I say, "They capture different moods!"
Biden is so known for his shades, that The Washington Post once published a story titled "A man and his Ray-Bans: the story of Joe Biden's sunglasses."
At the end of the InStyle interview, Biden was asked if he'd ever plan to run for president in 2020. He'd decided not to run against Clinton for the Democratic nomination in 2016, despite his family, and Beau especially, pushing him to do so. While he admits he has a lot to bring to the role, he's still mourning.
"I learned a long time ago that, first, three and a half years is two lifetimes in presidential politics," Biden said. "And second, my family is healing. I'm sure other families have had this experience, but the loss of Beau was a devastating blow."