Trump Never Looks This Comfortable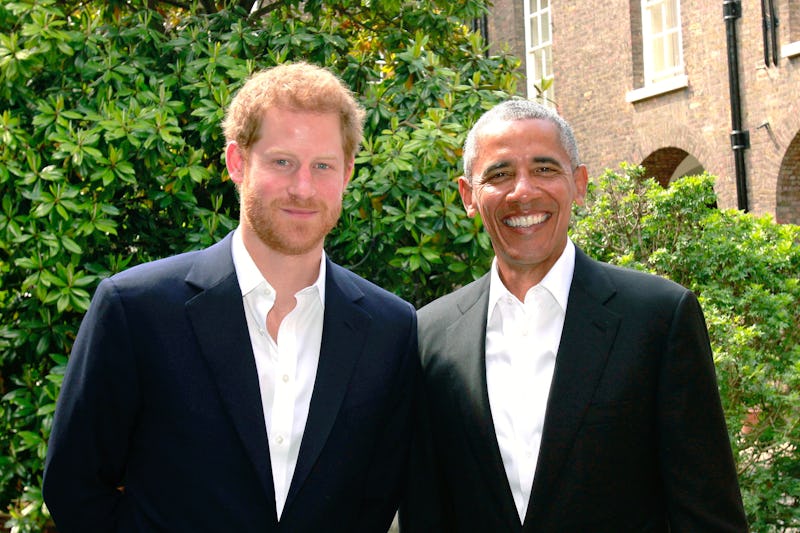 Handout/Getty Images News/Getty Images
Make no mistake, there are plenty of prominent people around the world who really, really wish former president Barack Obama were still, you know, still the sitting president. That's probably an especially strong feeling amid the week of President Donald Trump's first trip abroad, rubbing elbows for the very first time with foreign leaders including those of key European allies. And yet, it was the 44th American president who looked comfortable paying a visit to the United Kingdom ― Obama and Prince Harry's meeting, in short, looked a lot smoother and cheerier than any of the various international meet-and-greets Trump's been involved in.
Now obviously, to be as absolutely fair to Trump as possible, it's a lot easier and less stressful to trot the globe as an ex-president, rather than a sitting one. Gone are the vast majority of the political considerations and concerns that dictated Obama's behavior in years past, replaced with a far simpler set of rules: take it easy, don't do anything embarrassing, fulfill your goals, and have a good time.
Considering Trump's performances at the NATO summit in Belgium and the G-7 summit in Italy have seemingly fallen short of even those modest post-presidential standards, however, it's fair to say that Obama's the one having the better week. He didn't try to yank Prince Harry's arm out of his socket with a "handshake," after all, or butt his way to the front of a picture with a self-satisfied look, or cast doubt on America's commitment to the NATO alliance.
Rather, Obama paid a visit to Kensington Palace, Prince Harry's home within the U.K. capital city of London, reportedly to speak about veteran's affairs, mental health, and to pay his respects to the victims of the Manchester bombings.
Mental health has been a particular focus of Harry's public life and story in recent weeks, on the heels of him going public about his decades-long experiences with depression, following the 1993 death of his mother, Princess Diana. Harry ultimately helped form a mental health organization called Heads Together, so it's no surprise that he'd want to host Obama on such a topic.
Obama also offered his condolences to the victims of the grisly bombing in Manchester earlier this week, which left at least 22 people dead, with dozens more still injured and hospitalized. He said as much in a tweet about the meeting with Harry, although what precisely they discussed in private is not publicly known.
All in all, however, even the mere photo of a smiling Harry and Obama is a startling reminder of who the president of the United States used to be. With as much has happened in just slightly more than four months, it's easy to forget exactly what the pre-Trump era looked like. And it's going to be a while longer until anyone sees the other end of it, too ― barring some unforeseeable circumstance, Trump will remain president until Jan. 20, 2021 at the earliest.