New Details In This Book Lay Out How "Hurt" Obama Apparently Felt When Trump Was Elected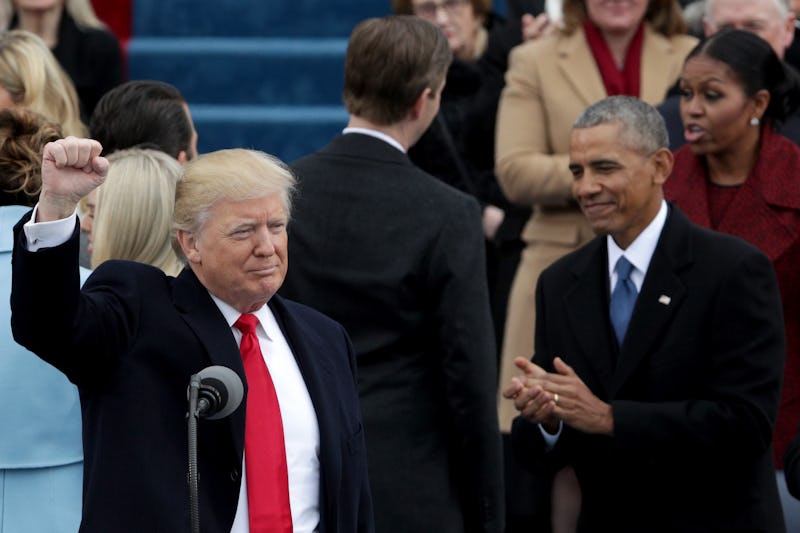 Alex Wong/Getty Images News/Getty Images
It's no secret that former President Barack Obama wasn't rooting for Donald Trump during the 2016 presidential election. But a recently updated book on Obama's presidency claims Obama took Trump's 2016 election win personally, viewing it as a "personal insult," according to The Hill. In a newly updated edition of his 2017 book, Obama: The Call of History, The New York Times ' chief White House correspondent Peter Baker claimed Obama struggled to come to terms with how the election played out.
"While Clinton had lost, so had he," The Daily Mail reported an excerpt from Baker's updated book read. "The country that had twice elected Barack Hussein Obama as its president had now chosen as his successor a man who had questioned the very circumstances of his birth. Obama may not have been on the ballot, but it was hard not to see the vote as a 'personal insult,' as he had called it on the campaign trail." Bustle has reached out to the Office of Barack and Michelle Obama for comment.
According to The Hill, Baker claimed Obama struggled with Trump's win and thought voters "simply could not have decided to replace him with a buffoonish showman whose calling cards had been repeated bankruptcies, serial marriages and racist dog whistles."
"This stings," The Hill reported Baker claimed Obama had said of Trump's election. "This hurts."
In February 2016, while speaking at the U.S.-ASEAN Leaders Summit, Obama had told reporters that he continued "to believe that Mr. Trump will not be president." In a video shared by the BBC, Obama went on to say that he didn't believe Trump would replace him in the White House "because I have a lot of faith in the American people."
"I think they recognize that being president is a serious job," Obama continued. "It's not hosting a talk show or a reality show. It's not promotion."
Baker claimed Obama went through "multiple emotional stages" and even exhibited a few rare moments of self-doubt after the election, wondering if "maybe this is what people want," according to The Daily Mail.
"I've got the economy set up well for him," the paper reported Baker claimed Obama had said in comments to a White House aide. "No facts. No consequences. They can just have a cartoon."
But according to Baker, Obama ultimately blamed Clinton for Trump's election victory. "She was the one who could not translate his strong record and healthy economy into a winning message," The Daily Mail quoted Baker as having written. "She brought many of her troubles on herself... No one forced her to set up a private email server... No one forced her to take hundreds of thousands of dollars from Goldman Sachs and other pillars of Wall Street for speeches... No one forced her to run a scripted, soulless campaign that tested eighty-five slogans before coming up with 'Stronger Together.'"
Baker isn't the only person to have made such claims. According to The New York Times, former Obama adviser Benjamin J. Rhodes also claimed Obama referred to Trump as a "cartoon" figure and went through "multiple emotional stages," including anger, after the 2016 election.