Obama & Trudeau Reunited With One Glorious Hug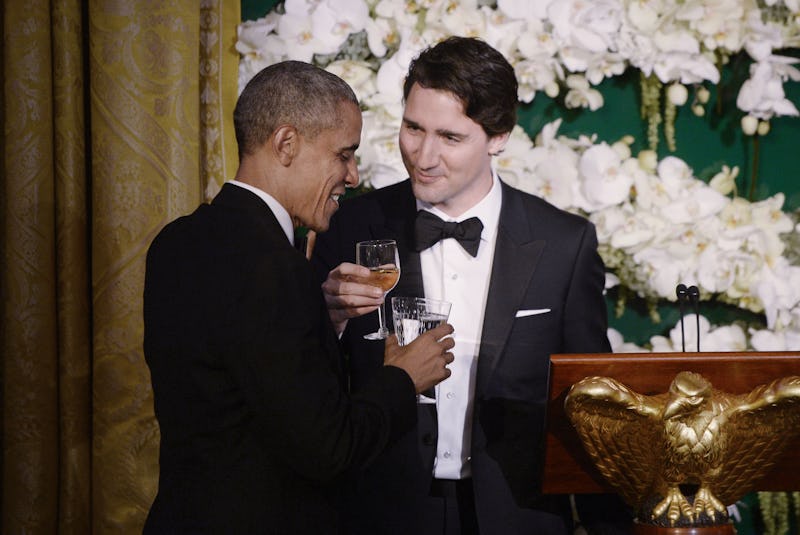 Pool/Getty Images News/Getty Images
Despite saying sayonara to the Oval Office, former President Obama has been reuniting with old friends in the past weeks. Prince Harry, Oprah, the usual. On Tuesday, Obama and Justin Trudeau rekindled their bromance and, like the classy gentlemen they are, had a candlelit dinner to enjoy each other's company.
Meeting in Trudeau's hometown of Montreal, the two had dinner at Liverpool House, a seafood restaurant. Owner David McMillan and his daughter snapped a picture with the world leaders, and McMillan called it "business as usual." Trudeau, apparently, has a thing for seafood, as he's been a frequent customer.
Reportedly, the two were not discussing fish but, instead, the next generation of leaders. Trudeau tweeted that he wants to encourage young people to take back their communities. As to be expected, Trudeau said Obama offered great insight.
The two first formally met in an APEC summit in November 2015, just weeks after Trudeau stepped into office. What sparked off the burgeoning bromance, however, seems to be when Obama hosted Trudeau at the White House in March 2016. According to the New York Times, it was the first official visit by a Canadian leader in 19 years. Undoubtedly, Trudeau's heart first swooned when he saw Obama lifting up a baby in the audience after the State Arrival ceremony. No one can resist a baby.
All of this begs to question of another important political relationship. What will happen to the Obama-Biden bromance in the midst of this latest development? Have the former colleagues gotten to spend any time together after they left the White House? (According to an Obama staffer, yes, the bromance lives.) The two captured our hearts with pictures of their wonderful friendship amidst troubling political times. And while it's no doubt that the internet swoons for Trubama, we were won over with memes of the former President and Vice President long before. Who can forget the images of the two eating ice cream and of Biden's rumored prankster personality? Hopefully, Joe will understand that it's nothing personal. There are too many good things that have been lost already.
And anyway, Biden can breathe easy: Trudeau has found a new presidential stud in the meantime. Images of Trudeau with French president Emmanuel Macron emerged after the G7 summit in May, leading some to speculate that he'd found a new bromantic partner. Without Obama in the center of the world stage, it's no wonder Trudeau's looking for dudeplomacy elsewhere. Who can blame him? After all, it's not like anyone can look to the current administration for that kind of connection.
In the meantime, Trubama fans are grateful that the two reunited for at least one last hug. If Twitter is any indication, the Obama Foundation will be working with Trudeau on the issue of youth-community engagement for the foreseeable future. If that is the case, then maybe there will be future dinners and hugs to look forward to.