Obama Surprised A Group Of High School Students & The Photos Are Incredible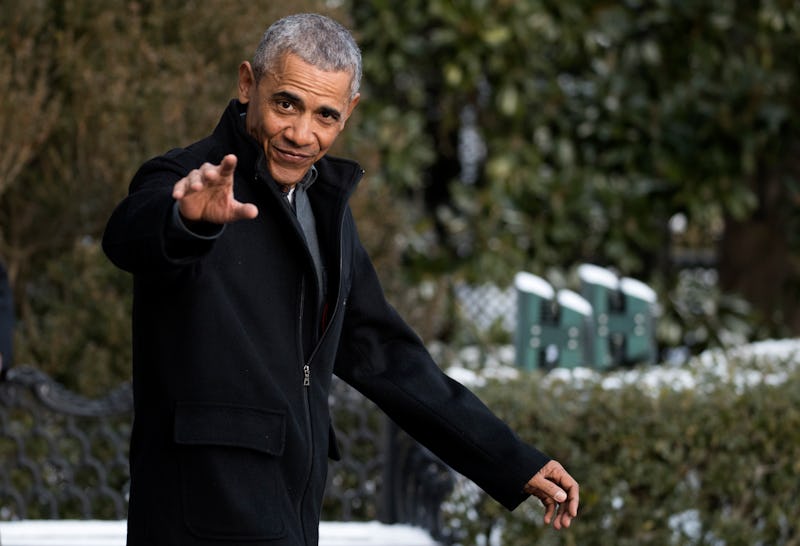 Pool/Getty Images News/Getty Images
Students returning to school after a long summer are bound to see some new faces, but it's safe to say no one starts their school year expecting a personal visit from President Obama. On Friday, McKinley Technology High students were treated to a surprise when Obama casually walked into their class, eliciting gasps from the small circle of students.
"Hey, how's it going everybody?" Obama said to the students at the Washington, D.C. school, who were clearly stunned by his appearance (one student had his hand over his heart, his mouth agape). "The chancellor told me you guys were meeting, so I thought I'd stop by. How's everybody doing? Is that my seat? You don't mind me crashing, right?"
Eric Schultz, Obama's senior adviser, tweeted a photo of the 44th president's visit and wrote in the caption that he was there to "welcome back students as they start a new school year."
His spokesperson Keith Schiller told The Hill Obama was there with D.C. Public Schools Chancellor Antwan Wilson to talk to the students about "their life goals, pursuing higher education and giving back to their communities." Schiller added in his statement: "President Obama is focused on supporting the next generation of leaders. Today's meeting is part of that ongoing conversation with young people."
Later, Obama also posted a photo of him seated in a circle with the students on Twitter. His caption read: "Proud of these McKinley Tech students—inspiring young minds that make me hopeful about our future."
He also shared a video from the visit on Instagram in which he tells students:
One of the things that I did throughout my presidency was I'd meet with groups of young people everywhere I went, whether it was here in the United States, or when I was traveling overseas just to kind of hear from them, find out what they're interested in, because I do believe that most of the problems that we have are going to be solved by you.
It was a rare public appearance for post-White House Obama. After leaving office in January, he opted to lay low, and was photographed on a long-awaited vacation with his family (and the likes of Richard Branson). Since then, reports paint a former president quietly working to craft his next steps as an ordinary citizen, albeit one with massive political clout who remains the leader of a party struggling to find its footing.
After they left the White House, he and former FLOTUS Michelle Obama established a foundation bearing their name. The Obama foundation's mission aims at "developing the next generation of citizens — and what it means to be a good citizen in the 21st century," according to the website.
But Obama has left his loyal bevy of supporters wanting. With each decision from President Trump — many of them focused on dismantling Obama-era policies aimed at protecting minority communities — there have been calls for Obama to take a public stance and lead the so-called resistance against the administration.
Obama, however, has made it clear that it's not his place as a former president to vocalize his opposition to his successor. In his last press conference before leaving office, Obama stressed that it was "appropriate" for Trump "to go forward with his vision and his values" as president. But he made sure to note that there are certain issues "where I think our core values are at stake [that would] merit me speaking out" — including the Deferred Action for Childhood Arrivals (DACA) program, which he established via executive order in 2012.
And speak out he did, though in his familiarly tempered tone. Amid the backlash against the Trump administration's decision to roll back DACA and throw 800,000 undocumented immigrants' lives in limbo, Obama issued a statement declaring the decision "cruel," one that was "contrary to our spirit, and to common sense."
But save for the occasional statement opposing Trump's far-reaching policy decisions, it's likely Obama will steer clear of national politics — for the most part. On Sept. 27, he will hold a fundraiser for the Democratic National Committee, marking the first time he'll be raising money for his party as a regular citizen and only his second political event since leaving the White House.