Trump Tweeted That Obama Had A "Big" Campaign Finance Violation — Here's The Real Story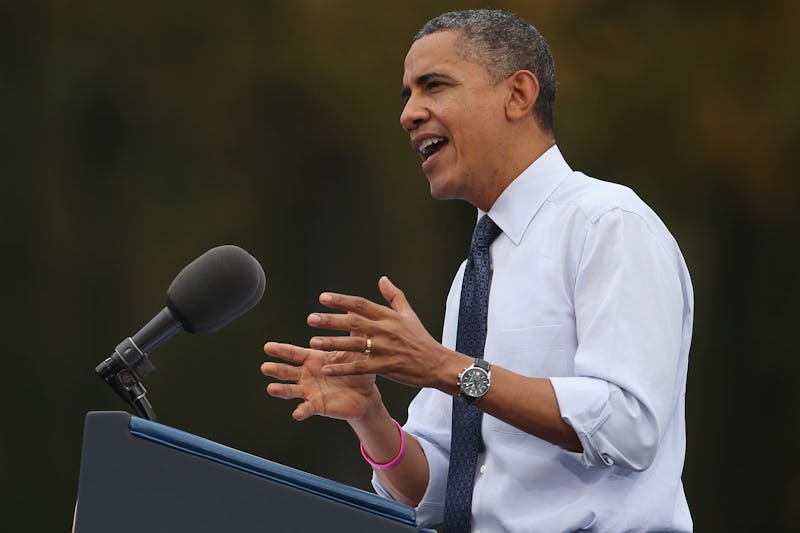 Chip Somodevilla/Getty Images News/Getty Images
Not all campaign finance violations are created equal. But after his lawyer filed two guilty pleas on Tuesday, Aug. 21, President Donald Trump compared Michael Cohen's infractions to President Barack Obama's during his 2008 campaign. Despite the president's desire to liken the two examples, they aren't all that comparable.
"Michael Cohen plead guilty to two counts of campaign finance violations that are not a crime," Trump tweeted on Wednesday morning. "President Obama had a big campaign finance violation and it was easily settled!"
Back in 2013, it was significant news when Obama's 2008 campaign got a retroactive $375,000 fine. Election lawyer Jason Torchinsky told Politico that "it may [be] one of [the Federal Election Commission's] top five- or 10-largest fines," although he added that "they're also the first billion-dollar presidential campaign. Proportionally, it's not out of line." The reason for Obama's fine, though, was entirely different than for Cohen's.
Obama's case involved a series of reporting errors, the main example of which was a group of missing notices for around 1,300 financial contributions. According to Politico, his campaign was supposed to file a 48-hour notice for each of those donations because they were over $1,000 and were received less than 20 days before the election. But not giving notice for donations is very different than purposefully making illegal contributions, which is what Michael Cohen says he did.
Cohen pleaded guilty to eight charges in a Manhattan court on Tuesday. The seventh count was for "willfully causing an unlawful corporate contribution" between June and October of 2016; that's when he helped facilitate an American Media Inc. payment to Karen McDougal to bury a story about her alleged affair with Trump (which the president denies). The eighth was for "making an excessive campaign contribution" around October 27, 2016; that's when Cohen paid Stormy Daniels $130,000 to keep quiet about her own allegations (which Trump also denies).
The biggest way this case differs from the one in 2013 is that President Obama wasn't accused of committing his violations intentionally. Cohen implied in court that he had followed Trump's orders, saying that he acted "in coordination and at the direction of a candidate for federal office."
Election law professor Rick Hasen told Vox that Cohen's intent to commit a violation makes his action criminal, whereas Obama's violations were civil. Making "excessive, unreported campaign contributions, [...] if done willfully, [...] is a crime," he said.
Vox also points out that campaign finance violations are common among politicians. Although Obama's campaign was dealt a hefty fine, the errors themselves were not terribly noteworthy.
"At the time, the 2008 campaign was record breaking, with over 3 million grass-roots donors," Katie Hogan, a spokeswoman for the campaign, said in 2013 in response to the fine. "The very few outstanding questions about the $750 million that was raised have now all been resolved."
As The Toronto Star's Daniel Dale points out, charges were never brought against Obama or his campaign because their violations were considered errors. Trump's campaign has already been dealing with fines for similar, seemingly accidental violations.