Obama Just Endorsed These 48 Women For The 2018 Midterms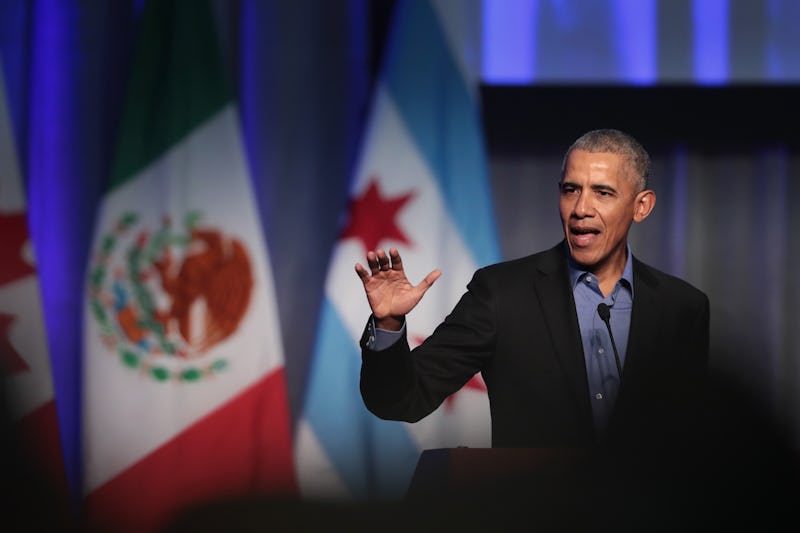 Scott Olson/Getty Images News/Getty Images
After gradually venturing back into politics over the course of the past year, former President Barack Obama released a list of 2018 midterm endorsements on Wednesday, Aug. 1. The list — which includes Democratic candidates across 14 different states and at various levels of government — endorses "leaders as diverse, patriotic, and big-hearted as the America they're running to represent," Obama wrote on Twitter.
"I'm confident that, together, they'll strengthen this country we love by restoring opportunity, repairing our alliances and standing in the world, and upholding our fundamental commitment to justice, fairness, responsibility, and the rule of law," the former president tweeted on Wednesday. "But first, they need our votes."
The list is titled "President Obama's first wave of 2018 midterm endorsements," implying that he will endorse more candidates between now and the midterm elections. In a statement announcing his endorsements, Obama's office urged Americans to "take a more active role in our democracy," as he is also attempting to do.
According to the statement, Obama's list of endorsements include several people who worked for the Obama administration and presidential campaign, as well as other "current and aspiring Democratic leaders." Notable endorsements on the list include Gavin Newsom for California governor, J.B. Pritzker for Illinois governor, and Stacey Abrams for Georgia governor.
Moreover, Abrams is one of 48 women on the list, which contains a total of 81 candidates. Other notable women on Obama's list include 30-year-old Katie Hill, who is running for the House in California, Lauren Underwood, a 31-year-old black woman running in a mostly white Illinois district, and Deb Haaland, who could be the first Native American woman in Congress if she wins in New Mexico.
According to The Daily Beast, a number of Obama's endorsements are for candidates who are running in highly competitive races that could potentially decide whether Democrats or Republicans will obtain the majority. In California, for example, where Democrats are fighting to unseat Republicans in the House of Representatives, Obama endorsed seven Democratic candidates for the House: Josh Harder, TJ Cox, Katie Hill, Katie Porter, Harley Rouda, Mike Levin, and Ammar Campa-Najjar. Obama also endorsed Democratic House candidates in Illinois, Nevada, New Jersey, New Mexico, New York, Ohio, Pennsylvania, and Texas.
However, The Hill pointed out that while Obama did make some notable endorsements, he also stayed out of other high-profile races. He did not, for instance, include an endorsement for Alexandria Ocasio-Cortez, who has been making waves among progressives after winning a surprise victory against New York Rep. Joe Crowley during her state's Democratic primary. He also didn't endorse Texas Rep. Beto O'Rourke, who is starting to catch up in his race against Texas Sen. Ted Cruz.
California Sen. Dianne Feinstein was also absent from Obama's list, though the former president previously endorsed Feinstein's reelection bid back in May. However, Obama did endorse Jacky Rosen, a Democratic Representative in Nevada who is running against Republican Sen. Dean Heller.
According to Axios, there are a number of black women running in the midterm elections this year who don't appear on Obama's list of endorsements. However, Axios also pointed out that Obama seemed to focus on races where Democrats were challenging Republicans, rather than other Democrats.
This year's midterms are crucial for Democrats, who need to flip a net 23 seats to gain a majority in the House of Representatives. In the Senate, Republicans only hold a two-seat majority, but according to USA Today, Democrats are already struggling to defend the seats they already have in states that Donald Trump won during the 2016 presidential election.
And this is why Obama's endorsements are so important, Axios reported: because many of the candidates he is supporting are running against candidates that have the current president's support. Trump has already been quite active in the midterm elections, having endorsed more than 20 Republican candidates who are running this year, and Obama's endorsements — coupled with his plan to campaign in several key states this fall — could work in Democrats' favor as they fight to take over the House and Senate.